The America's Cup "brought employment opportunities and significant economic benefits to Bermuda," OBA Deputy Leader Leah Scott today, before asking "where are the jobs and economic opportunities" from Fintech.
She went on to suggest that "Bermuda should request that the Government produce a preliminary economic assessment of the impact Fintech investment has had on our economy and the number of Bermudians who have been employed in the industry to date."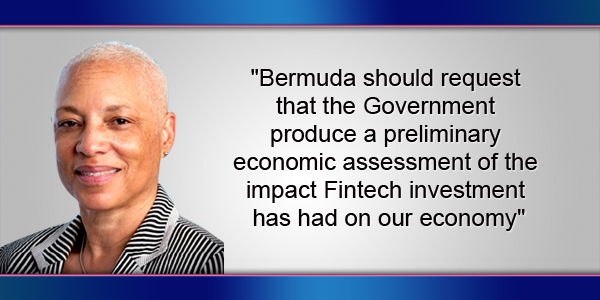 Ms Scott – who is also the Shadow Minister of Tourism, Transport & Regulatory Affairs — said, "First of all, I want to congratulate PWC for continuing to provide a further three-year sponsorship for the Endeavour Community Sailing Programme.
"The Endeavour Programme, established in 2015 prior to the 35th America's Cup, is part of the ongoing legacy contributed to Bermuda by AC35 and PWC has sponsored the programme since it was established.
"In addition to teaching our young people from a wide array of socio-economic backgrounds how to sail, the programme also allows our youth to experience Science, Technology, Engineering, Arts and Maths [STEAM] education.
"There are three main components to the Endeavour Programme: It is an educational initiative designed to teach students all across Bermuda more about sailing through a cross-curricular STEAM Education Programme; the programme is aimed at providing a positive boating experience for youth in Bermuda aged between nine and 12 years old and ill provide College Sailing internships with Oracle Team USA.
"In June 2017, a Boston based non-profit group called Science from Scientists [SFS] partnered with the Endeavour Programme to help spread awareness and promote the importance of STEAM education.
"SFS is dedicated to empowering youth to remain competitive in emerging STEAM fields, To date, more than 2,200 students aged nine to 12 years old, have been taught skills such as leadership, teamwork, and confidence-building through sailing.
"During the debate of the Opposition's 2017/18 Reply to the Budget, Premier David Burt told the House that while the America's Cup was 'a good thing' that would provide 'some benefit', he added 'Where we take issue with the event is the One Bermuda Alliance's consistent refusal to acknowledge the event for what it has been and what it is: an event that appeals to a narrow segment of society. The numbers, in terms of both the ratings and the ages of those who follow the sport, demonstrate that this is an event for what was Bermuda, not for what is Bermuda, and certainly not for what we hope to become.'
"I must differ with the Premier. The Endeavour Programme has created an extremely positive impact on our community. Our children are becoming avid sailors, inspired by AC35. The Endeavour Programme has enabled thousands of our Bermudian students to be able to sail due to there being no barriers to access. It provides equal opportunity to all of our children.
"AC35 came to Bermuda with the intention of leaving a sporting legacy and they did exactly that – creating an educational and sailing programme that is wholly dedicated to leaving that legacy together with providing a strong, positive impact on our community.
"It is unfortunate that very little positive acknowledgment has ever been given by the PLP to the OBA government for winning the right to host AC35 and its residual benefits. AC35 was an event that brought employment opportunities and significant economic benefits to Bermuda, and continues to contribute socially and economically to Bermuda through programmes like Endeavour.
"The PWC economic report clearly shows that AC35's economic impact, as measured by contribution to GDP, amounted to $336 million, including more than $90 million of ongoing legacy tourism.
"Last April the Premier revealed that a memorandum of understanding [MOU] had been signed with Binance. Pursuant to the terms of this MOU, the Binance Charity Foundation is supposed to provide $10 million toward educational programmes related to the fintech.
"An additional $5 million is supposed to be invested in blockchain startups. Binance declared it would create at least 40 jobs in Bermuda with at least 30 jobs for Bermudians by developing its global compliance base in Bermuda.
"In May the Government entered into a MOU with Medici Ventures, by which Medici Ventures will, among other things, create at least 30 jobs in Bermuda over a three year period, make Bermuda the hub for the most leading edge blockchain innovations; and develop a proper pipeline that will create basic, intermediate, and advanced software development engineers.
"The Premier was quoted as saying: 'This Government promised to usher in an era of business development that, at its core, would diversify Bermuda's economy and provide opportunities for Bermudians to be more than spectators to economic success.'
"When will Bermudians enjoy the benefit of these arrangements that this Government has made? Where are the jobs and economic opportunities? When will the Fintech legacy that Bermudians should be enjoying and benefitting from begin?
"Bermuda's hosting of the AC35 exceeded the original projections, and represented a return of more than five times what the OBA Government actually invested. That is five times more than the country has enjoyed from Fintech.
"In fact, Bermuda should request that the Government produce a preliminary economic assessment of the impact Fintech investment has had on our economy and the number of Bermudians who have been employed in the industry to date."

Read More About