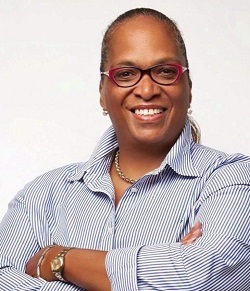 [Updated] Simone Barton has been acclaimed as the new Party Chairperson of the One Bermuda Alliance, the OBA announced today.
"I am delighted about the outcome", said Mrs Barton. "The OBA is being revitalized as a party under the leadership of Craig Cannonier.
"This OBA is not only the party that will hold the Government to account, but it is also the party that will be ready to govern Bermuda in the way it so desperately needs.
"With employment down, GDP down, the volume of retail sales down and business confidence at its lowest, there is much work that must be done to stop Bermuda from its rapid decline into another economic abyss. The sound economic foundation created by the former OBA administration is clearly and swiftly being eroded by the current PLP Government."
The OBA noted, "Mrs Barton is the CEO of the Bermuda Heart Foundation and Founder of CORE Heart Health Center, an innovative state-of-the-art center, which provides life-saving programmes and services.
"She raised more than $750,000 to establish CORE, and successfully championed for having cardiac prevention qualify as an insurable benefit.
"Mrs Barton ran for the Party in the 2017 election in the constituency of Hamilton West. She was acclaimed as Party Chair after Nandi Outerbridge withdrew from the election process," the OBA said.
Mr Cannonier said: "Simone is someone who does things and does them well. She is exactly the kind of person the OBA needs and I am delighted to welcome her as our new Party Chair."
"I would like to thank Nandi Outerbridge for her contribution and service to the party and I hope that she will continue to be involved.
"I will shortly make the Shadow Cabinet and Senate announcements. The people of Bermuda will know that this OBA means business and is about the People's business."
The former OBA Chairperson, Justin Mathias, resigned from the position last month, one of several changes within the OBA recently.
Update October 8, 9.34am: PLP Chairman Owen Darrell said, "The new chair of the OBA has begun her tenure with the same old pattern of misinformation that was the hallmark of the "Old" OBA.
"The facts totally disprove the tired and desperate deceipt promoted by the OBA.
"Under the PLP
Government Revenues are up!
Government spending is down!
The deficit is down by 24%!
Visitor air arrivals are up!
Bermudian Employment in the economy is up!
"The 'new' OBA wants to bring back the Michael Fahy agenda where non-Bermudian jobs grew while Bermudian jobs vanished and where pathways to status further displaces Bermudians.
"The faces may change in the OBA but the same old tactics of misinformation and anti-Bermudian policies remain unchanged.
"We are making progress, but remain dissatisfied so long as any Bermudian is unemployed, can't make ends meet no matter how hard they work or see anywhere but Bermuda as a land of opportunity. Despite the ongoing misinformation campaign being perpetrated by the OBA we remain committed to building a fairer, better Bermuda for Bermudians."
Read More About