[Updated] Marcus Jones and Dwayne Robinson have been appointed as OBA Senators, the One Bermuda Alliance announced this morning.
"Marcus Jones, who stood for the PLP in the 2012 election, is joined by Dwayne Robinson, one half of 'It's That Type of Party', a political and social commentary content creating platform, who has also been appointed to the Senate by Party leader Craig Cannonier," the OBA said.
"I can appreciate the diversity of the OBA," said Mr Jones. "My ideas for economic prosperity are also more in line with the OBA than the PLP. A big part, also, is Craig Cannonier. His passion and vision for this country got my attention and prompted me to offer my assistance."
Dwayne Robinson and Marcus Jones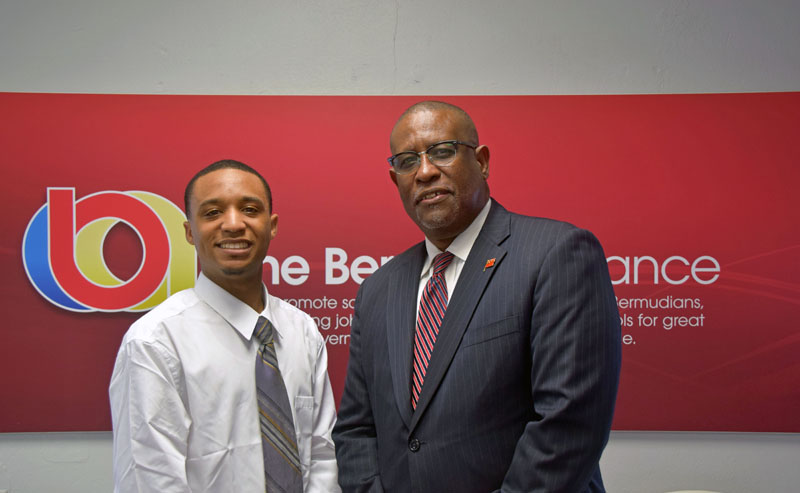 The OBA said, "Mr Jones has filled the role as Director of Finance for several hotels locally, one of which was Elbow Beach Resort and overseas at the Novotel Toronto Centre in Canada. But his crowning achievement was being responsible for opening three hotels on the island – The Wharf Executive Suites, Grape Bay Beach Hotel and 9 Beaches Resort in the capacity of General Manager.
"He was educated at West End Primary School, Warwick Academy and at Trent University in Peterborough, Ontario, where he earned his B.A. Degree in Economics. He started his own hospitality consultancy business, Covenant Hospitality Solutions Ltd and one of the assignments he undertook was as a Project Leader for the Economic Empowerment Zone Agency, where he was instrumental in launching an EEZ designation in the East End."
He added: "I am concerned for the future of the next generation, having a strong economy that can create jobs and entrepreneurial opportunities and paying off our debt. Despite the challenges facing us, Bermuda has a great future and I see opportunities for Bermuda to re-invent itself, diversify its income streams and reform its immigration laws to satisfy the wide cross-section of its residents."
Nick Kempe, Dwayne Robinson, Marcus Jones and Craig Cannonier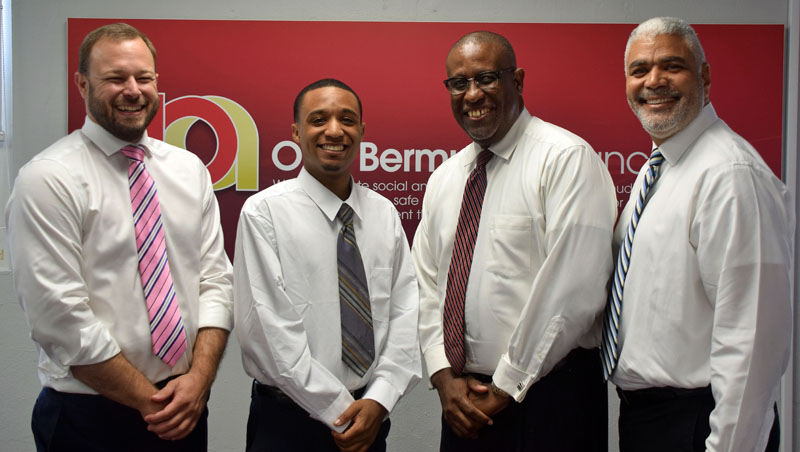 The OBA said, "Mr Robinson, 24, has spent five years in the hospitality industry and has worked for the last two years in the grocery business.
"He has a background in advertising and marketing being the co-founder of 'It's That Type of Party', a political and social commentary content creating platform, as well as the co-founder of the newly founded production team 'Superbia Productions', and the founder of 'Neo Apex Productions' a content creating team that deals primarily in fashion and modelling."
"I wanted to get involved because I believe I can bring a different perspective to the political arena and can advocate for the under-represented younger generation and the arts community," he said.
OBA Leader Craig Cannonier said: "The OBA is a diverse party that believes in inclusion and I welcome Marcus with open arms. He is an experienced and astute person.
"I have known Dwayne for many years and I have been greatly impressed by his knowledge, enthusiasm and ability. Alongside Nick Kempe as Senate Leader, Dwayne and Marcus gives us a very talented Senate team."
Audio: Mr Jones speaks first, then Mr Robinson
Update 12.08pm: Alexa Lightbourne, Chair of the PLP Women's Caucus said, "The PLP acknowledges the selection of new OBA Senators. Marcus resigned from the PLP in 2016, we wish him well as he serves.
"It is unfortunate however, that the One Bermuda Alliance, under Craig Cannonier, have made Senate appointments which show a lack of gender diversity.
"One must wonder if there are no qualified or willing women to serve under Craig Cannonier in the Senate as his return to leadership has cut short the political careers of three promising young women in Nandi Outerbridge, Robyn Swan and Victoria Cunningham.
"In 4 1/2 years the OBA doubled our debt and 2000 jobs were lost. Public services from buses, to trash collection, and schools were left to suffer while over $100 million was spent on the America's Cup.
"The PLP was elected to transform Bermuda's economy for the future, and our policies which will put development and investment in Bermudians which will yield long term benefits.
"The PLP is committed to building a better and fairer Bermuda and our diverse Senate team will ensure that message is carried in the Upper house during the next Parliamentary session."
Read More About