[Updated] A "new Shadow Cabinet serves to emphasise the One Bermuda Alliance's change in course," OBA Leader Craig Cannonier said today as he announced his new team, with Trevor Moniz, Jeanne Atherden and Michael Dunkley no longer in the Shadow Cabinet.
The OBA said, "Nick Kempe becomes Shadow Finance Minister, as well as the Party's Senate Leader, Shadow Minister of Legal Affairs is Scott Pearman, Leah Scott remains as Shadow Minister of Tourism and Transport and Regulatory Affairs, Ben Smith keeps Social Development and Sports and adds National Security, Sylvan Richards is Shadow Home Affairs and Environment, Patricia Gordon-Pamplin is Shadow Health and will speak to finance in the House, Cole Simons continues as Shadow Education Minister and adds Economic Development and Susan Jackson is the Party whip and Shadow Minister of Government Reform.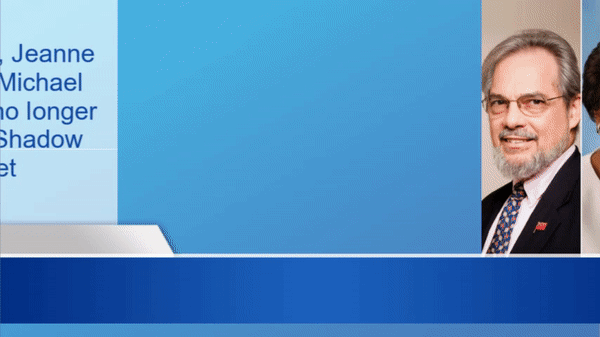 Mr Cannonier, who will take on the Shadow Public Works portfolio, said: "I will ensure that the people of Bermuda will hear from this team. These Shadow Ministers will be out listening to people, to hear what the people want and they will be vocal in holding this Government to account and ensuring they do what is right for all of Bermuda, not just Premier Burt's billionaire friends.
"I talked to a young man the other day who stopped me in the street to tell me how he had to steal his lunch for that day and how he saw no future for himself. The OBA is changing course and our focus will be on fiscal and social responsibility, to make Bermuda better for everyone, including that young man."
"Although no longer in the Shadow Cabinet, Mr Cannonier said that Trevor Moniz, Jeanne Atherden and Michael Dunkley still had an important role to play," the OBA said.
"They are all extremely experienced and I hope they will continue to use that experience for the benefit of the Party," said Mr Cannonier.
"The team I have picked is the team to revitalize the OBA, to help this Party change its course, to make it the Opposition this country desperately needs and the Government it deserves.
"Major economic indicators are down, the impetus provided by the OBA has stalled, we have lots of talk of using blockchain to make Government more efficient and promises of crypto currency-related jobs, none of which will be available to the young man who had to steal his lunch."
As noted in the OBA's statement, Scott Pearman was named Shadow Minister of Legal Affairs, Nick Kempe was announced as the new Shadow Finance Minister, and Ben Smith added National Security, while also keeping Social Development and Sports.
Those three genres were previously held by Trevor Moniz, Jeanne Atherden and Michael Dunkley, who happen to be the three MPs who did not sign the letter which "invited" Jeanne Atherden to resign as leader last month.
This is the latest in a series of changes for the OBA, who have changed Party Leader and Chairperson in recent weeks, and one of many changes the OBA has had since the 2017 General Election.
Update 4.54pm: In response to our queries Michael Dunkley — who was not named in this new Shadow Cabinet — said "Leadership decisions are always questioned but not today by me publicly.
"I know how tough it can be as a leader, after all, against the grain of public opinion, I gave Craig Cannonier a second chance after Jetgate and asked him to serve in the Cabinet.
"I wish the new Shadow Spokespeople the best as they serve Bermuda. I will always be available to listen, provide advice or mentor.
"In addition, I still have the passion and energy for politics. My love for Bermuda and our people from one end of the island to the other has provided me with the knowledge and experience to be a strong advocate and vocal supporter for Smith's North and Bermuda.
"We face many challenges in Bermuda and experience does matter. I will support the Government when appropriate but not waiver in calling them out if required.
"They have a significant majority that can easily override the democracy of opposition but the electorate can be assured that I will continue to advocate for their interests and that I will hold firm on the tenants of transparency and accountability."
Update 6.21pm: PLP Chairman Owen Darrell said, "The OBA have once again reached into their old bag of UBP tricks by selecting a front bench that attempts to hide their true origin.
"The reality is that each of the members of the Shadow Cabinet share the same philosophy and ideology that:
"Attempted to give the children of guest workers the right to compete against Bermudian children for jobs and opportunities
"Attempted to open the immigration floodgates and marginalize Bermudians via Pathways to Status
"Slashed funding for scholarships
"Oversaw an economy that saw non-Bermudian jobs grow while Bermudian employment plummeted
"The deck of the OBA may have been shuffled and a few cards hidden up their sleeve but the OBA's ideology remains intact."
Read More About