The Bermuda Sloop Foundation recently held the first of several planned special award presentation sails, with recipients receiving certificates of appreciation "for their continuous and significant support over the past twenty years to the Foundation, and it's internationally recognized award-winning sail training programme on board Spirit of Bermuda."
Branwen Smith-King, Executive Director of the Foundation, said, "Bermuda's young people are so fortunate to have enjoyed and benefited from the opportunities and experiences offered on Spirit of Bermuda for these past eleven years. It is only thanks to our extremely generous and appreciative community that we have been able to run this wonderful experiential education programme on Spirit.
"We are planning several special award presentation sails during the coming school year to recognize and thank those who have continuously supported our mission to 'change lives one voyage at a time over time.'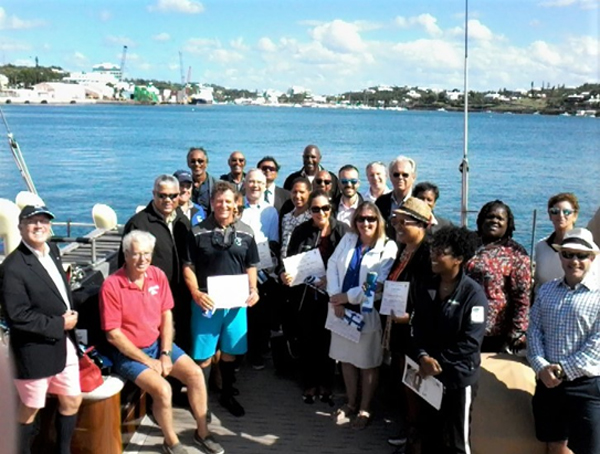 "Support has come from individuals, local and international companies, other charitable organizations, professional associations and organizations, foundations and government departments, these contributions have come in the form of monetary donations, grants, services and facilities provided, donated time, energy and effort."
A spokesperson said, "The support of our donors and generous contributors is a fundamental component that allows our experiential sail training to continue for Bermuda's youth. The 5-day voyage takes middle school students through self-discovery, cooperation and teamwork challenges while also exploring the coastal waters of Bermuda and our rich maritime heritage. This experience can be transforming for the children as they blossom in their new-found knowledge and skills.
"The supporters, along with our captain, crew and programme educators, are benefactors to our students' growth in experiential learning and we thank and recognize them for their support of our mission."
Read More About
Category: All