[Updating] BELCO staff are currently gathering outside the building this morning [Oct 4], and BELCO has stated that "with Union action pending, BELCO cashiers and customer service representatives will be closed until further notice."

Yesterday BELCO's parent company Ascendant Group announced the "departure" of four senior executives — Denton Williams, Michael Daniel, Carol Ross-DeSilva & Zehena Davis — saying that "two have resigned and two positions were made redundant."
The four executives, combined, had been with the company for over 80 years and held the positions of Senior Vice President of Ascendant and BELCO COO, Ascendant SVP and Chief Strategic Development Officer, Ascendant VP Organisational Excellence and Vice President, Human Resources of Ascendant.
The company was also in the news last month, prompted by the circumstances surrounding the loss of three other jobs at Ascendant.
In a social media post just before 10am, BELCO said, "Notice: With Union action pending, BELCO cashiers and customer service representatives will be closed until further notice. We'll update you as soon as regular service is resumed."
Audio #1 of Donald Lottimore, President of the Electrical Supply Trade Union [ESTU]
President of the Electrical Supply Trade Union Donald Lottimore told Bernews, "Yesterday, we were made aware just before the press release at 5.30pm that we would be losing what we felt were key figures.
"Key Bermudian jobs were being vacated and we are, as a membership, disheartened by the fact that these long-serving employees – 29 years, two members 23, and most recently Ms. Davis, who was four years – but they were integral parts of our negotiating, as we are in the midst of our collective bargaining process and so now we have to abbreviate that."
We also see other Union officials, with both Jason Hayward and Ed Ball on scene, understood to be present in their capacity with the Bermuda Trade Union Congress.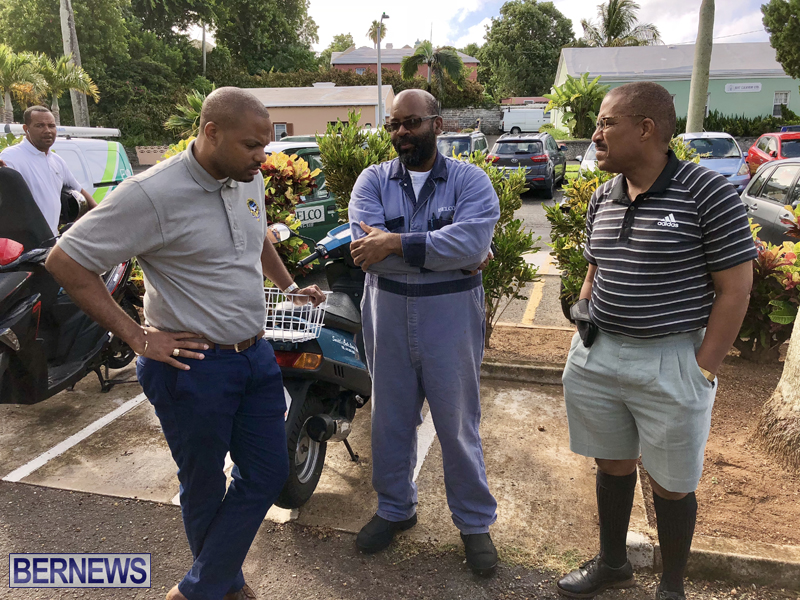 The situation is ongoing, we remain on scene, and we will update as able.
Update 10.47am: Update from ESTU President Donald Lottimore who said, "We have a meeting with the brothers and sisters of the Trade Union Congress here at 11.00am, so we're going to sit and discuss the rights of the workers here at BELCO and Ascendant. And then we have a 2.30 meeting, where we're looking to have all of the appropriate parties at the table."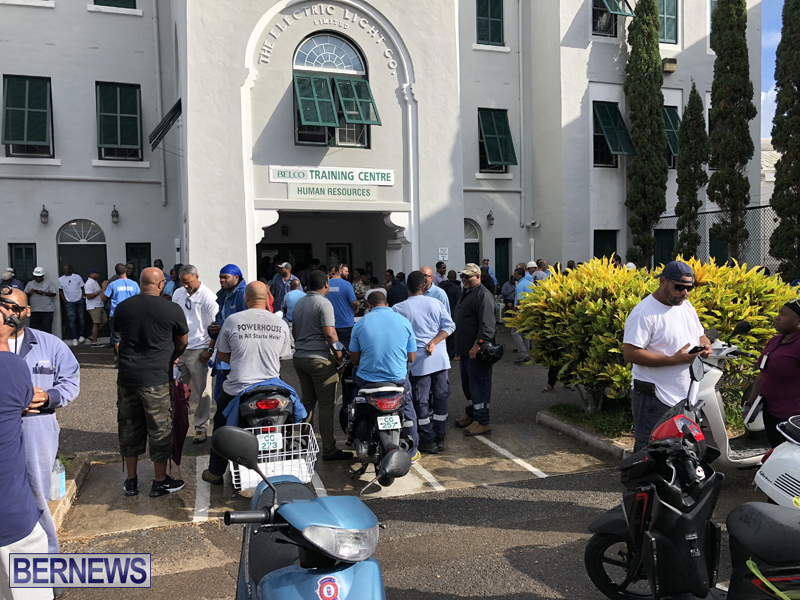 He added, "After the 11.00 meeting, we'll come back to our members, we'll make sure they're fed and renew their spirits, and then at 2.30 we'll meet again off-site and then come back and give them an update on where we stand.
Asked if he has heard from Government officials, he replied, "Not as yet; we're getting overtures but we haven't had anything secured as of yet."
Audio #2 of Donald Lottimore, President of the Electrical Supply Trade Union [ESTU]
Update 10.53am: An Ascendant spokesperson told Bernews, "Ascendant Group executive met with the Electricity Supply Trade Union [ESTU] executive yesterday as part of ongoing discussions about the situation at BELCO and the challenges that the company is facing with respect to costs and reducing customers' rates."
Ascendant President and CEO, Sean Durfy said, "We have every intention to continue to work with the ESTU to navigate our way forward. My door is always open and I welcome further discussions."
Update 11.37am: Workers are still gathered outside.
Update 12.04pm: Home Affairs Minister Walton Brown said, "I wish to express my grave concern over these developments, especially as I believe that most, if not all, of the staff departures yesterday were Bermudian.
"While it is the right of any private company to manage its resources and staff as it sees fit, it is disappointing that a company such as BELCO [under the Ascendant Group], who has had such a longstanding history of investing in Bermuda, have chosen to act in this way. Just as they have invested in Bermuda, Bermudians have invested in them, particularly as it relates to the staff members who work there.
"The issue of these developments does not just involve the Ministry of Home Affairs; it involves other Ministries as well. As a result, I will be meeting with my colleagues immediately to determine what can be done to ensure that there are adequate safeguards in place for the Bermudian staff at that company and that there is a level of stability there."
Audio #3 of Donald Lottimore, President of the Electrical Supply Trade Union [ESTU]
Update 12.37pm: ESTU President Mr Lottimore said, "We just came from a meeting of our brothers and sisters of the Bermuda Trade Union Congress and we are working together to make sure that the rights of Bermuda's workers are protected.
"We are going to meet with our membership, a closed-door meeting, at 1.00pm at the BIU so that we can discuss our path going forward, and consolidate a few thoughts and concerns to make sure that we address everything in a timely fashion and a united manner.
Asked if he has heard from management he said, "As of yet, I have not heard from the management of the organization, but I'm sure that will happen in its due time."
Asked if services have been affected, he said, "We maintained the most essential part of our service at the plant to make sure that our brothers and sisters in the community have their lights, particularly those seniors who may be in medical need; we know we have a responsibility to them, even as we think about the other members of this organization."
Update 1.05pm: We are outside BIU now, where the meeting is being held, workers have been arriving there, and we just saw BTUC President Jason Hayward walk in.
Update 1.12pm: According to an Ascendant spokesperson, Ascendant CEO Sean Durfy "reached out to ESTU President Donald Lottimore several times this morning, before 10.30am, by both phone and e-mail but as of 1pm there had been no response."
Update 1.21pm: Rev Nicholas Tweed was seen entering the building earlier today, he walked out a few minutes ago.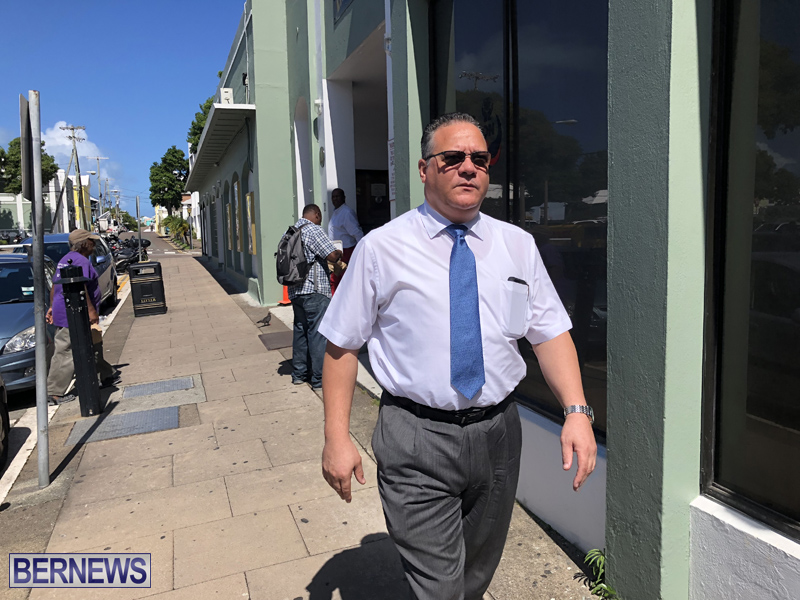 Update 1.25pm: Unofficial information suggests the meeting is now underway.
Update 3.19pm: Looks like the meeting has concluded, as we saw people walking out. Union officials indicated an update is likely to be forthcoming later today.
Update 4.45pm: The BTUC confirm that the ESTU "will be instituting a work-to-rule and demand the immediate reinstatement of the four qualified, displaced Bermudians." Full details here.
Update 5.06pm: Premier and Minister of Finance David Burt, the Minister of Transport and Regulatory Affairs Walter Roban, and the Minister of Home Affairs Walton Brown "today met with the Executive of the Electricity Supply Trade Union in the wake of the departure of four senior Bermudian executives from BELCO," the Government confirmed.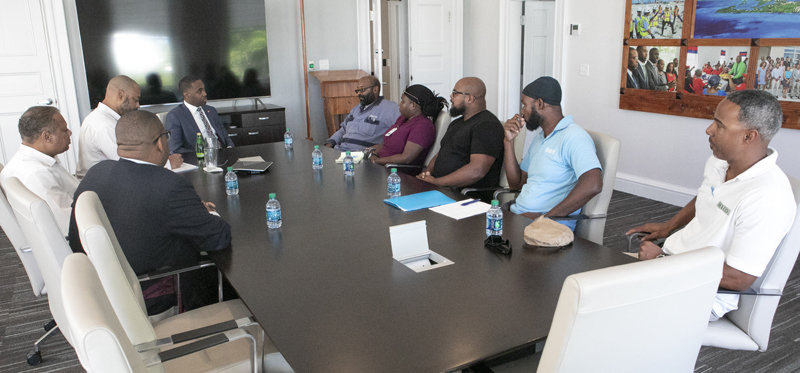 Premier Burt said, "It was important to meet directly with the workers' representatives who are justifiably concerned at a pattern of action by the CEO and the Board which is simply not in keeping with the community responsibility we expect from the company.
"The membership's reaction to this growing and seemingly deliberate culture of uncertainty that has only affected Bermudians is not something this Government will ignore.
"The management and Board of Ascendant have a responsibility to their shareholders first; but my responsibility and the responsibility of the Government is to the people.
"As the Union and its members work through these issues, the Government is committed to supporting fair business practices that meet the highest standard of corporate community responsibility. Even a monopoly must act right," the Premier added.
Read More About