[Updated] A meeting held last night with the Premier, Ministers, Electricity Union executive and Ascendant Board "was productive and a way forward has been agreed," Premier David Burt said this morning.
This follows after the Ascendant Group obtained a Supreme Court order  directing ESTU members "to return to their full employment effective immediately" after workers decided to withdraw labour on Friday.
Then on Saturday afternoon, the ESTU said they "exhausted all possible avenues in coming to a beneficial solution for all parties involved in this dispute but the response received has placed us into a corner with no other option but to continue with the withdrawal of labour."
Update: Photo posted by Premier Burt: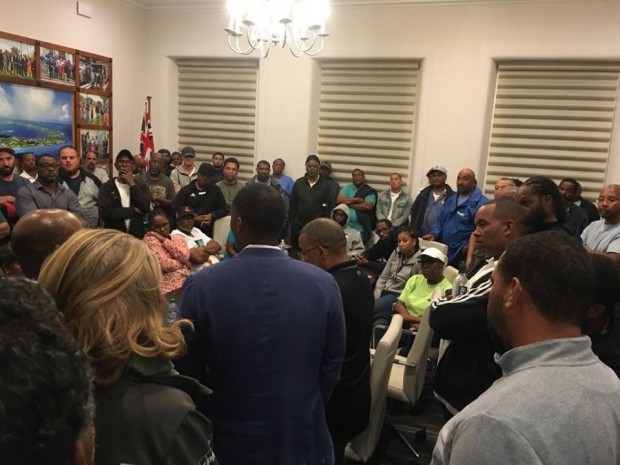 This morning a government spokesperson confirmed that Premier David Burt convened a meeting last evening [Oct 20] at the Cabinet Office between members of Ascendant Group's Board and the executive of the Electricity Supply Trade Union.
The Premier was joined by Deputy Premier and Minister of Transport and Regulatory Affairs Walter Roban, and Minister of Home Affairs Walton Brown.
The Premier said, "Our meeting last evening was productive and a way forward has been agreed. Both sides came prepared to talk and I wish to thank them for their willingness to work towards some form of resolution.
"Most importantly, I am satisfied that the supply of electricity for Bermuda will continue uninterrupted."
Update 2.52pm: The Premier has commented on the matter again, saying: "We spent several hours last night working through various issues and trying to repair a damaged working relationship.
"Unions do not take strike action lightly and in this case it was important to engage in a critical examination of the issues they outlined. Both sides accept that dialogue must continue and that communication must be open and constructive.
"The 'work to rule' has ended and the ESTU executive made it clear that their aim is to provide electricity to the Island safely and reliably. In the meantime, the remaining issues will be for the Board to address in due course.
"The Government responded to a need to bring the parties together for the good of the country. Disputes like this can be concerning but we are a mature democracy that has and will continue to manage issues responsibly, mindful of the wider impact on the community.
"Discussions will continue over the next few days and I am confident that electricity supply will be delivered uninterrupted, as both sides are now clearer on what needs to be done to continue the progress achieved last night."
Update 8.51pm: The Board of Ascendant Group Limited released a statement saying, "Members of the Board of Ascendant Group Limited met with Premier David Burt, Deputy Premier and Minister of Transport and Regulatory Affairs Walter Roban, Minister of Home Affairs Walton Brown and the Executive of the Electricity Supply Trade Union [ESTU], on Saturday evening and agreed a way forward which brings to an end the industrial action by BELCO staff of the last two weeks.
"For BELCO customers this means that all regular services will resume effective immediately. BELCO's head office on Serpentine Road will be open during regular office hours on Monday to accept all customer inquiries and payments.
"We appreciate the input of all parties who have endeavored to bring resolution to this situation and would especially like to thank our customers for their patience and understanding during this challenging time."
Update 9.29pm: The Electricity Supply Trade Union [ESTU] have released a statement which can be read here.
Read More About