With a Disney cruise set to make an inaugural visit to Bermuda on Saturday [Oct 6], a  ferry will run from Dockyard to St. George's, organized by the east end Chamber of Commerce.
An East End division Chamber of Commerce spokesperson said, "In an effort to boost the Towne's chances of impressing Disney on her inaugural series of trial cruises to Bermuda, a special Dockyard to St. George's ferry this Saturday Oct 6th has been organized by the east end Chamber of Commerce, partnering with the Ministry of Transport, Marine & Ports and Beach Boys [of Tobacco Bay & Clearwater].
"The ferry will run four times throughout the day at regular rates.
"This collaborative public/private effort demonstrates an exciting turn which calls on full island wide support to drive momentum and seize this unique opportunity.
"Ferries don't usually run on weekends in St. George's. Transport providers have historically pointed to unproven market demand on weekends, meanwhile many vendors, witnessing low traffic and limited transport options, further limiting opportunity to create a weekend draw that merits investment. A classic chicken and egg situation, providing a stalemate that underwhelms market expectations, stymies growth and generally, choices of lifestyle for everyone."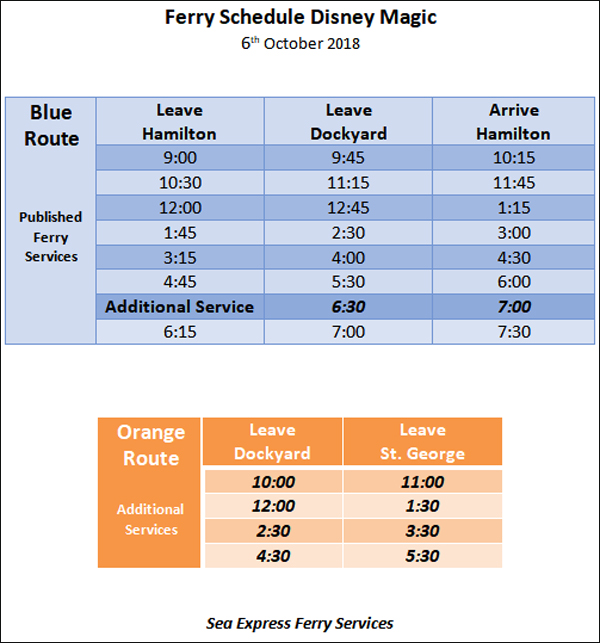 "This Saturday all of Bermuda has opportunity to help reverse this trend, with encouragement to swing by the east for a mini day-cation.
"Many of our retail shops, bars, restaurants, coffee shops, tours and attractions will be open, some with specials including Tobacco Bay, hosting their complimentary second annual Mermaid party from 12pm to 6pm with themed food, beverages and guest performances.
"Residents and island guests alike have a great opportunity this weekend to enjoy a mix n mingle, supporting area vendors, engaging Disney guests and supporting St. George's."
Read More About