Food Box Bermuda is continuing their aim of helping to provide food at affordable prices, with new 'food box' menus provided each month, with the group releasing the November menus.
There are five box options, ranging from $40 to $95, and the deadline for orders is Monday, November 5th at 7:30pm, with the distribution date set for Monday, November 19 between 6.00pm – 7.30pm.
One option is "Mangrove Fruit & Vegetable Box" for $40.00 which includes 14oz TJ Farms Select Mixed Vegetables, 14oz TJ Farms Select Cut Green Beans, 32oz Broccoli Florets, 32oz Chopped Spinach, 8ears Yellow Corn On The Cob, 16oz TJ Stir Fry Blend, 10oz Mango Chunks, 10oz Whole Strawberries, 12oz Pineapple Chunks, and 12oz Sliced Peaches.
Another option is the "Astwood Park Assorted Box" for $95.00 which includes 2lbs of Jade Lion Peeled Uncooked Shrimp, 4 pieces NY Strip Steak, 5lbs of Ground Beef, 2 trays Tyson Chicken Thighs, 1 Joyce Farms Whole Chicken, 2lbs Great Fish Salmon Fillets, 32oz TJ Farms Crinkle Cut French Fries, 14oz TJ Farms Select Mixed Vegetables, and 48oz Friendly's Ice Cream.
The full November menu follows below [PDF here]: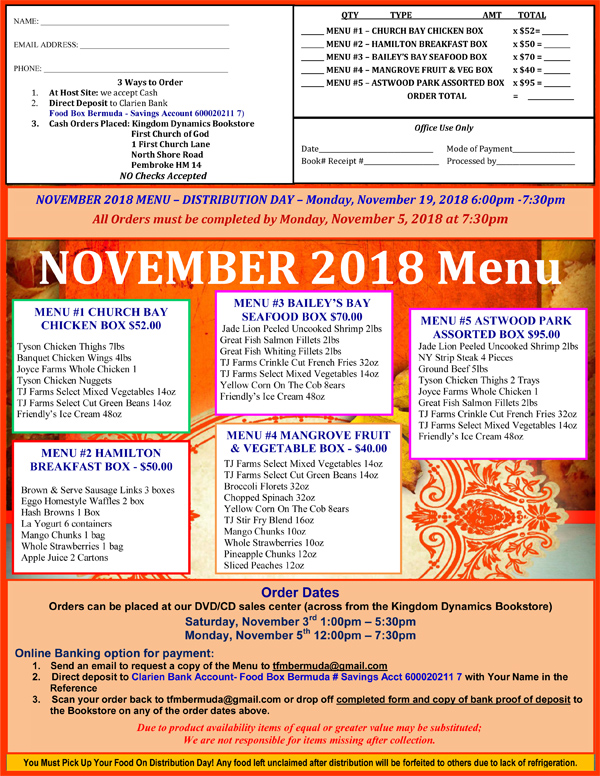 Read More About
Category: All