Guardians of the Reef will be hosting the third annual Bermuda Fall Lionfish Derby this coming weekend which will also be the island's second 'REEF Sanctioned Derby' that follows a specific framework and requires all participants to be part of a 2-4 person team lead by a Team Captain.
This four day lionfish culling competition begins on Friday morning, November 9th and ends with a weigh-in and wrap party on Monday, November 12th at 4:00pm.
Cash prizes – including a $750 top prize made possible by the Bermuda Lionfish Taskforce – are on offer for participating teams.
Weldon Wade, Managing Director of Guardians of the Reef, said: "Events such as this Derby and other lionfish culling competitions are important not only to get as many divers in the water to remove as many of the invasive alien species as possible to keep their numbers in check but to also engage the dive community, recognize and reward divers, and collect valuable scientific data."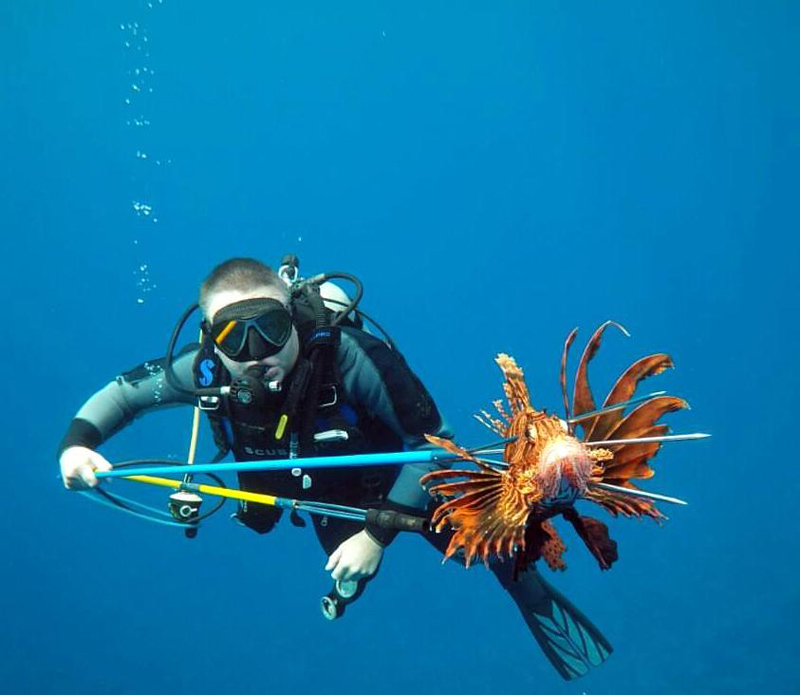 "It has been known for some time now that lionfish in Bermuda have a distinct migratory pattern where they tend to flee into deeper water as it warms and move into the shallows as it cools. By having dedicated events each season we get to capture that data.
"This also means that we need more divers that are keen to dive in the cooler months. While it might be chilly, you and your dive buddy can harvest right off the beach in shallow water snorkeling or freediving. Time of day matters too. Lionfish tend to shelter in the shade during the day and come out for a swim when there's little to no light."
Teams must register online and each Team Captain must attend one of two Captains Meetings in advance, both taking place at BUEI at 6pm for one hour on Tuesday, November 6th and Thursday, November 8th. Divers will have about four days and three nights to get in the water, put eyes on our reef and remove as many lionfish as possible.
"If you are interested in building a team or joining a team please feel free to attend the Captains Meetings. If you would like to spear lionfish while taking part in the Derby you will need your lionfish culling permit," Mr Wade added.
"If you do not have one there is a permit class taking place on Monday, November 5th at BUEI at 6:00pm. You can be part of a team and not have a permit it just means you cannot actually spear. Being a spotter, crew, safety diver, carrying kit, shooting video and photographs, etc, can be extremely helpful.
"The weigh-in and wrap party will be held at Atlantic Mooring Maintenance Ltd. on Middle Road in Southampton located between the Heron Bay Marketplace and Island Cuisine on Monday afternoon.
"There are three categories; most lionfish, smallest and largest. We only expect to have lionfish at the weigh-in completely whole if you are aiming for largest or smallest otherwise please only bring the lionfish wracks so that they can be counted. Fillet the lionfish, store the wracks until Monday and bring them in a cooler to Atlantic Mooring."
Visit www.guardiansofthereef.org for more information or search for Guardians of the Reef on Facebook. Interested divers can register at PTix.bm or by contacting Weldon Wade on 338-8058.
If you wish to support the event but do not wish to dive there is a sponsor / patron option on the website. All registered participants and patron sponsors can attend the wrap party complimentary, $20 for guests. All registration and sponsorship money will be tallied and divvied up as cash prizes for the competition.

Read More About
Category: All, Environment, News