This Monday, November 19th at 6pm, Greenrock will be hosting a free public meeting at BUEI to discuss Bermuda's Energy Future.
"The event will feature a brief presentation by Bermuda College Students on campus sustainability, a call to action by Rev. Nicholas Tweed and a comprehensive presentation of the Bermuda Better Energy Plan by Energy Expert Chris Worboys [Etude UK] and Stuart Kriendler [Managing Director of BE Solar]," a spokesperson said.
"The Regulatory Authority is currently undergoing a public consultation period regarding the way we generate and distribute energy in Bermuda for the next 20 years. BELCO has developed an IRP [integrated resource plan] that involves a long term commitment to Liquid Natural Gas [fossil fuel], the development of a large regasification plant, and minimal use of renewable energy.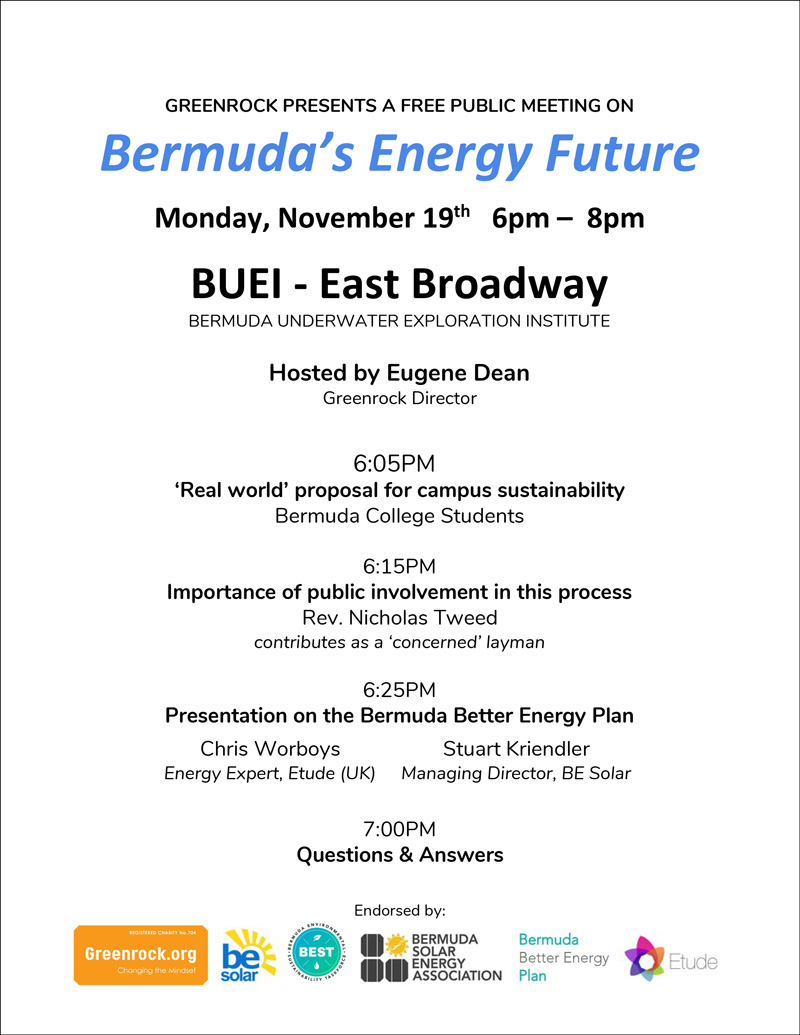 "The Bermuda Better Energy Plan is an alternative IRP that incorporates a significant increase in renewable technologies and the diversification of our energy supply system. This means clean local energy, a huge reduction in our carbon footprint, lower energy prices and more local jobs.
"Despite the obvious benefits it is likely that BELCO's plan will be adopted if the general public fails to respond.
"The Bermuda Better Energy Plan website betterenergyplan.bm has easy to follow instructions on how to make a submission to the Regulatory Authority. You can use their templates or make your own. The goal is to share your vision for energy in Bermuda and your comments about the plans. Please encourage as many people as possible to participate. It is critically important for us to respond."

Read More About
Category: All, Environment