Bermuda's Steve Wilson made an exceptional showing at the Buenos Aires Regional Open in Argentina, remaining undefeated through all six games to claim his spot at the top of the podium, marking the first time a Bermudian boccia player has won a gold medal at an international event.
In the finals, Wilson defeated Argentinian Profiti 4-1 in the final to claim the gold medal and spoil the party for the home fans. Wilson, competing in the BC4 division, got off to a great start throwing jack long and scoring 2 points in first end. In the second end Profiti scored one point and the score was 2-1 at the half way mark.
Wilson then performed some great pressure shots and edged away from his opponent by scoring 1 pt in each of the remaining 2 ends. He also defeated players from the US and Mexico on his way to reach the final.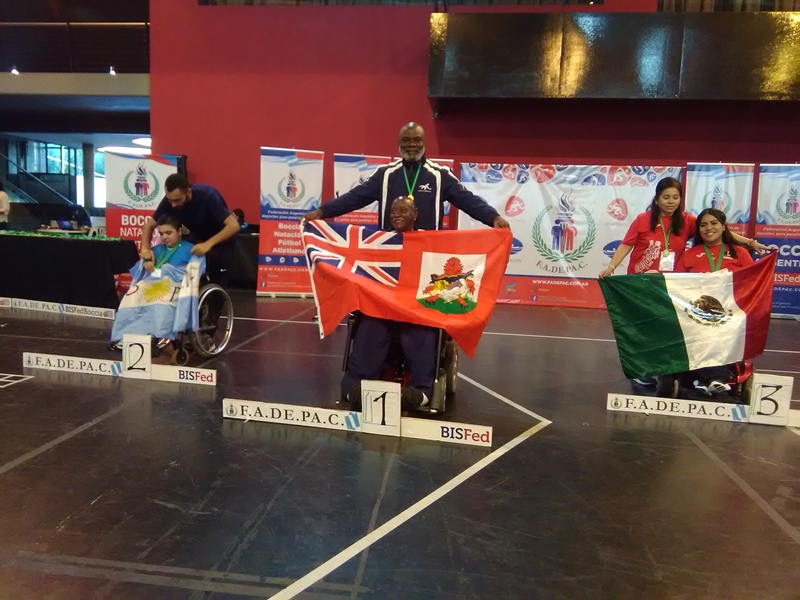 Bermuda's Omar Hayward and Yushae DeSilva Andrade also competed in the BC1 class. Both players had to play each other in the opening match with Hayward narrowly beating DeSilva Andrade 3-2.
Hayward then convincingly beat Flores from Argentina 8-0 before losing the final match 5-4 to Ventura from Mexico. Unfortunately due to point difference Hayward did not progress to finals, however he played some great boccia to claim 2 wins.
DeSilva Andrade lost her 2nd match, by only 1 point again to Ventura from Mexico however fought hard in 3rd game and finished with a great win defeating Flores from Argentina 4-1.

Read More About