Since the beginning of the school year, Masterworks Museum of Bermuda Art has offered afterschool art classes for students aged 6 – 18.
These students have grown and excelled over the term; so much so that Masterworks is hosting a Student Art Exhibition to highlight their talent and advancing skill.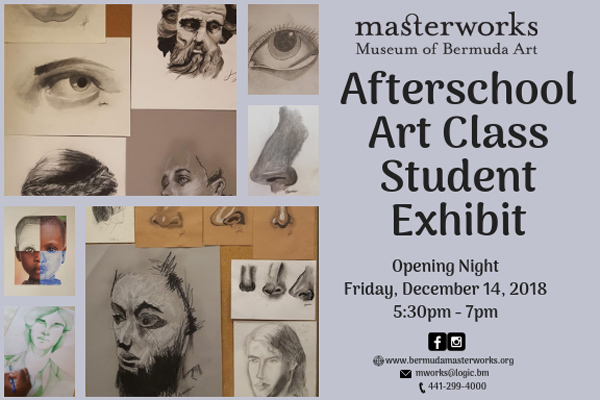 "This semester, we focused on Sketching and Drawing, Watercolour, Figurative Drawing, and Still Life," said Art Education Coordinator, Nuno Patricio.
"I wanted to challenge the students, having them focus on specific areas, instead of general knowledge. Within some of these areas, namely Sketching, Drawing, Figurative Drawing and Still Life, the students were encouraged to explore using different mediums, like charcoal, pen, and crayon; mediums they may not be accustomed to. Doing this helps them see how they can produce different effects in their pieces.
"The amount of skill and talent that our students have produced is astounding! As the year progresses, we will focus on developing other areas in art, including ceramics and sculptures.
"Having the opportunity to host a show for our students encourages them to have pride in their work, and build a portfolio for their future. Our ultimate goal at Masterworks is to encourage not only the appreciation of art, but education of Bermuda's culture and history through art."
The Student Art Exhibition opens in Salty Lime Café inside Masterworks Museum of Bermuda Art this Friday, December 14 at 5:30pm. More than 20 pieces by the students will be on display. The public is encouraged to come to the opening and support these young artists. Admission is free. Registration for Winter Semester 2019 is open.

Read More About
Category: All, Entertainment