The Federation Equestre Internationale [FEI] recently released the Regional as well as the World Ranking Category Results for the 2018 FEI World Jumping Challenge and Bermuda's equestrians have proven, once again, to be on top of their game.
A Bermuda Equestrian Federation spokesperson said, "Congratulations are extended to the 2018 Bermuda Team for securing first place in the FEI's Regional Team Zone 10 division.
"In the FEI's Overall World Ranking Team Category, the Bermuda Team secured an extremely commendable 6th placed out of 28 competing teams from around the globe. Members of the 2018 Bermuda team were Philip Correia, Casey Truran & Courtney Bromby.
Courtney Bromby riding Worth the Wait, Philip Correia riding Emerson and Casey Truran riding De Le Vega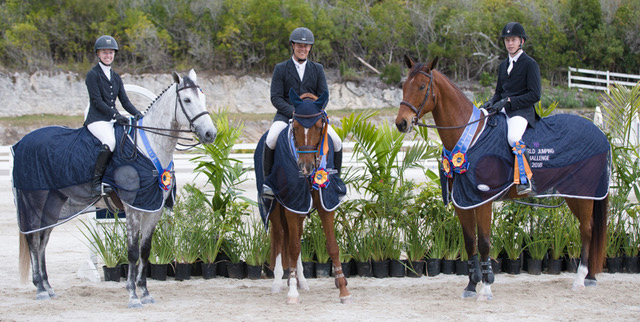 "In the FEI's Regional Individual Rankings for Zone 10 division, Philip Correia and his athletic stallion, Emerson, won the regional Category "A" division [1.20 – 1.30m] – the highest jumping category of the competition. Talented rider Casey Truran and his horse De Le Vega placed 1st in the regional Category "B" division [1.10 – 1.20m].
"Courtney Bromby riding Worth the Wait, placed 2nd in the regional Category "C" division [1.00 – 1.10m], with Philip Correia riding Hornelli, Kayla Bardgett riding Causing Chaos & Abby Bardgett riding Up Up and Away placing 3rd through 5th respectively.
"Equally exciting are the extremely solid results that Bermuda's equestrians secured in the FEI's Overall World Rankings Categories. Category "A" rider Philip Correia ranked 19th out of 278 competitors, whilst in the Category "B" division Casey Truran ranked 24th out of a field of 213 competitors. In the Category "C" division, Courtney Bromby ranked 22nd out of 318 worldwide competitors!
"As results of Philip Correia's success in winning the top place in the Category "A' Regional Zone 10 division, Bermuda is eligible to be represented at the 2019 FEI World Jumping Finals, which will be held later this year in Quito Ecuador.
"The Bermuda Equestrian Federation extends its sincere thanks to its generous sponsors. Gold Sponsor: Clarien Bank. Silver Sponsors: Freisenbruch-Meyer Group of Companies and Hiscox Re. Bronze Sponsors: The Stempel Family and the Portelli Family."

Read More About