[Written by Patrick Bean]
The tight battle at the top of the Premier Division continued during the latest slate of matches, as Robin Hood and PHC continue their strangle-hold on the top two spots, Hood maintaining a tentative grasp of first via goal difference, but with the Zebras still having played a game less.
In the First Division Southampton Rangers continued their season-long unbeaten run with a leisurely 1-0 win over the third placed team that was flattering to the opposition, while Somerset Eagles kept up the pace and stayed in the second promotion with triumph of their own.
Premier Division
Dandy Town 3 Paget 2
Dandy Town came back to snatch victory from the proverbial 'jaws of defeat', just as opponents Paget conspired against themselves in late surrender to the home side's pressure and the unyielding talents of captain Angelo Simmons, who bagged a late brace, including the equalising penalty score and winner at the death.
Simmons' late heroics served to undo hat appeared a match-winning performance by Dion Stovell, who produced his own two dazzling pieces of skill in front of goal to effect a Paget fightback that appeared would be enough to earn them a valuable three points and aid their cause against potential relegation.
After Kwame Steede had given Hornets a 1-0 advantage after a mere three minutes Stovell levelled matters moments from half-time as he somehow managed to loop a backwards header over opposing goalkeeper Jaden Manders, who had strayed slightly from his line and left helpless in no-man's land.
He then appeared to put paid to the home side and complete a gritty performance by demonstrating skills with the ball at his feet, collecting outside at the top of the penalty area and extinguishing challenges from two defenders before rounding an exposed Manders and giving a deft final chip into goal.
However, Town responded with pressure, while coach Devarr Boyles introduced three late substitutes in what had initially appeared a desperate move in a lost cause.
However, not getting the 'memo' was Simmons and once defender Nelson Carpenter inexplicably pulled down K'Wonde Latham in the area, even as the ball and man were travelling away from goal, the top scorer made no mistake drawing his side level in the 88th minute and a minute later unleashed a 20-yard, in-step drive from the top left edge that Jason Smith had no response for.
Smith, resorted to ill-spoken comments toward the referee assistant, which earned him an ejection and at least a match suspension.
For Simmons it was another notch to his resume as Town's talisman with yet another game winning effort to match that of a week ago when his tallied the late winner against BAA.
However, Simmons gave ultimate credit to his team, which he indicated were never bowed or doubted.
"We made it hard for ourselves today," explained Simmons afterwards. "But we worked hard, stuck to the game-plan and got the result we wanted.
"The team really showed a great amount of guts, character, belief and desire and that's all we needed at the end."
The three points earned inched Town to within four points of third placed X-Roads, who dropped two points against North Village.
Match prediction: Dandy Town 2-1
Actual result: Dandy Town 3-2
PHC 2 Devonshire Cougars 1
PHC made hard work of this contest against a surprisingly enthused Cougars outfit dwelling among the lower reaches of the standings, however Zebras came away with maximum points at home to keep up their charge toward a consecutive league championship.
After a scoreless first half at PHC Stadium Marco Warren gave PHC the lead in the 56th minute when his low shot went in off the upright. Zari Simmons equalized for Cougars with a goal in the 72nd minute.
Kushae Hypolite popped up to score an injury time winner for the home team.
Match prediction: PHC 4-2
Actual result: PHC 2-1
X-Roads 1 North Village 1
X-Roads were brought down even closer to earth following a rampaging start to the current campaign as North Village held the former division leaders and top scorer Donavan Thompson in close check for much of these proceedings at Garrison Field.
Village took the lead in the 25th minute through Marcellos Thomas, however Teiko Lowe equalised for Warriors in the 47th minute as the two sides shared the spoils and did little to advance their causes.
Village dropped from fifth to sixth with the result, while Warriors saw their margin toward the top spot extended and allowed the chase pack to close further in.
Prediction: Draw 2-2
Actual result: Draw 1-1
Boulevard Blazers 1 BAA 4
BAA leapt into fifth place as they stormed the coast at Lord's and blazed a path through Boulevard, further consolidating them among the mid-season, relegation zone.
The Greens arrived with purpose following a sluggish effort a week previous, the remnants of the pie, ham and turkey discarded for the day's challenge.
The visitors scored through Nathan Rego, Keishen Bean, Jibri Salaam and Troy Tucker while Blazers lone reply came from player/coach Ian Coke. BAA overtook North Village for fifth place with the result.
Prediction: Draw 2-2
Actual result: BAA 4-1
Somerset Trojans 3 Robin Hood 5 [Saturday]
Robin Hood travelled to the Somerset Cricket Club looking to take over the top of the Premier Division standings, while the Somerset Trojans were hoping to close the gap on the ninth place team in the Standings, but in the end fans were treated to eight goals and, ironically, Robin Hood scored 7 times in their 5 – 3 victory.
Tomiko Goater would give Robin Hood the lead in the seventh minute, Antwan Russell would double the lead when he found the back of the net in the 11th minute. In the 25th minute Daniel Andrade would make it 3 – 0 to Robin Hood, before Russell would make it 4 – 0 in the 34th minute and then Goater would find the back of the net in the 43rd minute to extend the Robin Hood's lead to 5 – 0.
Somerset would stage a comeback, albeit it with the assistance of Robin Hood, they pulled a goal back in the 55th minute through an own goal, Robin Hood would score a second own goal in the 68th minute before D'Andre Wainwright scored in 80th minute for the Trojans to make the score 5 – 3. Neither team would score again as Robin Hood take over the top spot in the Premier Division.
Prediction: Robin Hood 4-1
Actual result: Robin Hood 5-3
First Division
Southampton 1 Hamilton Parish 0
A well worked first half tally from Jarazhino Bassett, and involving much skill and effort from Quadir Maynard, put paid to any chances visiting Hamilton Parish may have had of producing an upset and improving their promotion chances.
The scoreline refused to offer the true tale of complete dominance by Rangers, who could be seen to toy with opponents they have beaten twice already the current season and clearly have their number.
Bassett, Maynard, skipper Donte Brangman and company were at ease throughout, with the only question being as to why they didn't opt to score more, while Parish seemed to arrive with defence as their chief concern, performing in ultra-conservative formation and fashion and were always seemingly a step behind or too slow.
Rangers' captain and play-maker Brangman conceded that his team warranted scoring more goals, however the maximum points earned were sufficient in their ultimate quest of supremacy.
"I think we made it harder than we should have but at the end of the day we got the result that was needed and we'll take the points," said the skipper, who has enjoyed a productive, break-out type season for the league leaders. "We definitely controlled the game, but we didn't put our chances away and made it much harder that it should have been.
"Our goal is just to continue winning, that's all that matters now. If we don't lose we'll win the league and that's our intention."
Prediction: Southampton 3-1
Actual result: Southampton 1-0
Somerset Eagles 2 St. George's Colts 1
Somerset Eagles maintained their own promotion quest with a hard-fought victory against travelling St. George's Colts outfit at White Hill Field that improved Eagles' advancement probability, while further confirming St. George's to a mid-table existence.
The White Hill men were forced to come from behind to defeat the east enders, who took the lead in the 21st minute when Micah Mendes scored.
Eagles would equalize in the 69th minute when Tahj Wade scored and Leo Burgess would then score the winner for the west enders in the 75th minute.
Prediction: Somerset Eagles 3-2
Actual result: Somerset Eagles 2-1
Devonshire Colts 4 Wolves 2
Devonshire Colts continued to show improvement down the stretch as they brought Wolves crashing back down to the planet with an exciting win, with Chermal Henry scoring a hat-trick and Danieel Ball tallying coring once.
Wolves were reduced to 10-men Wolves when player/coach Vincent Minors ws sent off in the first half and Colts took full advantage of their numerical advantage thereafter.
Wolves, who upset Hamilton Parish a week prior, on his day promised only to deceive as they wilted in the face of the Colts onslaught.
Hopde Burrows and Lamelle Paynter scored for Wolves in defeat.
Prediction: Draw 3-3
Actual result: Devonshire Colts 4-2
Young Men Social Club 6 Ireland Rangers 1 [Saturday]
Young Men Social Club defeated Ireland Rangers 6 – 1 in their match at Bernard Park.
The Bluebirds were led to victory by Dominique Armstrong who scored a hat-trick, while Mainly Young added two goals and Delano Simmons scored the other. Rash Seaman scored the Ireland Rangers lone goal.
Prediction: YMSC 4-3
Actual result: YMSC 6-1
Vasco 0 Flanagan's Onion's 8
Vasco would go down 8 – 0 to the Flanagan's Onions in their match at Bernard's Park, as Treshun Smith led the pub side with four goals, while Mikale Williams, Paul Smith, Jah-von Morgan and Daniel Alhner each added a goal.
Prediction: Vasco 2-1
Actual result: Flanagan's 8-0
Premier & First Division Results:
Premier Division
PHC Zebras 2 Devonshire Cougars 1
Dandy Town Hornets 3 Paget Lions 2
X-Road's 1 North Village Rams 1
Boulevard Blazers 1 BAA 4
Somerset 3 Robin Hood 5 [Saturday]
First Division
Southampton Rangers 1 Hamilton Parish 0
Somerset Eagles 2 St. George's Colts 1
Devonshire Colts 4 Wolves
Vasco 0 Flanagan's Onions 8
YMSC 6 Ireland Rangers 1 [Saturday]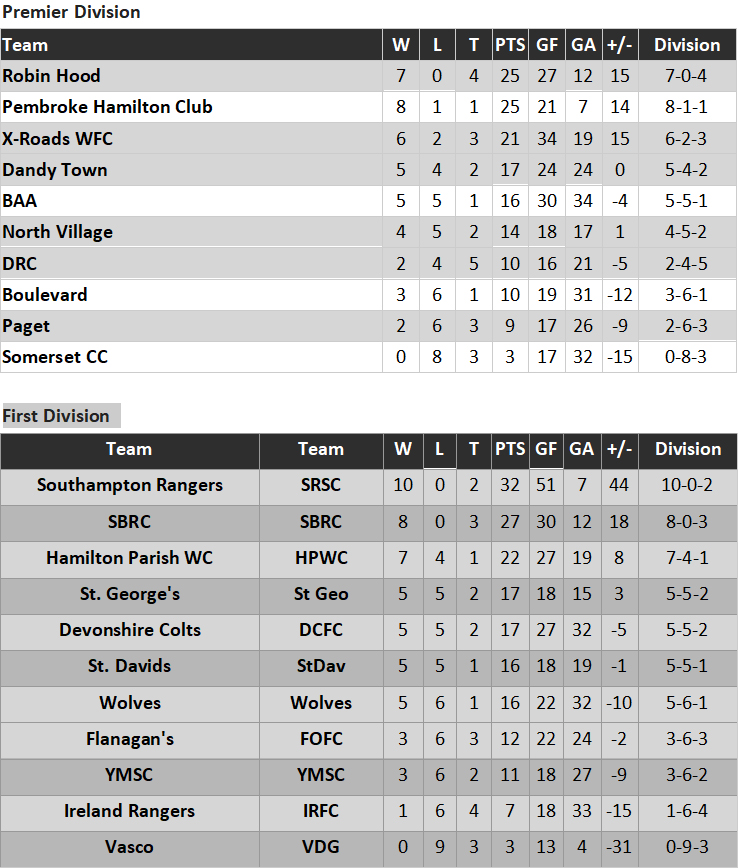 Team Power Rankings
[previous ranking in bracket]
Premier Division
1.[1] PHC
2.[2 ] Robin Hood
3.[4] Dandy Town
4.[3] X-Roads
5.[6] BAA
6.[5] North Village
7.[7] Devonshire Cougars
8.[9] Paget
9.[8] Boulevard
10.[10] Somerset
First Division
1.[1] Southampton Rangers
2.[2] Somerset Eagles
3.[3] Hamilton Parish
4.[4] St. George's
5.[7] Devonshire Colts
6.[6] St. David's
7.[5] Wolves
8. [8] YMSC
9. [9] Flanagan's
10. [10] Ireland Rangers
11. [11] Vasco

Read More About