Airlines seats flying to Bermuda are down 4 percent compared to 2018, however since 2015, airline seat capacity is up 21 percent and leisure air arrivals are up 46 percent, the BTA said.
In correspondence sent to stakeholders, the BTA said, "In case you missed the 2019 Tourism Outlook Forum on February 20 or would like to have a closer look at the trends, we have recapped the airlift forecast conversation. We hope you find this helpful because, obviously, airline service is so critical to the overall performance of our industry.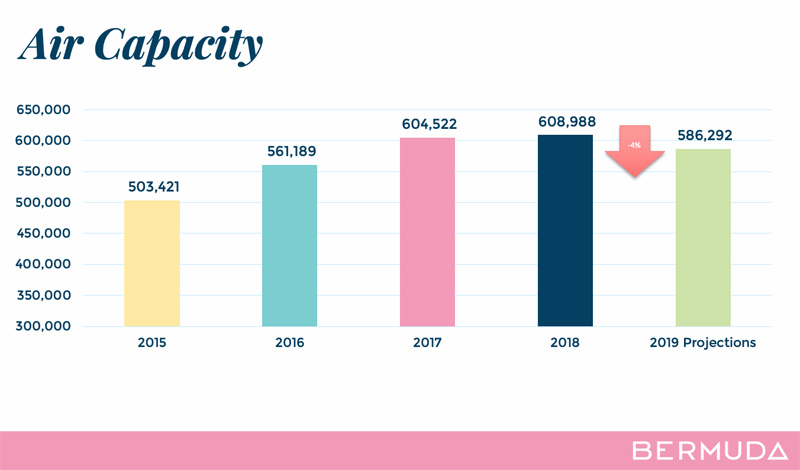 "Here's what you need to know about the current airlift capacity forecast for 2019:
Airlines seats flying to Bermuda down 4 percent compared to 2018;
From JFK in New York City the capacity decrease is predicted to be at least 14 percent;
Capacity will increase from Newark International due to service beginning six weeks earlier than 2018, but this increase will not fill the JFK gap because the total volume from New Jersey is smaller
These 2019 airline schedule changes have been in effect for about six months
"While the 2018 leisure air arrival numbers reached a 16-year high and a third consecutive year of growth, business and visiting friends and relatives travel has declined sharply. Down more than 30 percent since 2007. Resident travel is off as well over that same period, although less sharply.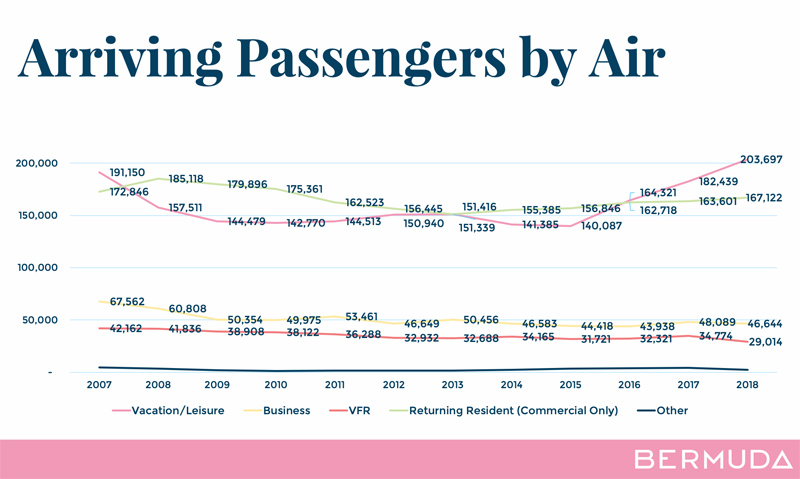 "During a panel discussion at the Outlook Forum, Aaron Adderley of Skyport addressed how all three purposes of visit are impacting the dialogue with airlines: "When we have softness in any one of those three markets it puts an over-dependence on the other two markets to pull up the slack and that's exactly what's happening today with softness in the resident travel, with softness in the business travel market.
"Ten years ago there was softness in the leisure numbers but strength in resident travel and business travel. I'm hoping we can get to a point where all three markets are operating on all four cylinders and we'll have a perfect scenario."
The video of the BTA Outlook Forum referenced above
The BTA added, "Since 2015, airline seat capacity is up 21 percent and leisure air arrivals are up 46 percent. If performance can improve in the other categories of travel, while leisure travel remains strong, maintaining current capacity and potentially attracting new lift will be less challenging for Bermuda."

Read More About