In honor of International Women's Day and Women's History Month, EY Bermuda Ltd. made a donation to the Women's Resource Centre in Bermuda.
A spokesperson said, "The centre provides education, training, counseling and support services for women in the local community. As a founding sponsor for Bermuda's International Women's Day event, EY is proud to have been an active supporter of the Centre by making annual donations for the past four years."
Alison Morrison, Women's Resource Center board member; Elaine Butterfield, Executive Director of the Women's Resource Centre; Cordelia Davis, EY Partner; Edith Jaworski, EY Partner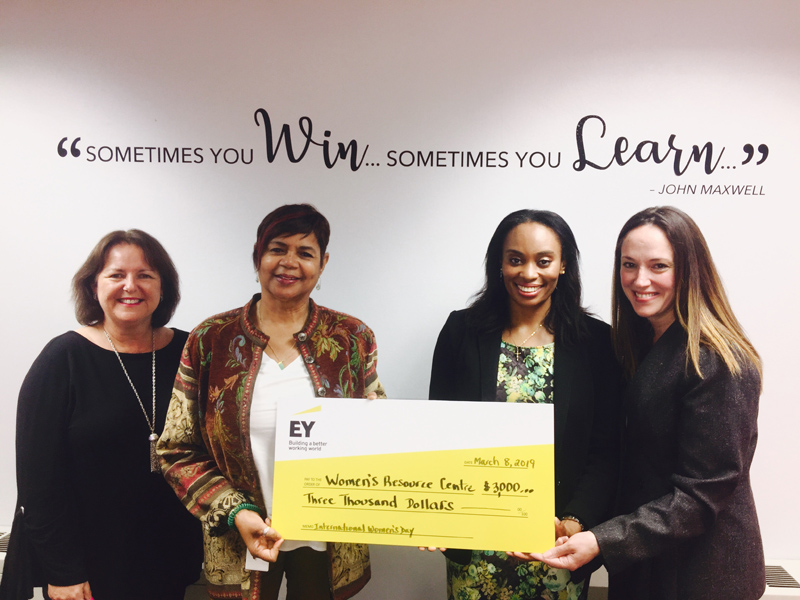 "The Women's Resource Centre is an important support system for women in our local community," EY Partner and Financial Accounting Advisory Services leader Cordelia Davis said.
"We're proud to help them provide services and workshops in our mission to build a better working world where women feel like they belong as much as men do." EY's Belonging Barometer study found that when people feel like they belong, they are much more likely to contribute to their full, innovative potential.
EY Partner – Audit Insurance, Edie Jaworski added, "EY is committed to giving back to the communities in which we work and live all around the world. Our global #WomenFastForward initiative is dedicated to helping women realize their potential and advancing gender equality. Congratulations to the Women's Resource Centre for the significant contribution they make every day to the lives of women."
Elaine Butterfield, Executive Director with The Women's Resource Centre commented, "The Women's Resource Centre is grateful to organizations such as EY Bermuda Ltd. for their donation in support of our services. Their donation shows a commitment of the women of EY Bermuda Ltd., in supporting our collaborative work of providing the support and services that the women in our community need so that they have the strength, awareness and the self-esteem to make informed decisions to better their lives and the lives of their families."
Read More About