A recall is currently ongoing to repair affected Takata Airbag Inflators, with 2001-2016 Honda CR-V, Fit, FR-V and Stream owners being urged to attend a free Repair-A-Thon at Auto Solutions on St John's Road, Pembroke from March 8 through March 10 between 8.00am and 6.00pm.
A spokesperson said, "Exposure to prolonged high heat and humidity may increase the risk of faulty Takata Airbag Inflators exploding during a crash. In the case of an inflator explosion, sharp metal fragments have caused serious injuries and in some cases tragically killed the vehicle occupants.
"2001-2016 Honda CR-V, Fit, FR-V and Stream owners are urged to attend a free Repair-a-thon at Auto Solutions on St John's Road, Pembroke from Friday to Sunday, March 8th, 9th and 10th, between 8:00am and 6:00pm. Qualified technicians will be on hand to repair affected Takata airbag inflators for free. Repairs will be conducted while you wait and no appointment is necessary. Food and beverages will be provided and repairs will take approximately 45 minutes."
Glen Smith, Managing Director of Auto Solutions said, "We have repaired the majority of defective airbags in local Honda vehicles, however, we are urgently trying to reach the remaining Honda drivers that are still on the road. The risk becomes greater the longer the airbag goes unrepaired. We have reached out directly to all the known Honda drivers and Honda have sent mailers to every household, but there are still cars that remain unaccounted for. We are urging the public to please help us spread the word about this free Repair-a-thon."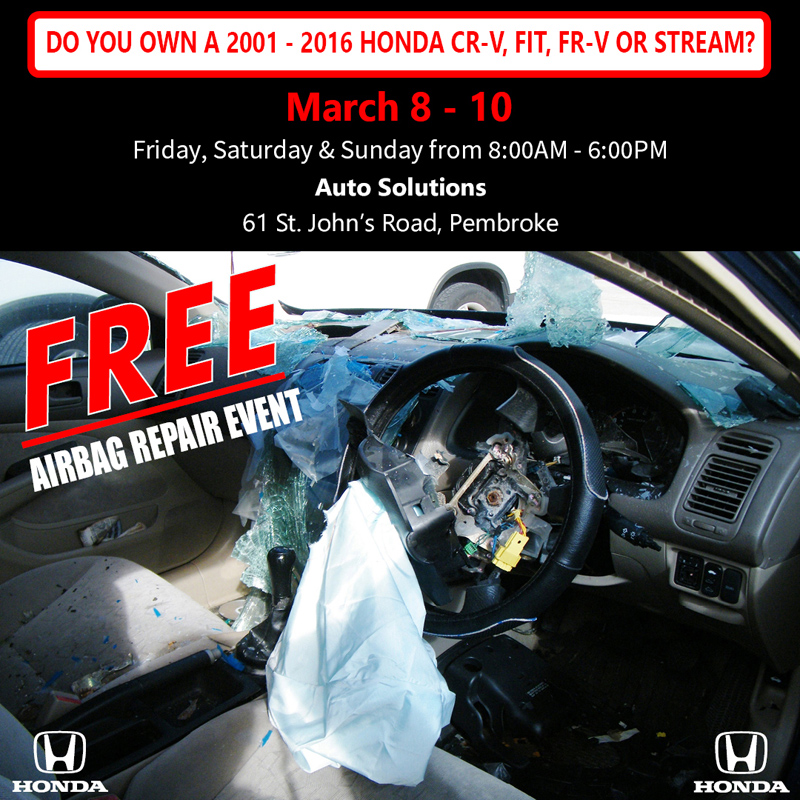 Terry Heilbron, After Sales Manager at Auto Solutions, said, "This is a serious safety issue which we would like to resolve as swiftly as possible with minimal disruption to the drivers. The repairs are free, quick and easy and could save a life. If you cannot attend the Repair-a-thon please contact us to schedule an alternate appointment."
"All Honda owners are encouraged to check if their vehicle is affected by visiting the Honda website at www.hondacars.bm/recalls and inserting their Vehicle Identification Number [VIN], which is made up of 17 alpha & numeric numbers and can be found in your TCD Registration Form. New recalls have been added so it is important that Honda owners check the website for their VIN numbers even if they have previously been repaired.
"For more information or to schedule an appointment for another day, call Auto Solutions at [441] 295-5000 or visit Auto Solutions on 61 St. John's Road, Pembroke."
Read More About