Minister of National Security Wayne Caines and Governor John Rankin visited Mosques across the island today [March 15] to show their support for the Muslim community following the devastating attack on Mosques in New Zealand.
At least 49 people were killed and 20 were seriously injured in the terrorist attack targeting two Mosques in the New Zealand city of Christchurch.
"In light of recent events in New Zealand and as a display of love, solidarity and support, Minister Caines visited mosques and spoke with Imam Bassim Muwaakkil of Masjid Muhammad Mosque, Imam Saleem Talbot of Islamic Cultural Center Mosque, and Imam Ashmead Ali of Masjid Quba Mosque," the Government said.
Governor John Rankin, Imam Ashmead Ali, and Minister Wayne Caines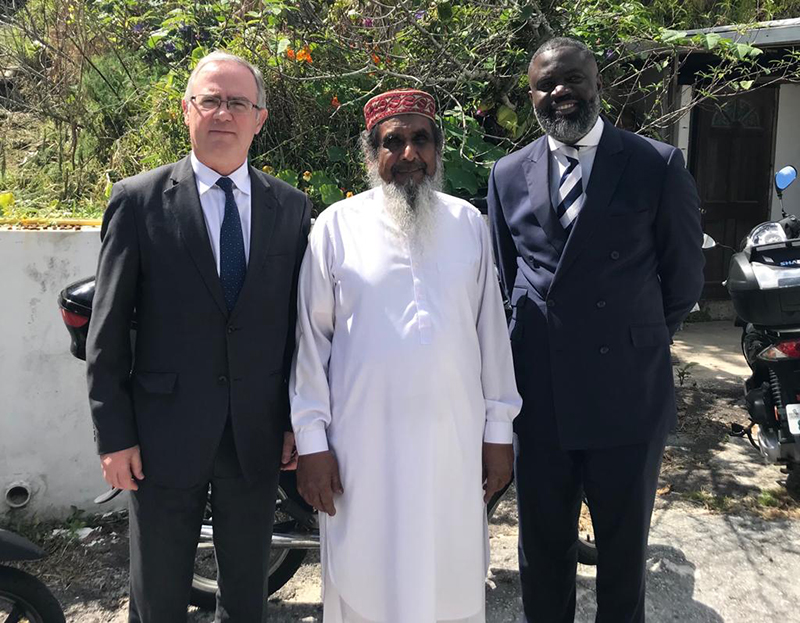 Minister Caines said, "As a result of the incident in New Zealand, I wanted to meet with members of the Muslim community and assure them that we understand what they are going through, and that they have the support of the Premier, government and the people of Bermuda."
"Our thoughts and prayers are with the Muslim community in New Zealand and Bermuda during this challenging time."
Read More About