The Bermuda Sanshou Association will field nine athletes at Saturday's 20th Bridgetown Burning Martial Arts Festival in Barbados.
This is the third consecutive year that Bermuda has sent a contingent to Barbados to compete and for the second year in a row the team will also feature Junior San Da athletes.
Nine year old Nathaniel Thomas, who captured Gold at last year's Sanda Kicks and Licks event in Barbados, will be hoping to defend his title with fellow team mates Matai Phipps [12] and Shaela Bailey [11] looking to improve on last year's performances.
Twelve year olds Szaine Williams and Dominique Brown make up the remainder of the Junior Team who will compete in a Round Robin or Knockout Tournament format.
Team Captain Krista Dyer will lead the Bermuda Team when she locks horns with Sarah Carswell of the US in a 3 round Kickboxing bout. Dyer's match-up appeared to be in jeopardy when her initial opponent, Canada's Ashley Keith, was in an unfortunate car accident leaving her with injuries that forced her withdrawal. Carswell stepped in at the 11th hour to face Dyer at 159lbs while the initial bout with Keith was at 153lbs.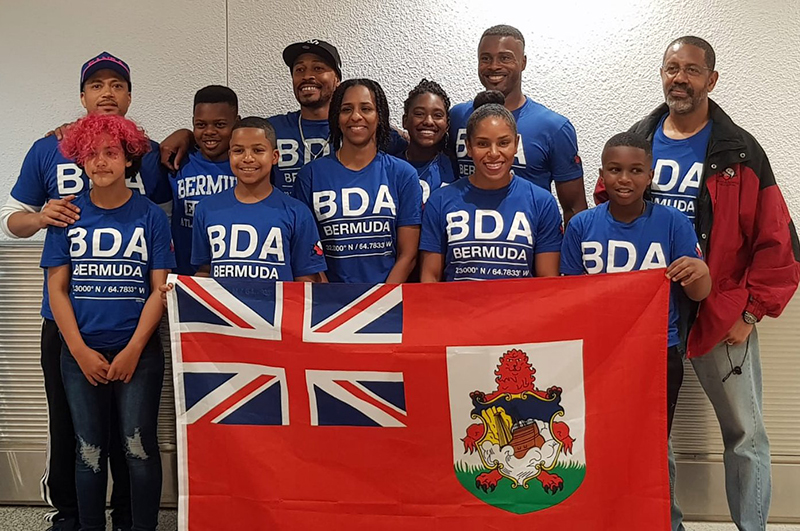 Pan American Junior Gold Medalist Ryley Mason will make her Senior debut on her 18th birthday as she faces Chevreuil Johana of Martinique also in a Kickboxing bout.
Quennel Robinson will be looking to go one better than his Silver Medal performance last year as he takes on Ronaldo Stuart of Barbados. Robinson will be looking to avenge the loss of teammate Antoine Fox that he suffered in the Final of last year's event.
Former San Da fighter Talia Iris will also compete in Karate and Tai Chi Forms and Weapons during the event. She will also serve as a referee for the Kickboxing and San Da bouts.
Technical Director Oscar Lightbourne will serve as Chief Arbitrator for the event while the athletes will be coached by Garon Wilkinson and Sentwali Woolridge.
Weigh-ins took place on Friday evening with the San Da and Kickboxing bouts taking place on Saturday. The majority of the team will also compete in Beach Wrestling at the Longbeach Burning event on Sunday.

Read More About