[Updated] The Bermuda Hospitals Board [BHB] and Johns Hopkins Medicine International are holding a press conference this morning [May 7] to "provide an update about progress and activity to improve the quality of on-island hospital care through the clinical affiliation between the two organisations." We will have additional coverage later on and in the meantime the live video is below.
Update: The live broadcast has concluded and the 23-minute replay is below
Update 4.30pm: A spokesperson said, "Bermuda Hospitals Board today gave an update on activity of its clinical affiliation with Johns Hopkins Medicine, which now includes a continuing medical education programme for physicians in Bermuda, a residency programme and service improvements in areas such as stroke and psychiatry."
Venetta Symonds, CEO, comments: "I'm excited that we are on this journey to improve on-island care for our families, friend and communities with them. It is BHB's vision to deliver exceptional through strong partnerships and support a healthy community.
"We ran a robust and lengthy RFP process for our clinical affiliate and six highly acclaimed hospitals applied and went through extensive review. Johns Hopkins won not only due to their quality and status in the healthcare world, but their deep affinity to and understanding of Bermuda."
Michael Richmond, Chief of Staff, Bermuda Hospitals Board comments: "At the heart of the affiliation is access to quality education for physicians in the hospital and Bermuda. Our Continuing Medical Education programme is now accredited by one of the world's best known and highly respected healthcare providers, and our first CME was held last night.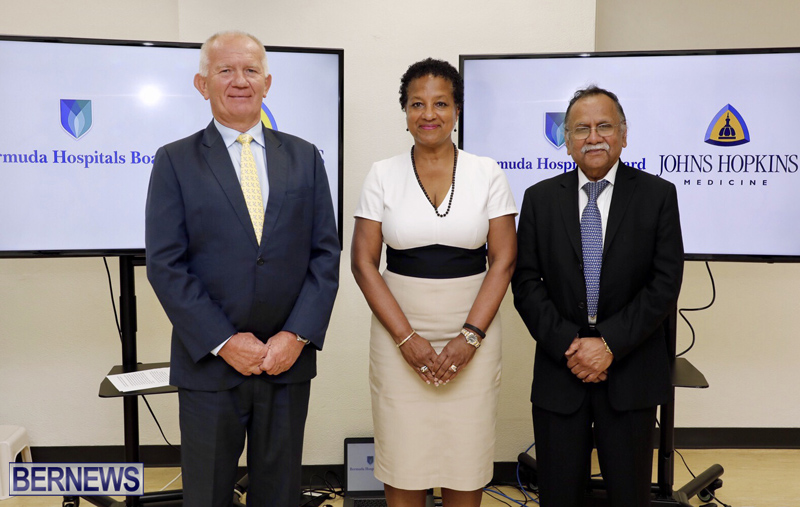 "We are working with Johns Hopkins as advisers in services we are seeking to improve. Stroke treatment and rehabilitation, for example, is a key focus. We have four to five stroke cases come to the hospital per week. We want to ensure we are giving every stroke patient the best possible chance at full recovery, and also identifying people at risk even earlier to try and prevent one altogether.
"We are also looking at psychiatry for opportunities to improve and find more effective ways to structure and deliver our services. We look forward to keeping the community updated on all our improvements and especially how our affiliation with Johns Hopkins is improving care for all our community."
Dr Mohan Chellappa, Executive Vice President and President, Global Ventures, Johns Hopkins Medicine International comments: "We are honored to contribute to the Bermudian health care journey. Johns Hopkins Medicine's mission is to improve the health of the community and the world by setting the standard of excellence in medical education, research and patient care. And the unique community of Bermuda holds a special place in our hearts at Johns Hopkins.
"We are delighted to now take our commitment a step further, through our clinical affiliation agreement with Bermuda Hospitals Board. We will support BHB staff with education and training, and together, we're now in the process of establishing a primary stoke centre and preparing for accreditation in the area of acute stroke care in 2021.
"Our affiliation also includes a programme for Johns Hopkins residents—medical doctors who have graduated from an accredited medical school and are completing additional specialist training at Johns Hopkins. Our residents will complete four-week rotations to Bermuda to perform short-term clinical and quality improvement projects.
"Our clinical affiliation with Bermuda Hospitals Board is an important part of Johns Hopkins' vision to enhance health care around the world, by sharing our latest clinical advances and research findings in a way that contributes to local health care needs and goals, for many years to come."

Read More About