Bermuda Hospitals Board [BHB] and Bermuda Cancer and Health Centre today [May 3] jointly shared information about "work on an integrated breast cancer care pathway, which aims to improve the experience and outcomes for breast cancer patients in Bermuda."
A spokesperson said, "At a press conference today, the integrated breast cancer care pathway booklet was made public and handed to the Minister of Health, the Hon. Kim Wilson, JP MP. The Minister had requested BHB to take the lead on developing the methodology for integrated care pathway work in Bermuda, and developing cancer pathways is one of many integration projects across different BHB services, including mental health, maternal/child health, chronic diseases and palliative care."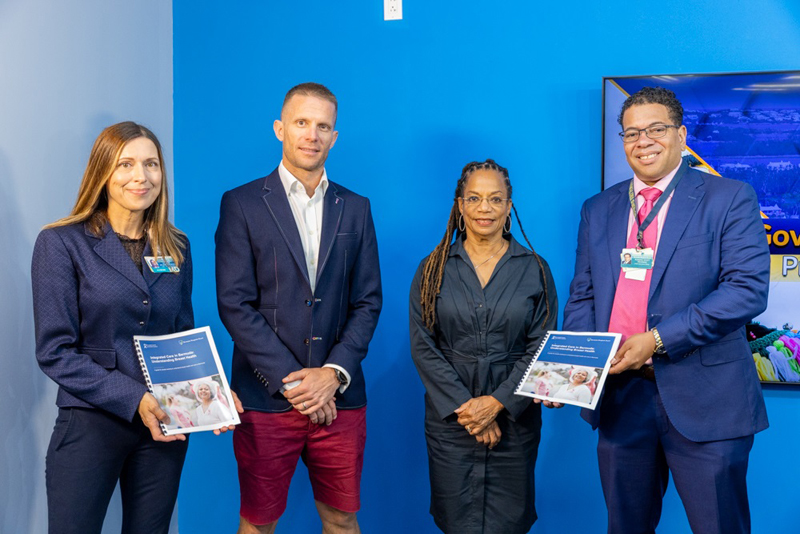 BHB Deputy CEO, R Scott Pearman, commented: "BHB's integration programme aims to improve the delivery of care for patients across BHB services and the wider healthcare system. A key part of the programme is the involvement of multiple stakeholders and patients in the planning of these improvements. I'm so very pleased to see the successful development and implementation of the integrated breast cancer care pathway. It reflects the work of 21 patients and 35 clinical colleagues, including oncologists, surgeons and radiologists. This is our first cancer care pathway, and work is already underway to complete a similar process for colon and prostate cancers."
The spokesperson said, "The development of integrated cancer care pathways within the BHB integration programme has been led by the Medical Director of Bermuda Cancer and Health Centre, Dr Fosker, in collaboration with BHB executive sponsor, Mr Pearman, and the programme's physician lead, Chief of Psychiatry, Dr Anna Neilson-Williams.
According to Dr Fosker, medical director at Bermuda Cancer and Health Centre, breast cancer was selected as the first cancer to review due to its prevalence in Bermuda. In addition, the availability of most steps of the treatment path on the island makes it an ideal target for review, as it allows for the identification of potential improvements that can be made locally to positively impact patient outcomes.
Dr Fosker further explains: "Putting patients at the centre of the improvement process has been essential. By listening to their feedback about where the system challenged them on their breast cancer journey, we were able to identify areas for improvement and make direct changes to positively impact patient experience and outcomes. One common issue we heard was how long it took to get the next appointment or receive results. Reviewing the process showed us that changing communication and coordination methods could have a significant positive impact.
"To further enhance the patient experience, we have established a breast multidisciplinary team [MDT] that meets weekly. Comprising the Centre's diagnostic imaging and radiologist, some of the Island's breast surgeons, BHB pathologists, the Island's oncologists and the Centre's Cancer Navigator, this team reviews each patient's breast cancer diagnoses and determines the best path forward. This approach departs from the previous method, where patients would receive a diagnosis and have to wait to see a surgeon and oncologist. The MDT approach reduces waiting times and ensures that multiple doctors have reviewed the patient's cancer and agreed on the best next steps.
"While this does not eliminate the need for multiple appointments with different doctors, it was acknowledged that coordinating them can be overwhelming for patients. Therefore, both BHB and the Centre will provide a cancer navigator, a staff member who will assist doctors and patients in moving seamlessly from one-step to the next along the breast cancer pathway. It is the hope of the medical community that by making these changes, we can continue to make a difference in the lives of our patients, and we remain committed to continuing to put their needs first."
The booklet 'Integrated Care in Bermuda: Understanding Breast Health' can be found at bermudahospitals.bm and bchc.bm.
Minister of Health Kim Wilson's remarks:
Good morning.

It is an honour for me to be present today and witness the significant efforts being made to enhance the experience and outcomes of breast cancer patients in Bermuda.

I want to acknowledge the Bermuda Hospitals Board and Bermuda Cancer and Health Centre, who worked closely with other clinicians and patients to achieve this milestone.

Thank you to Bermuda Hospitals Board, Deputy CEO Scott Pearman and Dr Chris Fosker, Medical Director and Radiation Oncologist at Bermuda Cancer and Health Centre, who join me today.

This initiative is part of a broader initiative led by the Bermuda Hospitals Board to create an integrated approach to improving hospital services in collaboration with community providers, charities, and patients.

The bigger picture of integration involves making our healthcare system work together more efficiently for patients. This includes improving access to necessary services, making them available closer to home when appropriate, and enhancing coordination between different services and agencies.

I am thrilled to have witnessed the progress made in integrated cancer care pathways, including the remarkable work done by organizations and cancer patients to improve the experience and outcome for people in Bermuda.

The breast cancer care pathway is the first of many integrated cancer care pathways that will be improved. Mr. Pearman and Dr. Fosker will speak about this today.

Breast cancer represents the most common cancer diagnosed in women in Bermuda, accounting for 17% of all cancer diagnoses on the island.

The new pathway for breast cancer care is a significant step towards improving care for various cancer types. I am excited to see the fruits of the many individuals, groups, and organizations who have put in a lot of hard work.

Together, we can achieve far more than we can individually, and there is an excellent opportunity to make improvements that prioritize the people of Bermuda.

I want to express my gratitude to all those involved in this crucial work, and I anticipate witnessing continued progress and improvements in cancer care for the people of Bermuda.

Thank you.
The 'Integrated Care in Bermuda: Understanding Breast Health' booklet follows below [PDF here]

Read More About