An international and collaborative seal rescue effort came to a successful culmination when Lou-Seal — the gray seal rescued in Bermuda in March — returned to the cold waters of the northern Atlantic Ocean.
After just six weeks in the care of Mystic Aquarium's Animal Rescue Program, a fully-recovered Lou-Seal was released at Blue Shutters Beach in Charlestown, Rhode Island in front of a crowd.
Thousands of miles from her native habitat, Lou-Seal was rescued on March 19 by Bermuda Aquarium, Museum and Zoo [BAMZ] off a rocky island shoreline. She was the first known case of a stranded adult gray seal in Bermuda.
After weeks of care by BAMZ for malnutrition and dehydration as well as small wounds and nasal discharge, Lou-Seal was stable enough to be flown on a chartered Cargo Jet aircraft from Bermuda to Mystic Aquarium on April 10 to continue her rehabilitation in the Aquarium's Animal Rescue Clinic.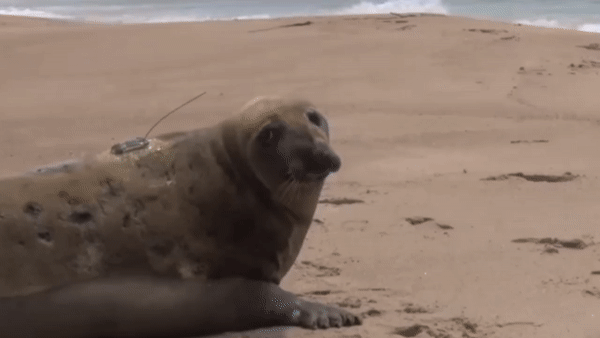 "Through dedicated care from the staff, interns and volunteers of the Animal Rescue Team, Lou-Seal's wounds had healed and her infection cleared. She gained a much-needed 151 pounds while in Mystic Aquarium's care, weighing in at 362 pounds on release day, with good body condition," Mystic Aquarium said.
"Prior to release, Lou-Seal was also fitted with a satellite tag that will allow for the tracking of not only her travels but also dive depths with the goal of collecting vital data on the migration patterns of adult gray seals."
"Success stories like these do not happen without the invaluable support and care of many different organizations in multiple countries, all working together," said Mystic Aquarium's Animal Rescue Program Manager, Janelle Schuh.
"On behalf of both Mystic and Bermuda Aquariums we would like to express our thanks to NOAA Fisheries, US Fish and Wildlife, Atlantic Marine Conservation Society, Bermuda's Department of Environment and Natural Resources, The US Consulate and Customs and Border Protection in Bermuda, and Cargojet."
While only a relatively short period of time, the resources required for the rehabilitation of a large, adult animal add up quickly, and Lou-Seal's rehabilitation and release was supported by Goslings, producer of Goslings award-winning Bermuda rums.
"Goslings has been a family business in Bermuda for 213 years," said E. Malcolm Gosling, seventh-generation patriarch and CEO of Goslings International Limited. "When we learned that Lou-Seal had been rescued off of Bermuda, we immediately wanted to help with the efforts in her rehabilitation and eventual return to the ocean."
Since her rescue, Lou-Seal has garnered much attention and adoration. Hoping to provide her 'fans' with an opportunity to assist in her journey back to the sea, Mystic Aquarium and Goslings accepted donations in support of her care. Through this collaborative fundraising effort, one donor was randomly selected to assist in Lou-Seal's release.
"We have been traveling to Bermuda twice a year for the past 10 years," said Denese Koza, the lucky winner who helped open Lou-Seal's crate at Blue Shutters Beach. "We happened to be in Bermuda when Lou-Seal was found. We also spend our summers a quarter-mile from where she was released."

Read More About
Category: All, Environment, News, Videos