Fifty eight student athletes were honoured tonight [June 21] at the 34th annual Denton Hurdle Memorial Awards at Warwick Academy. These awards, honoring the late Denton Hurdle, are used to highlight, recognize and reward the finest primary, middle and senior school student-athletes.
Denton Hurdle was a keen sportsman who attended Warwick Academy, Bermuda College and Dalhousie University. After completing his physical education degree he went on to teach at Warwick Academy.
He was an avid sportsman and excelled in football, cricket and volleyball. His first love however was rugby. He went on to captain Teachers Rugby Football Club. He was also a regular member of the Bermuda National Team.
A spokesperson said, "Each school is asked to nominate one boy and one girl for the award. All nominees will receive a certificate of recognition and are expected to attend the event.
"To be nominated for the award, students must display the following qualities: active participation, leadership, sportsmanship, self-discipline, dedication and cooperation. They must demonstrate positive attitudes in school.
"Nominees should also be good scholar-athletes as well as good role models. Only students in the final year of primary, middle or senior school are eligible for this reward.
"This year's Primary School Girl winner was Legend Stevenson from West End Primary. Stevenson is the Head Girl and house captain at West End Primary. She won the 2019 BSSF Cross Country Championships while also winning the Dash at Dark race. She was the 2018 Primary School Front Street Mile Champion. Legend captained the West End Netball, football and hockey teams. She is also a member of the school choir and recorder group.
"Honorable Mention was awarded to Jaeda Grant from Somerset Primary. Grant is the Deputy head Girl and member of the choir and hand bell choir. She is also the STEAM Olympics captain. In 2019 she won the KPMG Round the Grounds race as well as the Goslings to Fairmont.
"Arima Turner from Bermuda High School was also awarded an honorable mention. Turner was named champion girl at the BSSF Primary School Track meet after sweeping the 100m, 200m and 400m races. She also plays the saxophone and participates in kung fu where she had competed internationally.
"The Primary school boy's award went to Matthew Troake from Somersfield Academy. The prefect was captain of the school football and hockey teams. He was an all-star in football. He plays in the BFA league for Devonshire Colts and in the Bermuda Hockey Federation youth league. He attends Boy Scouts and plays the violin and piano.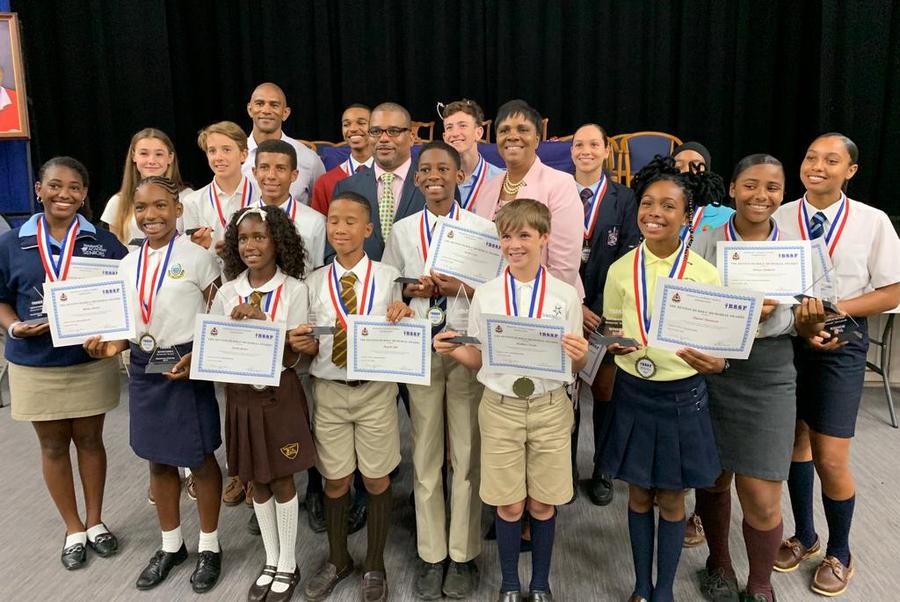 "Honorable mention was awarded to Patrick Dill from Somerset Primary and Ralph Scott from Warwick Academy. Dill is house captain, prefect and a member of the school choir and hand bell choir. He was a 2019 BSSF all-star football participant and plays on the Somerset Cricket Club under 11s in football and cricket. He also finished second in the 400m at the BSSF track meet.
"Scott represents and excels for Warwick Academy in numerous sports. He was part of their football, hockey, rugby, cricket, track and basketball teams. The Hurricanes basketball star led Warwick Academy to victory in the BSSF tournament. He also was named MVP for the winning team at the BSSF KO Cup football finals.
"Warwick Academy's Shayla Cann won the middle school girls division. The all-rounder had a distinguished middle school stay at Warwick Academy. She was crowned 400m and 800m champion at the 2019 BSSF middle school track meet. Shayla was crowned the 2019 National champion in cross country. She is an all-star netball and cricket player. She was also in the Principals academic and sports list.
"Honorable Mention was awarded Amara Richards from Sandys Secondary Middle School. The school prefect was the 2019 house, netball, cricket and rugby captain. The Storm netball player was a member of the 2019 under 16 netball team that competed in the Jean Pierre tournament. Amara is also an all-star cricket player who represents PHC and the Axis Angels. She has maintained her presence on the honor role and Principal's list.
"Honorable Mention was also awarded to Alivia Venning from Saltus Grammar School. The house captain helped to lead Saltus to triumphs in field hockey and running this school year. She won the 1500m at the BSSF track and field champions. She also finished second in her age group at the international race weekend 10k. She led women's league hockey player also led Saltus to an undefeated tournament win.
"Kwame Naylor from Warwick Academy won the middle school boys division. The under 14 national rugby captain led Bermuda to a successful tournament in the UK in May. The Principal's list first honor student was also captain of the Warwick Academy football and volleyball teams. Naylor was an all-star in rugby and football and captained the 2019 under 13 Kappa Champions, Warwick Archers. Naylor is an accomplished saxophone player and has attained grade 1 and 2 Royal School of Music exams.
"Sebastian Kempe from Saltus Grammar School received honorable mention. Kempe represented Saltus in running and was a key member in their undefeated hockey team. The honor roll student is one of Bermuda's premier sailors. In 2019 he finished 3rd in the South American Championships and second in the RenaissanceRe Junior Gold Cup. Kempe also finished second in the 2018 North American Championships in Mexico.
"Saltus Grammar School's Ashley Irby was named the Senior School Girls winner. Irby will be attending Elon University in September on a Track and Field scholarship. Ashley met qualifying standards for the last three CARIFTA games and placed 4th in 2018. She has claimed a gold, two silvers and two bronzes in CARIFTA swimming championships and won a silver medal at the CARIFTA Aquathlon. She is also the holder of various national swimming records.
"The honor roll student is a seven time winner of the front street mile and undefeated in BSSF cross country racing. She was named champion girl at the 2019 Senior School track meet winning 3000m, 1500m and finishing second in the 800m.
"Honorable mention went to Ryley Mason from Warwick Academy. Mason excels in Martial Arts and recently won a gold medal at the Bridgetown Burning Martial Arts Festival. In 2018 she won a gold medal at the Pan American Wushu Championships. The honor student received 8 GSCEs. She was part of the Dynamic Debaters at the Pan American Games. The Orchestra and full band member was also the captain for the basketball and volleyball teams.
"Honorable Mention also went to Taylor Hines from Bermuda High School. The deputy head girl earned 9 GCSEs with grade levels B or higher. In 2018 Hines broke a 30 year old BSSF record in the 400m with a time of 57.42. She is the 2017 and 2018 National Champion in the 400 meters and won gold at the Russell E. Blunt East Coast games in 2018.
"The senior boy's award went to Joshua Thorne from Warwick Academy. Thorne was the recipient of the 2019 Outstanding Teen Award in Sports. He is the perennial senior school badminton champion having gone undefeated in singles play through senior school.
"Thorne is also an established swimmer for Sharks swim club and has also been part of the national junior volleyball programme. Joshua will be attending Dalhousie University in the fall after attaining 9 GCSEs while maintaining honors throughout senior school.
"Honorable mention was awarded to Mikal Dill. The CedarBridge Academy Prefect was named Champion boy at the 2019 BSSF senior school track and field championships after securing gold medals in the 100m, 200m and long jump. He went on to represent Bermuda at the 2019 CARIFTA games in the Cayman Islands. The honor student is also a keen member of Pacers Track Club and PHC Football Club
2019 Nominees
Primary School Girls:
Nevaeh Barclay [Northlands Primary] Ayah Best [Port Royal Primary] Jayla Peets-Butterfield [West Pembroke Primary] Kaelys Furbert [Victor Scott Primary]Jaeda Grant [Somerset Primary] Aaralyn Ingham [Francis Patton Primary] Ja'Leiyah Johnston [Heron Bay Primary] Keyandae Lightbourne [Elliot Primary] Avani Patton [Saltus Grammar School] Rose Paulos [Somersfield Academy] Taya Rodrigues [Mount Saint Agnes Academy] Ayshalay Simons [Warwick Academy] Jazariah Smith-Robinson [East End Primary] Legend Stevenson [West End Primary] Eva Trott [Paget Primary] Hailey Trott [Harrington Sound Primary] Arima Turner [Bermuda High School] Eva Tuzo [St. George's Preparatory]
Primary School Boys:
Xani Allen [Francis Patton Primary] Tyler Coleman [Saltus Grammar School] Syhon-Dakari Goater [Paget Primary] Kimani Davis [West Pembroke Primary] Patrick Dill [Somerset Primary] Zaki Gibbons-Deshields [East End Primary] Knaledge Hardford [Victor Scott Primary] Kyah Richardson [Elliot Primary] Daylen Scott [Mount Saint Agnes Academy] Matthew Troake [Somersfield Academy] Ralph Scott [Warwick Academy] Cavin White [Harrington Sound Primary] Harlem Bean-Fox [Purvis Primary] Jah-Zai Hill [Port Royal Primary] Jaaziah Van-Lowe [Dalton E. Tucker Primary]
Middle School Girls:
Kisaye' Bell [Dellwood Middle School] Shayla Cann [Warwick Academy] Natalie Gazzard [Bermuda High School] Amara Richardson [Sandys Secondary Middle School] Jahni Simmons [ Whitney Institute Middle School] Nicole Stovell [Mount Saint Agnes Academy] Alivia Venning [Saltus Grammar School] Isabella White [Somersfield Academy]
Middle School Boys:
Sebastian Kempe [Saltus Grammar School] T. Amias Lightbourne [Dellwood Middle School] Kwame Naylor [Warwick Academy] Mason Robinson [Sandys Secondary Middle School] Tiago Rodrigues [ Mount Saint Agnes Academy] Mackai Whitter [Somersfield Academy]
Senior School Girls:
Caroline Amaral [Mount Saint Agnes Academy] Brijette Basden [CedarBridge Academy] Taylor Hines [Bermuda High School] Ashley Irby [Saltus Grammar School] Kaylee Lema [The Berkeley Institute] Ryley Mason [Warwick Academy]
Senior School Boys:
Cameron Coffey [Saltus Grammar School] Mikal Dill [CedarBridge Academy] Blake Horseman [Mount Saint Agnes Academy] Jaiden Manders [The Berkeley Institute] Joshua Thorne [Warwick Academy]"
Read More About