Concacaf announced that a "clear bag policy" will be in place at all 15 US-based stadiums hosting the Concacaf Gold Cup matches this summer.
Bermuda will be playing at two US stadiums – on June 20th in Dallas on June 24th in New Jersey — and Bermudians are expected to travel to support the team, especially for the New Jersey game.
"Fans arriving for matches at stadium gates, Futbol Fiesta areas or other areas where fans queue for entry into the stadium are strongly encouraged not to bring bags. Any bags that are brought to these areas must be in compliance with the clear bag policy," the organisation said.
"The safety and security of the fans attending Gold Cup matches is our highest priority, and everyone planning on attending the tournament should adhere to the guidelines at each specific venue.
"The clear bag policy is will be in effect in all 15 US-based venues for the 2019 Gold Cup. All fans should ensure that they are in compliance of the regulation before arriving to the stadium. Bags that are not in compliance must be returned to the patron's vehicle or checked at a designated bag check area located outside the stadium perimeter [if available].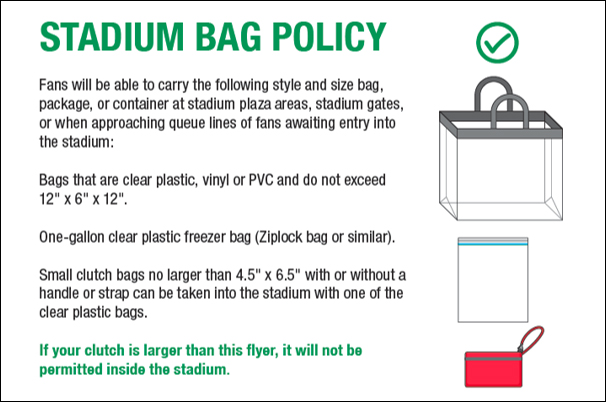 "The style and size of bags that will be allowed is described below:
Bags that are clear plastic, vinyl or PVC and do not exceed 12″ x 6″ x 12."
One-gallon clear plastic freezer bag [Ziploc bag or similar].
Small clutch bags, approximately the size of a hand, with or without a handle or strap, may be carried into the stadium along with one of the clear bag options.
"Any bags that do not adhere to these guidelines will not be allowed in the stadium.
"Any medically necessary items must be pre-approved by the specific stadium. Please contact the stadium directly to be considered for approval. All items will be subject to proper inspection at entry gate."

The Gombey Warriors will take on Haiti on June 16th in Costa Rica, then Costa Rica on June 20th in Dallas, and then match up against Nicaragua on June 24th in New Jersey, and in an effort to provide comprehensive coverage of Bermuda's debut in this highly prestigious regional competition, Bernews has a dedicated reporter traveling with the team in order to bring all the latest action and insights, with the special coverage thanks to the support of Butterfield & Vallis, One Communications, and Bermuda Security Group.

Read More About