[Written by Talbot Wilson]
For Steve Gordon, the 22nd Marion Bermuda Race will be his first. Starting Friday [June 14] he will race his Alden 50 sloop 'Elena' in the 645 nautical mile 'Race to the Rock' with two goals in mind— win and have fun. He will enjoy all the adventure his first Marion Bermuda Race promises to deliver.
Steve and 'Elena' arrived in Marion on Sunday after a quicker than expected delivery trip up the coast from Connecticut. Arriving a day earlier than planned might be a sign of anticipation.
In a brief interview at the Beverly YC, Gordon explained that he had done his first two races with 'Elena' and was pleased with their performance in the Edlu Distance Race and then excited with taking first in class, first in fleet and best overall performance in the Block Island Race.
"Those were the exact conditions," Gordon said, "that we hope for in the Marion Bermuda Race. The results of this race were very encouraging."
'Elena' has some new sails for this race that seem to be doing the trick. In an interview with UK Sail's Adam Loory, crew member Ron Weiss said, "We found that the double headsail rig with the staysail and the #2 were a fantastic combination when slightly cracked off. We could really power up the boat while maintaining a balanced helm, and by playing the in-mast roller reefing main we could fine-tune things when we were going through sustained periods of high breeze, or lulls – if you can call 18-20 knots lulls!"
Steve Gordon and Ron Weiss will co-skipper Gordon's 33 year old Alden 50 'Elena' in the 2019 Marion Bermuda Race. This is Gordon's first Marion Bermuda Race. It will be the third for 'Elena'. She was first in class, first in fleet and best overall performance winner in the 2019 Block Island Race. Photo by Howard McMichael.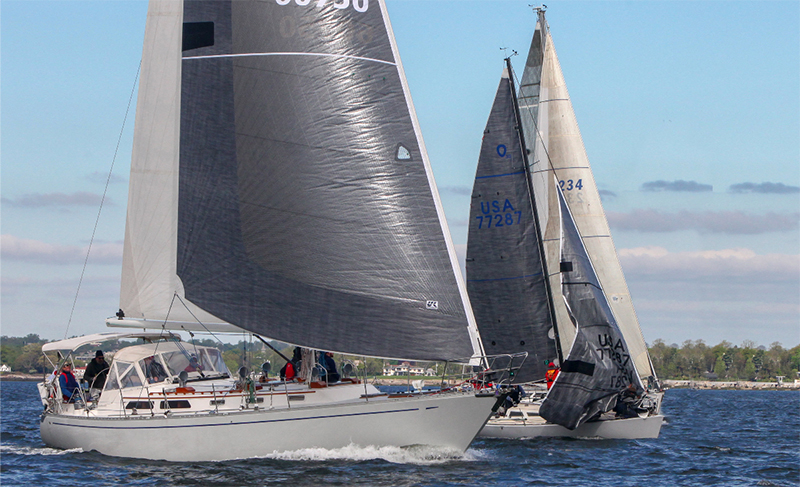 Every owner wants to optimize his boat for this long, offshore classic. Each has his own way of doing it. Boat preparation and sail inventory are keys to top performance. Research and planning pay off while luck [opportunity taken advantage of] is also important.
Gordon said, "We are very much looking forward to doing the Marion Bermuda Race, and we certainly hope that this year's conditions match what our new sails were built for. If the weather is right for it, we think we can expect another tremendous performance."
Yesterday, Gordon outlined how he planned for the Marion Bermuda Race. "I originally wanted to do the Marion Bermuda race two years ago, but 'Elena' is now 33 years old and hadn't had its rod rigging inspected in over 10 years. I decided to get the boat in order and wait till this years race."
Two winters ago Gordon had the rod rigging all replaced, replaced the battery bank, added a mast car for a whisker pole and made sure the boat was well prepared for an ocean race.
He is the third owner of 'Elena', and has owned the boat for 5 years. The second owner never raced the boat, but Elena has seen the Mediterranean, and British Columbia so she has been sea-tested since the beginning.
The dramatic cover of the 2019 Marion Bermuda Race Book is "Following Sea" a 2010 watercolor by Willard Bond, Fellow, American Society of Marine Artists. Download the book a read all about the race, it's history and traditions. Photo by Talbot Wilson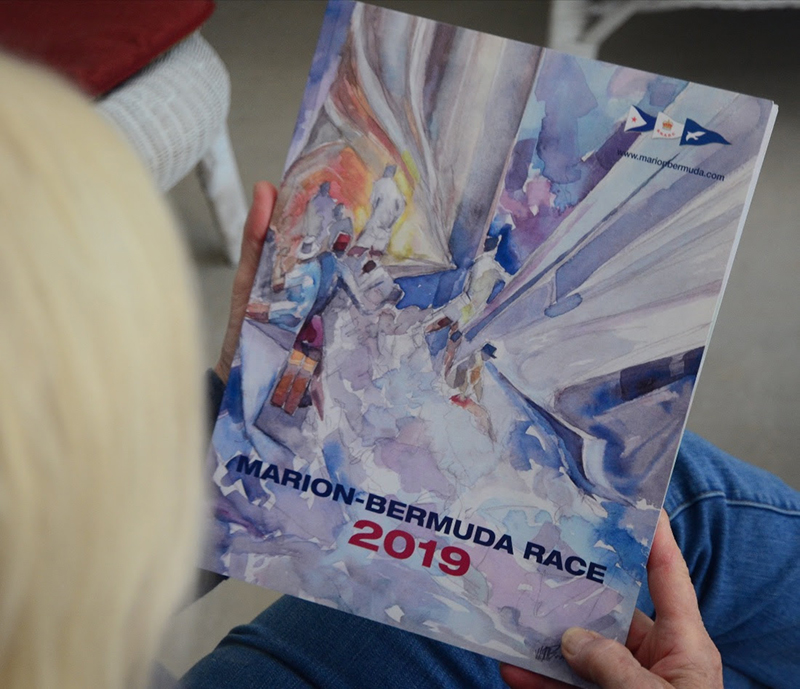 The Edlu Distance Race was the first race ever for 'Elena' and the Block Island Race the second. Gordon commented, "Winning the Block Island race as best in division, best in PHRF, and best boat overall was a great accomplishment. Getting a new jib really helped. For the Marion Bermuda race I will have a new stay sail as well."
But Gordon turned the praise to the boat and crew work, "Personally I felt that we won because of the crew. I feel my crew is the best one can have. Ron Weiss and Brian O'Farrell are two of the best sailors in the Long Island Sound area that I know. They have been racing since they were kids and have entered and won multiple Newport Bermuda, and Block Island races."
"In addition," Gordon added, "three of my crew members are SUNY Maritime graduates, two are engineers and all have a great 'can do' attitude. My other two crew members are really good sailors. We all mix well and enjoy sailing together."
Sailing with Weiss, O'Farrell and Gordon are crew members Erika Gunnari, Riley Kernan, Daniel McDonald, Stephen Nosal, David Yonks.
Gordon concluded, "My expectations for the Marion Bermuda Race are to win and have fun. I know the boat will go fast in the right wind conditions, Brian is a great navigator and Ron is one of the best tacticians around.'
"To quote Ron, 'most races are won before the race even starts.' I have been preparing for two years now and I feel we are ready! What's this journey really about? Having a great time during a great adventure is certainly tops."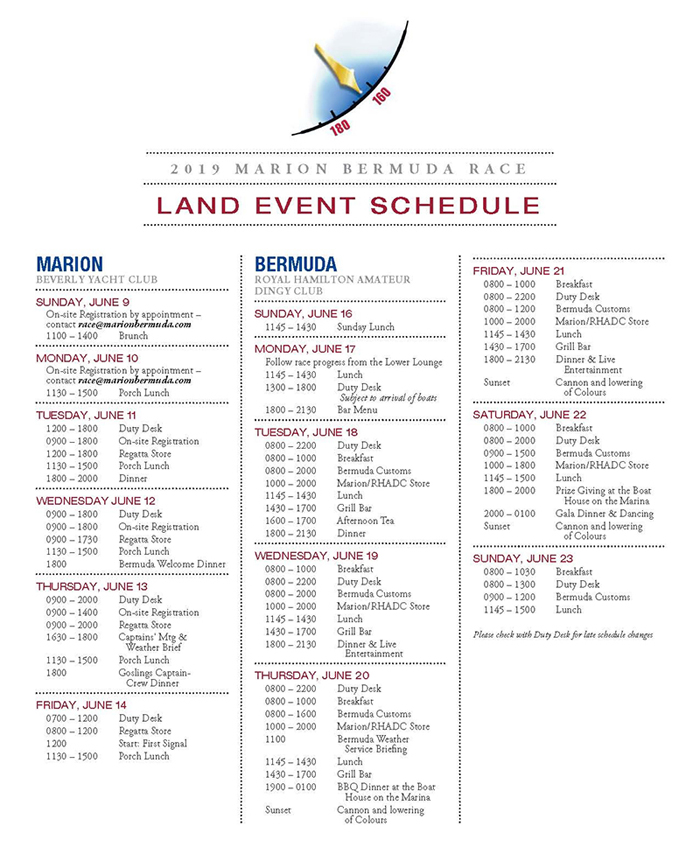 Races within the Race
Competition for special awards is a unique attraction for the Marion-Bermuda Race. The Notice of Race has all the details.
Go to the website for photos and descriptions of the trophies and the competition for them.
The R&W Rope Rigging Solutions Team Trophy is offered for established Yacht Clubs or Sailing organizations that form a team of three member yachts. The team whose three yachts have the lowest corrected time total will be the winner.
Yachts sailing with a crew of two, a crew of three or four or an all-female crew of any number may compete in the double-handed, short-handed, and all-female competitions respectively. Prizes are the Double-Handed Trophy, the short-handed L. Bryon Kingery, Jr. Memorial Trophy and the Commodore Faith Paulsen Trophy for the ladies.
A "family" yacht racing for the Beverly Family Trophy is one with a crew of five or more with all or all-but-one being members of a single household or a single family may race for the family prize. Persons related to a common grandparent and spouses of these "family", too.
The Offshore Youth Challenge Trophy encourages youth participation. A "Youth" yacht has at least four [4] youths aboard with at least 66% of the crew qualified as youths. A youth sailor must be 16 years of age or older but not more than 23 years old by June 14, 2019. One or more adults at least 23 years old by June 14, 2019 must be on board.
The Beverly Yacht Club Polaris Trophy is a prize for stargazers. If a yacht has elected to be celestially navigated, she will receive a 3% favorable adjustment to her ORR rating.

Read More About