[Written by Talbot Wilson]
The Class 'A' boats in the 2019 Marion Bermuda Race hope that the new handicapping 'Anti-Bias' adjustment added to this edition of the race will give them a better chance of winning the Founders Trophy for first place on corrected time. However that settles out, they still have their sights set on the Blue Water Sailing Club Board of Governors Trophy for shortest elapsed time for the 645nm course.
The scratch boat this year— the one predicted by its handicap to have the best elapsed time to win that trophy— is a family sailed Farr 63 called Kiwi Spirit, skippered by 18-year old Jonathan Riley of Marion, MA. Owner Mark Riley, his dad, will be the navigator. Chuck Fontaine will also be along as a team leader.
The scratch boat this year— the one predicted by its handicap to have the best elapsed time to win that trophy— is a family sailed Farr 63 called Kiwi Spirit, skippered by 18-year old Jonathan Riley of Marion, MA. Owner Mark Riley, his dad, will be the navigator. Photo Farr Yacht Design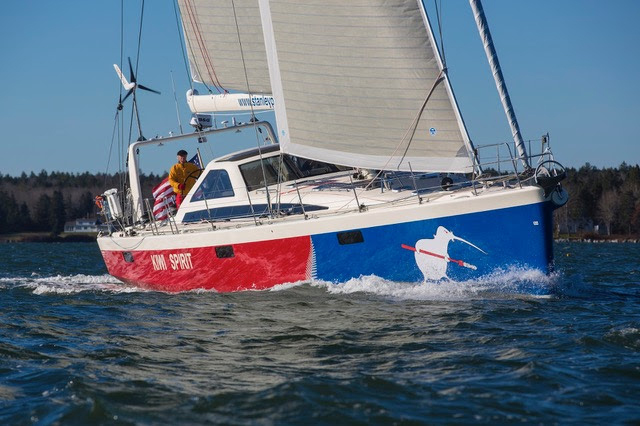 Jo, as Jonathan is called, and his sister cut their sailing teeth at the Beverly Yacht Club in Marion. He started sailing in the third grade. She was in the seventh. Chloe will skipper Kiwi Spirit in the Marblehead Halifax race in July.
Mark Riley explained the family plan for the boat, "We bought the boat for the reason we are doing this race. It is manageable with limited experience people yet big enough that we could take a lot of family and friends on board and enjoy some nice blue water sailing."
Jo added, "It was meant for shorthanded sailing. Since we are taking so many family members it met all of our needs…. We want to go fast and finish in our slot."
That means he wants to finish first. He added, "We see a couple of holes [Parking lots] along the way. We hope to bridge those if we can."
Father, son and daughter plus three cousins and a brother-in-law make up the family part of the crew. Joining them is Chuck Fontaine, a lifelong friend, who has run the Mass Maritime Sailing Program.
Riley said he wouldn't dream of going offshore without Fontaine. "He's more than competent and very entertaining."
Mark said, "Everyone wants to do well. People do the Marion Bermuda Race because they want to be able to say they did it, not because they want to say they won. However you finish, everybody should be proud of being able to say they did it. If you did well, then fantastic… and maybe it will make you want to do it again."
Speaking of Jo, Mark said, "There are very few people who can say they did it with their kids, and didn't drag their kids. Jo drags me along."
On the competitive side Jo said, "We'd like to finish Monday mid-day." Mark agreed, "With our targets, we could make it."
Jo attended the Oakcliff Sailing Program last summer to hone his offshore skills. He has done multiple races to Bermuda. For Mark Riley, this year will mark his 18th Bermuda race.
In his first Marion Bermuda Race in 2013, a younger Jo Riley was on the 15-person crew of line honors winner Shindig. He was the youngest sailor in the race. At 12 years old Jo stood all his watches including two at night.
This year is Jo's fourth race from Marion. Plus he has done four returns for a total of eight Gulf Stream crossings. He'll be the skipper and looking for line honors again.
Given the right conditions, which may actually be shaping up for this race, Kiwi Spirit could break the course record set in 2011 by Lilla, a Briand 76 [IRL7600] owned by Simon and Nancy De Pietro of Cork, Ireland and Mattapoisett MA. Lilla set the course record for the 645-mile track from Marion to Bermuda at 68:58:45.
Kiwi Spirit was designed for Dr. Stanley Paris. His commission was for this design to be a high performance offshore passage making and cruising yacht. Farr Yacht Design "used modern design concepts and construction methods to produce a conservative but fast and sea kindly vessel that can cover oceans quickly and provide a comfortable and spacious live aboard experience." Paris sailed her in an unsuccessful single-handed circumnavigation attempt.
Built in 2012, she has a carbon hull with a lifting keel, twin rudders and interesting hard chines halfway up the sides of the hull running from the beam max point back to the transom. The interior is designed for comfortable cruising.
The second 'scratch' boat is Free Range Chicken, a Perry 59 skippered by Bruce Anderson whose home is listed as Yakutat AK, as in Alaska. This is the latest of Anderson's 'Chicken' boats. She's a yacht designed for shorthanded cruising—in a racing hull—while still being appropriate for a racing crew. Cruising means this bird is free to sail the seas, thus Free Range Chicken.
Perry's design brief says Free Range Chicken is designed so people remain dry in the cockpit under almost all circumstances. It also likes to be set free to fly downwind as often as possible. The easily driven hull is happy in light winds, but strong aft sections should keep her happy running off in big trade-wind breezes.
The third 'scratch' boat is Jay Hansen's Imagine from Jamestown, RI. The Azuree 46 is considerably smaller than Kiwi Spirit or Free Range Chicken. She's another hard-chine cruiser-racer with a full run aft.
These three big boats are in the running for line honors, an overall win and possibly a new record. After the race everyone will be able to review the new "Perfect Race" review feature.
This new H0 [zero] GRIB file analysis will help skippers learn post-race where they went right or wrong. A new ORA computer analysis will actually show each boat's percentage of efficiency calculated against the computer's predicted "best course" elapse time. After all boats finish, the graphic will be printed and distributed "almost immediately" for each boat and the public, too.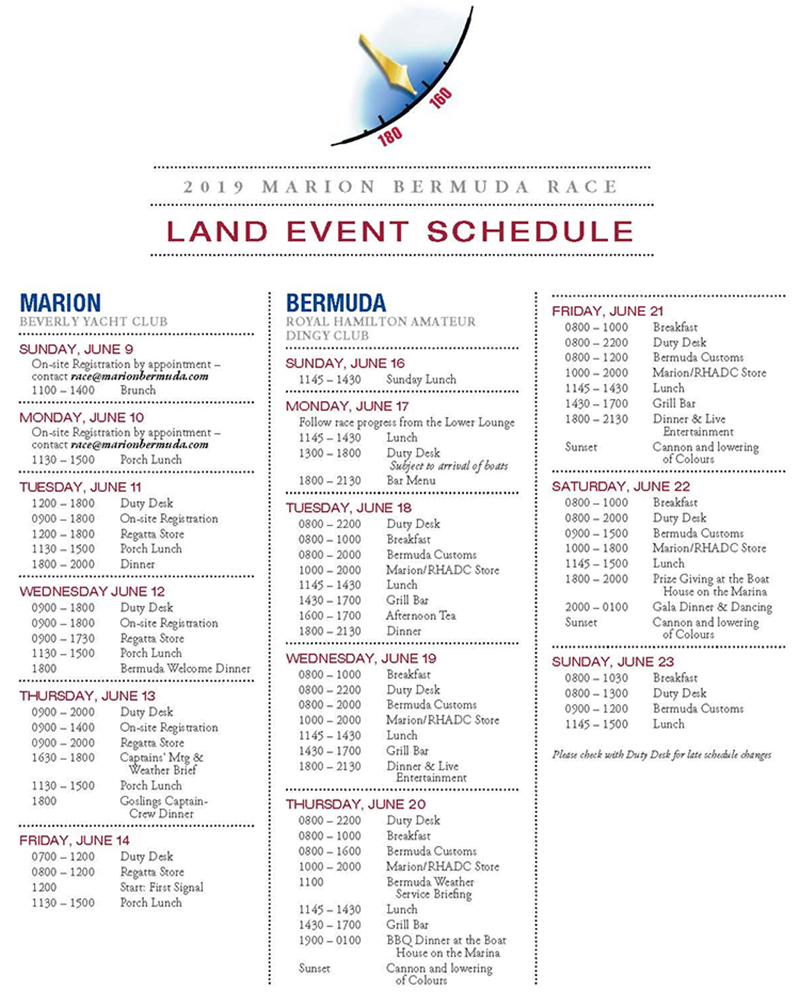 Read More About