[Written by Talbot Wilson]
At 1630 ADT Monday afternoon Kiwi Spirit, the Line Honors leader of the Marion Bermuda fleet, was 68 nautical miles from the finish line off St. David's Lighthouse, Bermuda.
According to 'Predict Wind' and YB tracking, Kiwi Spirit was sailing at 7+ kts in a 4.5 kt west-southwest breeze. They are expected to finish in about 10 hours if they average 6.5 kts for estimated arrival off St David's Lighthouse about 0200 Tuesday. They could be in as early as 0130 ADT.
The classic schooner Tabor Boy from Tabor Academy in Marion MA continues as the sole competitor in the Classic Division. On Monday Morning, they were about 190 miles from the finish sailing at 7.5 kts steering 158º. Wind near them was 11 kts at 200º. Photo courtesy of Talbot Wilson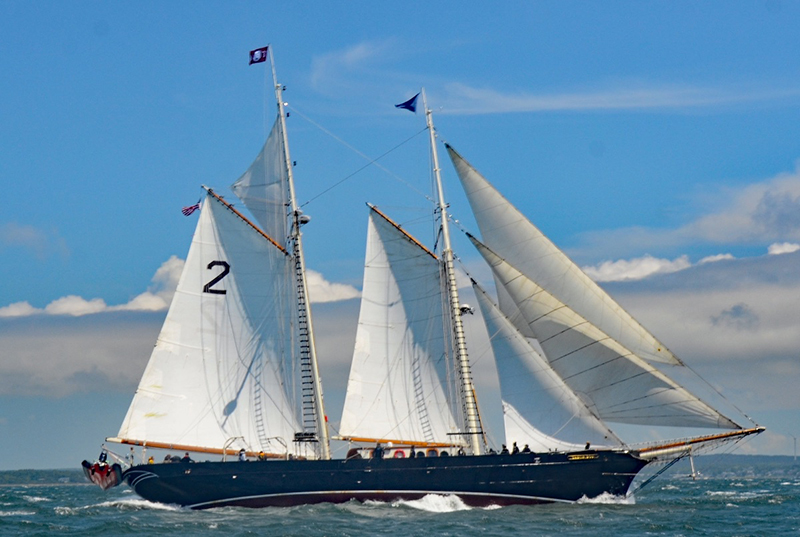 Times on the Leaderboard are given in EDT… Marion time not Bermuda.
Eugene Berardi's MachBuster, a Little Harbor 70, is neck and neck Abigail for second place line honors some 20 nautical miles behind the leader.
At 0730 ADT Monday morning Kiwi Spirit, the line honors leader of the Marion Bermuda fleet, was 125 nautical miles out from the finish. That's a little more than 143 statute [land] miles. Photo courtesy of Talbot Wilson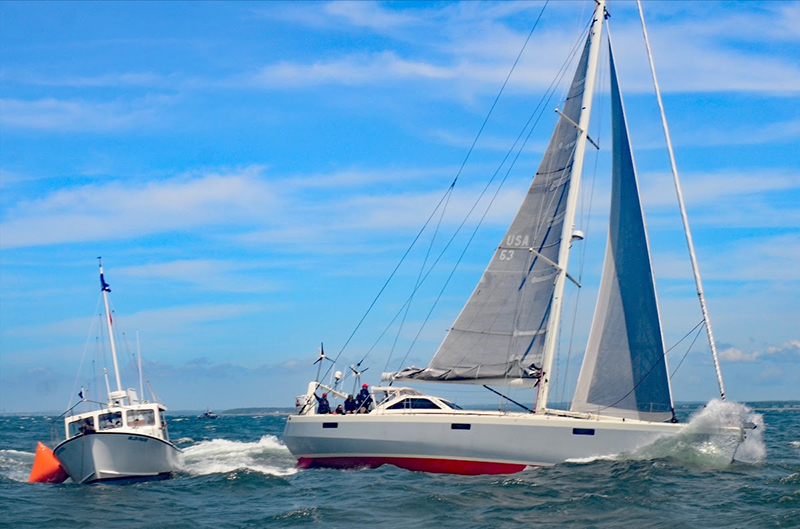 Abigail, Robert Buck's Aquidneck 52 from Marion MA, was a little further west than Kiwi Spiritand MachBuster.She has a broader angle to the finish. Abigail is still holding on as the predicted leader of Class A… at this time, according to the predicted data on the YB Tracking.
Ron Wisner's Hotspur II was 259 miles from a Dark 'n Stormy.
Monday's estimated leader in Class B was still the US Naval Academy's Gallant, a Pearson Composite Navy 44 skippered by Christian Hoffman. She was doing 7.9 kts steering 151º Photo courtesy of Fran Grenon, spectrum Photo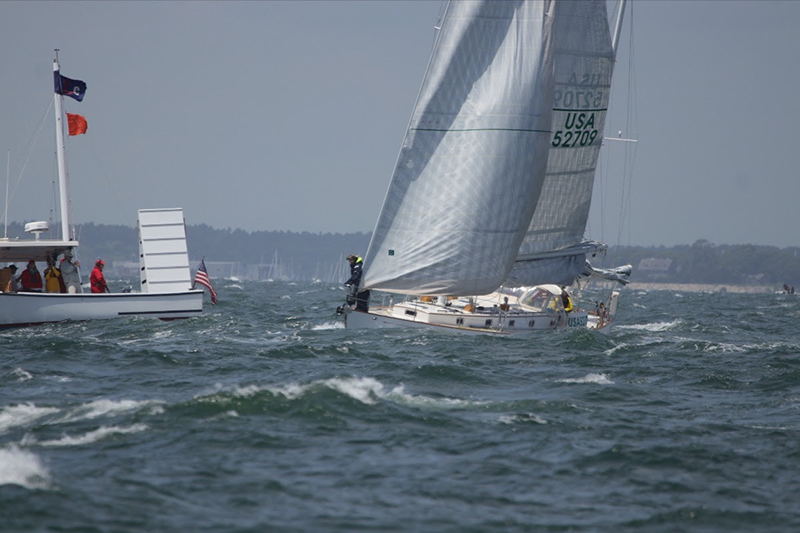 Handicap Adjustments
The Founders Division boats will be sailing under a new "anti-bias" version of the ORR handicapping system. The new system designed by race organizers in collaboration with the Offshore Racing Association [ORA] should remove the bias against faster boats by eliminating the "Parking Lot" effect.
The "Parking Lot" effect is the bias which occurs when faster boats loose time against slower boats in low or no-wind conditions usually experienced south of the Gulf Stream and north of Bermuda and often as evening falls on boats at the mouth of Buzzards Bay.
Sunday's estimated leader in Class B was NA24 Gallant, a Pearson Composite Navy 44 skippered by Christian Hoffman. The US Naval Academy boat looked very smart coming off the line in Marion Friday. She's always highly competitive in offshore conditions. Photo courtesy of Fran Grenon, spectrum Photo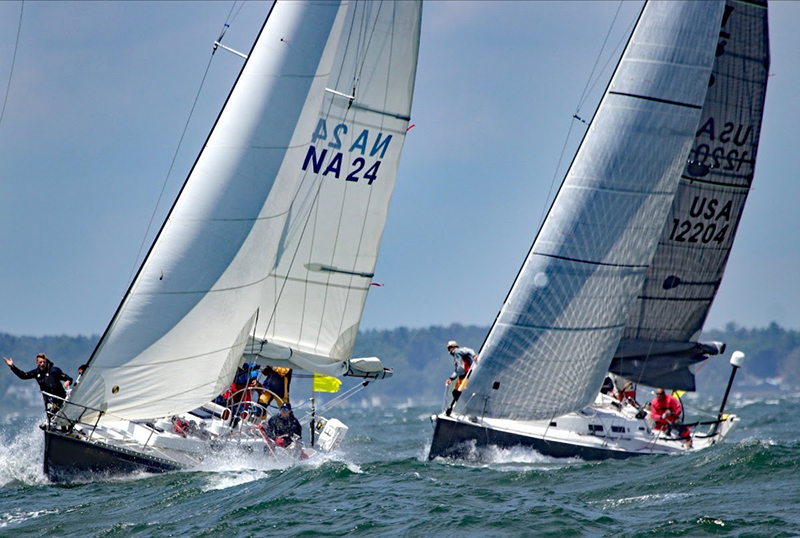 The "Parking Lot" adjustment will be applied as a time correction factor based on actual vs. predicted performance of the first three boats to finish. It will only be applied if conditions are appropriate according to how these boats perform. If the pace boats beat their predicted times, it is clear that they sailed fast and there was no 'Parking Lot" at all. In that case, no correction will be applied.
All of the race details, including an explanation of the handicap correction system and formula, for the race are published in the Sailing Instructions.
The new predicted leader In Class C, Dauntless [61189] — a double-handed Sabre 425— sailed by Matthew Breuer [skipper] with Paul Kuechler both of Boston MA. They were making 7.4 kts at 152º. Their wind, according to 'Predict Wind' was around 14 kts at 202º Photo courtesy of Talbot Wilson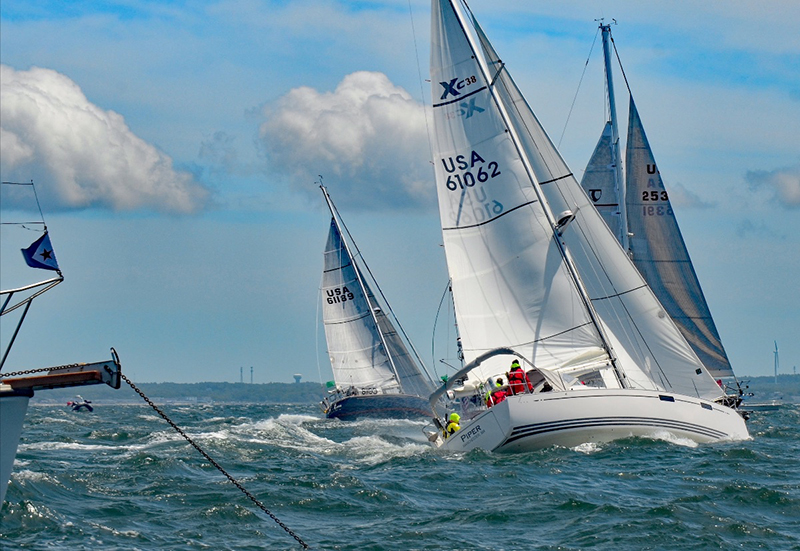 Races within the Race
Competition for special awards is a unique attraction for the Marion-Bermuda Race. The Notice of Race has all the details.
Go to the website for photos and descriptions of the trophies and the competition for them.
Cordelia, still the leader of Class D on Monday morning, had 200 miles left to Bermuda. She was making 7.4 kts steering 152º. Cordeliais skippered by Roy Greenwald of Marion. Photo courtesy of Fran Grenon, Spectrum Photo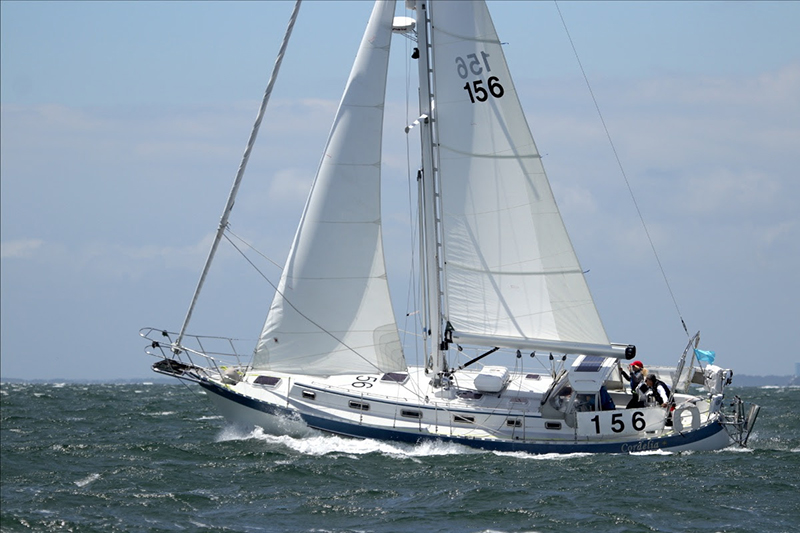 The R&W Rope Rigging Solutions Team Trophy is offered for established Yacht Clubs or Sailing organizations that form a team of three member yachts. The team whose three yachts have the lowest corrected time total will be the winner.
Yachts sailing with a crew of two, a crew of three or four or an all-female crew of any number may compete in the double-handed, short-handed, and all-female competitions respectively. Prizes are the Double-Handed Trophy, the short-handed L. Bryon Kingery, Jr. Memorial Trophy and the Commodore Faith Paulsen Trophy for the ladies.
Race Tracking for the 2019 Marion Bermuda Race is provided by YB Tracking Ltd. Follow the Race on your laptop, pad or mobile device. Note: Leaderboard times are EDT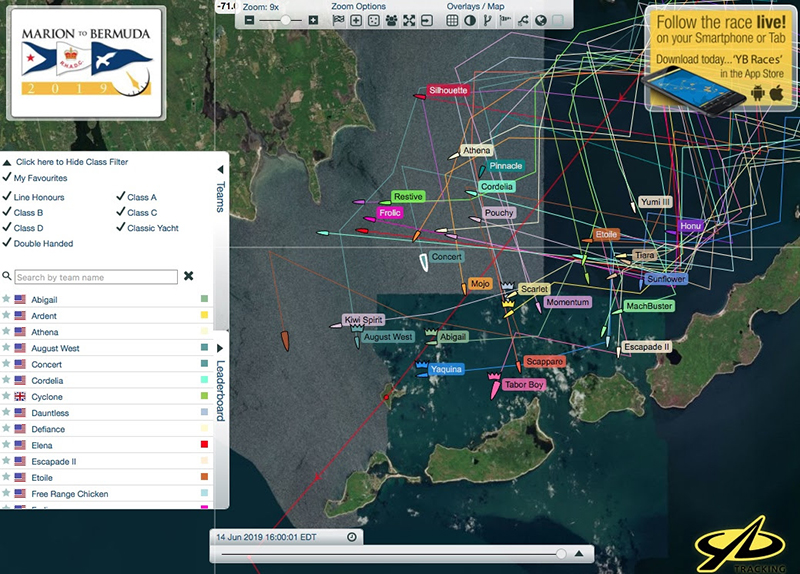 A "family" yacht racing for the Beverly Family Trophy is one with a crew of five or more with all or all-but-one being members of a single household or a single family may race for the family prize. Persons related to a common grandparent and spouses of these "family", too.
The Offshore Youth Challenge Trophy encourages youth participation. A "Youth" yacht has at least four [4] youths aboard with at least 66% of the crew qualified as youths. A youth sailor must be 16 years of age or older but not more than 23 years old by June 14, 2019. One or more adults at least 23 years old by June 14, 2019 must be on board.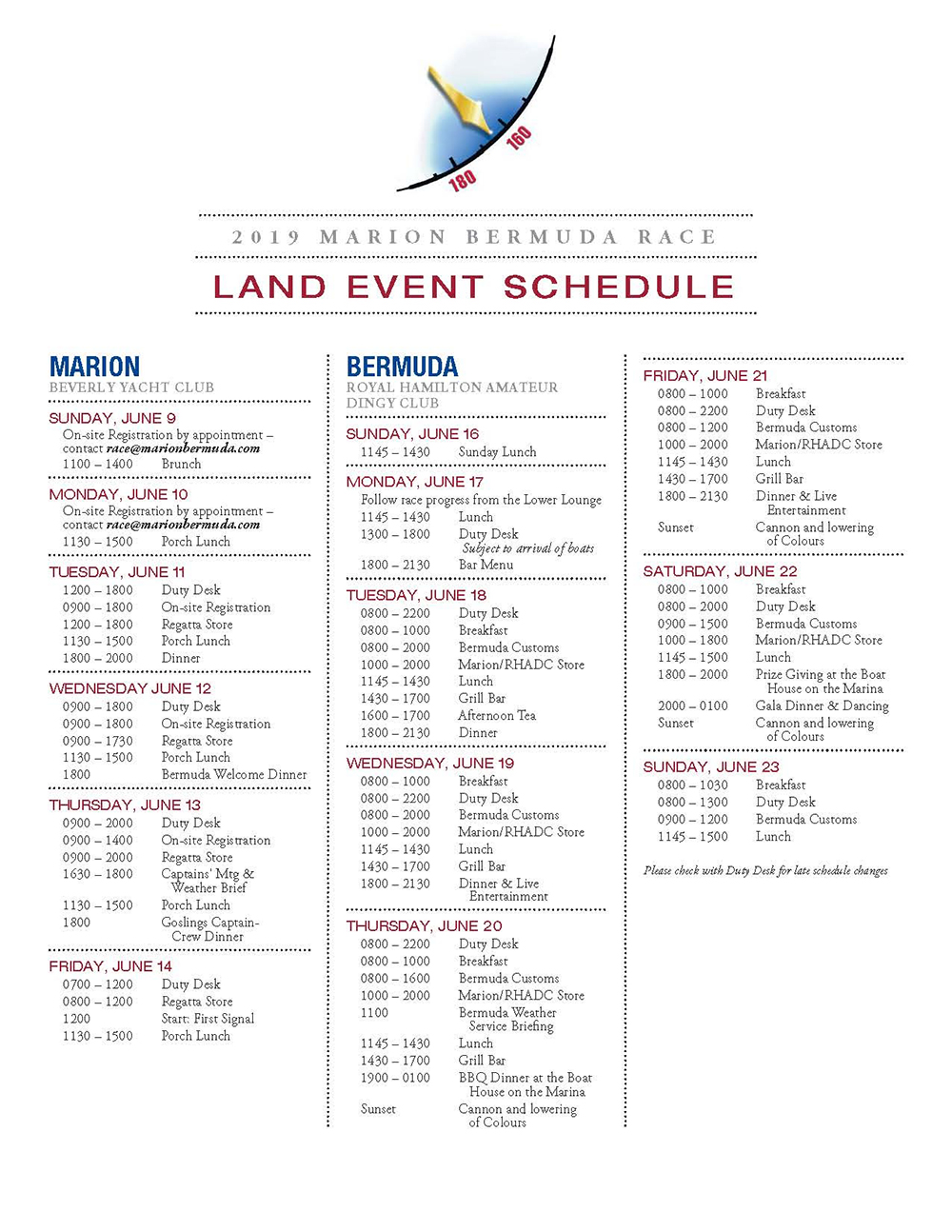 The Beverly Yacht Club Polaris Trophy is a prize for stargazers. If a yacht has elected to be celestially navigated, she will receive a 3% favorable adjustment to her ORR rating.

Read More About