As Bermudians celebrated Dante Leverock's goal in the Gold Cup, we were joined by football enthusiasts thousands of miles away as some Irish fans showcased their excitement on social media, while the Irish media quickly reported on the historic goal.
Leverock — who serves as the captain of the Bermuda national team — plays professionally for the Sligo Rovers, which plays in the Premier Division of the League of Ireland.
The Sligo Rovers team have been showing great support, with the team flying the Bermuda flag over their show grounds in Ireland, and on the night of the match they were providing real time updates to their followers via social media.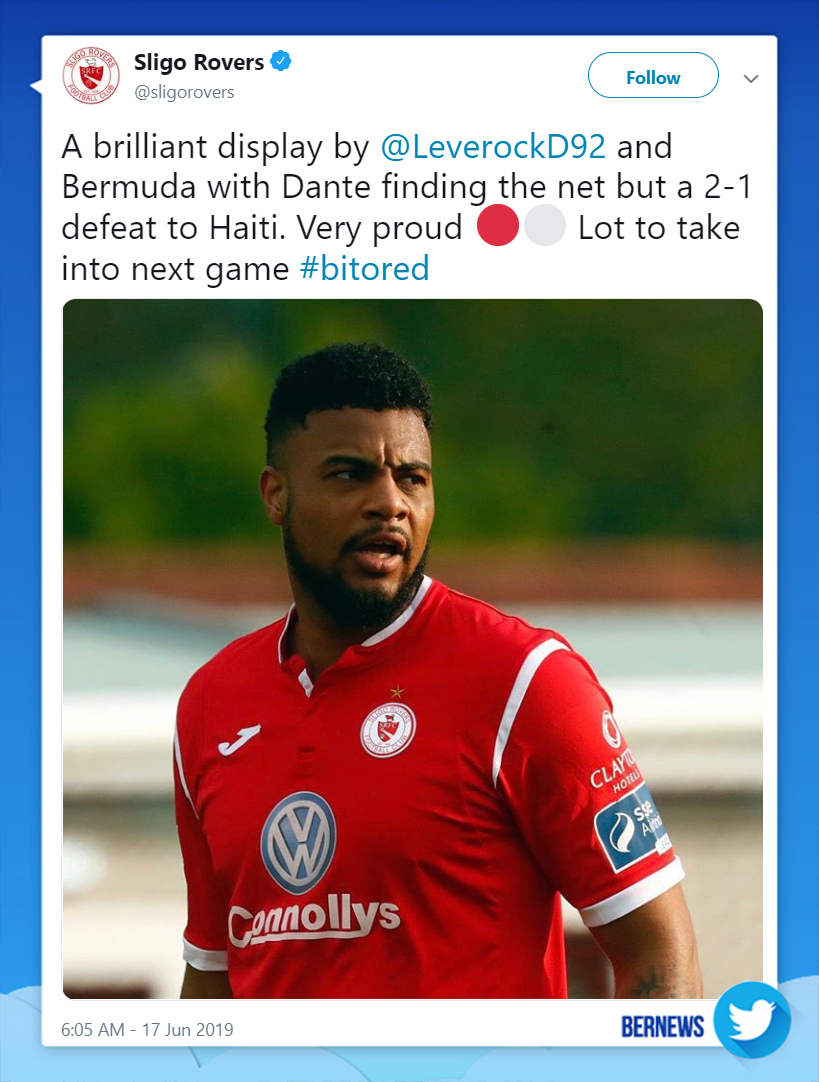 One Irish football fan tweeted rather pleased about the Sligo Rovers getting a 'name check' on the broadcast of the match as the commentators mentioned the fact that he played for Sligo Rovers, while another person enthusiastically tweeted "Go on Dante Leverock. Go on Bermuda, Go on Sligo Rovers. League of Ireland representing."
"Congrats to Dante on scoring Bermuda's first ever goal at the Gold Cup and doing the Sligo Rovers proud," tweeted another person, and posts were also made on Instagram and Facebook, and a thread highlighting Leverock's goal was posted in the League Of Ireland section on Reddit.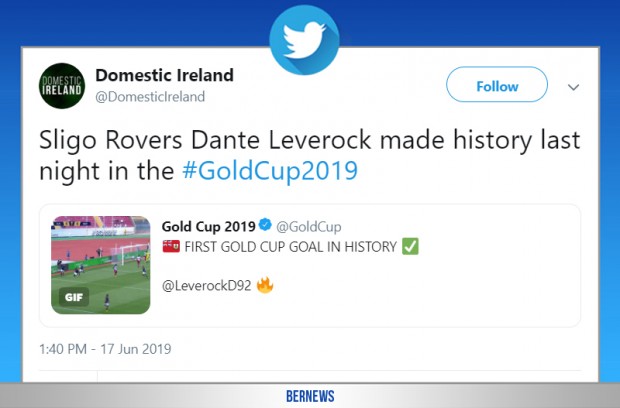 Multiple Irish media outlets also reported on the goal, citing Leverock for his role with the Sligo Rovers team.
"Sligo Rovers defender Dante Leverock made history for Bermuda on Sunday evening scoring the small island nation's first-ever Gold Cup goal," noted the Irish ExtraTime football website. "Leverock met a superb corner kick at the near post to glance his headed effort past the helpless Haitian netminder."
The Irish 'Balls' football website reported on the goal in an article titled "Sligo's Dante Leverock scores historic goal for Bermuda," noting that the "Sligo Rovers centre-back headed his side into a lead" to score "Bermuda's first ever goal in the Concacaf Gold Cup."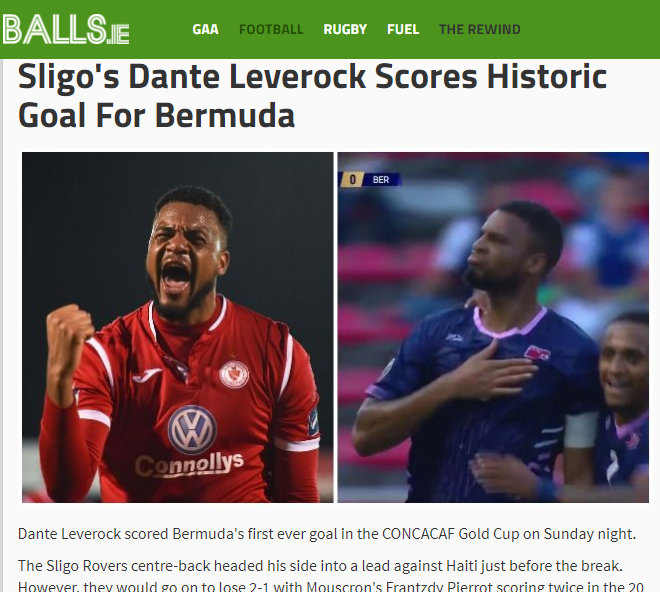 Another Irish sports website — in an article titled "Sligo Rovers defender makes history with Bermuda's first-ever Gold Cup goal" — reported that "Bermuda, for long associated with the triangle, have not ended their opening Gold Cup game with three points, but they did take away some history. It was served by Sligo Rovers defender Dante Leverock, who scored Bermuda's first-ever goal in a Gold Cup."
In addition to Dante Leverock, Bermuda's team includes Nahki Wells, Jonte Smith, Reggie Lambe, Dale Eve, Oliver Jalen Harvey, Calon Minors, Roger Lee, Kacy Milan Butterfield, Jaylon Bather, Lejaun Simmons, Donte Brangman, Chikosi Basden, Zeiko Lewis, Willie Clemons, Jahquil Hill, Osagi Bascome, Cecoy Robinson, Justin Donawa, Wendell Tre Ming, Liam Evans, Marco Warren, and Quinaceo Hunt.
The Gombey Warriors have already played Haiti, and will take on Costa Rica on June 20th in Dallas, and then match up against Nicaragua on June 24th in New Jersey, and in an effort to provide comprehensive coverage of Bermuda's debut in this highly prestigious regional competition, Bernews has a dedicated reporter traveling with the team in order to bring all the latest action and insights, with the special coverage thanks to the support of Butterfield & Vallis, One Communications, and Bermuda Security Group.
If you want additional coverage, please feel free to join Bernews new Sports Facebook group, where our traveling reporter is providing daily updates and some 'behind the scenes' coverage.

Read More About