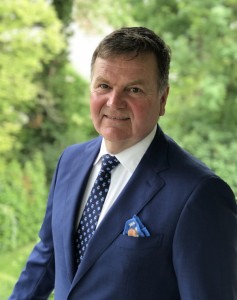 Clarien Bank today [July 2] announced that Bruce Jackson has joined its team as Executive Vice President, Chief Wealth Management Officer.
Mr. Jackson, who holds an Honors Bachelor degree in Business Administration from the Richard Ivey School of Business at the University of Western Ontario, as well as a Chartered Financial Analyst [CFA] designation, will be responsible for Private Banking, Clarien Trust Limited and Clarien Investments Limited.
"We are pleased to welcome Bruce to the team at Clarien Bank," said Ian Truran, Clarien's CEO. "Bruce brings with him a vast experience in the investment industry, in capital markets, and wealth management for institutions, trusts, foundations, family offices, and entrepreneurs in North America and Europe. We look forward to working with him and believe he will be a tremendous asset to Clarien, as we work toward our goal of becoming the Best Wealth Manager in the Region."
Mr. Jackson began his 33-year-career as an Equity Analyst with Wood Gundy, a leading Canadian stock brokerage and investment banking firm, where he specialised in Global Energy Research. After fifteen years as an institutional investment banker, he formed an investment management firm to create discretionary energy portfolios for Global Family Office, high net worth, mutual fund and institutional clients.
Throughout his career, Mr. Jackson has advised pension, union, First Nation, corporate, government and not-for-profit clients; he has also led a global Fintech company in the asset management industry. Founder of a Cayman Fund Corporation called Barrantagh One, which invested in public and private energy companies on behalf of sixteen large Caribbean and European Family Offices, Mr. Jackson also made time to invest in the community.
Contributing his expertise in Global Asset Allocation, Foundation and Trust governance, compliance and investment management to various not-for-profit endeavors, Mr. Jackson previously served as President and Chairman of a large Canadian school foundation board. Additionally, he has been a regular speaker at European Family Office and Asset Allocation conferences around the globe.
"Clarien's Private Wealth Management team takes a creative, progressive and responsive approach to providing investment solutions that are tailored to a client's unique circumstances and objectives. Offering an extensive network of professional advisors, the team's expertise includes trust and estate planning, tax and jurisdictional matters, as well as treasury services," the company said.

Read More About