The Chubb Charitable Foundation – Bermuda have announced this year's Bermuda College Education Award and Robert Clements Scholarship recipients. Both recipients were celebrated during a luncheon hosted by Chubb.
Kiara Virgil-Wainwright Receives Bermuda College Education Award
A spokesperson said, "Kiara Virgil-Wainwright, a recent graduate of Berkeley Institute and Bermuda College, through the Dual Enrolment Programme, has been selected as the 2019 Bermuda College Education Award recipient. Kiara is entering her junior year at Georgia State University in Atlanta, Georgia where she will be completing her Bachelor's Degree in Business Administration, with a major in Accounting.
Madison Sidney Virgil Quig, Robert Clements Scholarship and Kiara Virgil-Wainwright, Bermuda College Education Award recipients.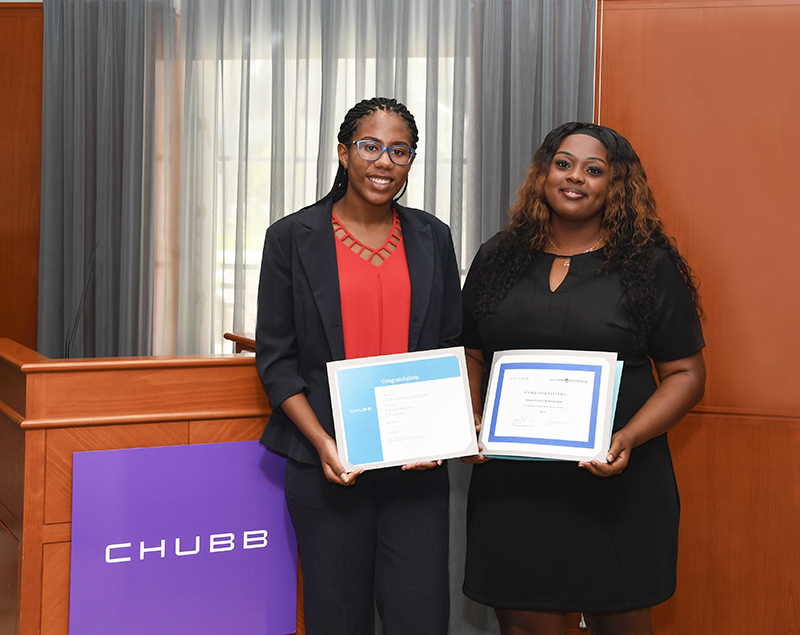 "Kiara thrived in the dual enrolment program, consistently achieving Honour Roll and excelling in IGCSE classes at Berkeley Institute; whilst maintaining exceptional grades and graduating with distinction from Bermuda College.
"The articulation agreement between Bermuda College and Georgia State has allowed Kiara to jump directly into the third year of her undergraduate. As a result, Kiara has completed two years of her Bachelor's degree, received her high school diploma, and attained her Associates Degree.
"Her determination to achieve a higher education is what propelled her through this unique academic experience. She is a recent inductee, as a member of the Phi Theta Kappa Honour Society.
"In addition to her academic achievements, Kiara is active in many extra-curricular activities. She has completed her Bronze Expedition with Duke of Edinburgh, and serves as a dynamic Youth Leader at Beulah Tabernacle's youth program, where she empowers her peers and leads by example.
"Kiara has expressed a desire to utilize her skills and talents to make a positive impact in Bermuda and a difference in the lives of others."
Samantha Froud, Chief Administration Officer, Chubb Bermuda Operations, and a member of the Bermuda College Education Award selection committee said, "I continue to be impressed with the talent and potential of the candidates we receive from Bermuda College. Kiara demonstrated a strong commitment and passion for learning, and giving back to the community. We are pleased to recognize and help support Kiara to achieve her goals."
Madison Sidney Virgil Quig Selected as the 2019 Recipient of the Robert Clements Scholarship
The spokesperson said, "Madison Sidney Virgil Quig, a Bermuda High School [BHS] graduate was selected as the recipient of the 2019 Robert Clements Scholarship, in the award's twenty-fourth anniversary year. She is entering her freshman year this fall at Stanford University.
"During her time at Bermuda High School, Madison received many academic awards and honours. She was specifically recognized for achieving the highest International General Certificate of Secondary Education [IGCSE] results in school and island wide.
"Madison also received the highest attainment in Biology, Chemistry, Mathematics, Accounting, Geography, and English. She was also presented with this year's Outstanding Teen Award for "Leadership, Academics and Outstanding Overall."
"Madison is truly an outstanding student with a passion for learning. The committee was extremely impressed with her academic and community accomplishments. We are proud to name her as our 2019 recipient. We look forward to having Madison join the world-class family of Robert Clements scholars", said Lori Dunstan, Chair, Chubb Charitable Foundation – Bermuda.

Read More About