Recent visitors to the National Museum of Bermuda [NMB] may have noticed the reassuring chimes of the Dockyard Clock are back, faithfully alerting them to the time every fifteen minutes.
Originally installed in the south turret of the Great Eastern Storehouse [now the Clocktower Shopping Mall], the mid-Victorian clock mechanism was made by John Moore & Sons of Clerkenwell, London in 1856 and drove four dials which kept time for the Royal Naval Dockyard for 100 years.
A spokesperson said, "The clock was accurate to one-tenth of a second with minor variations due to humidity and was installed at the then Bermuda Maritime Museum in 1984, with a reproduction dial and three new bells: ting, tang and hour.
"Unfortunately, Bermuda's harsh climate continued to take its toll on the mechanism and the clock had developed a strike problem which caused it to stop completely, drowning the Museum grounds in silence.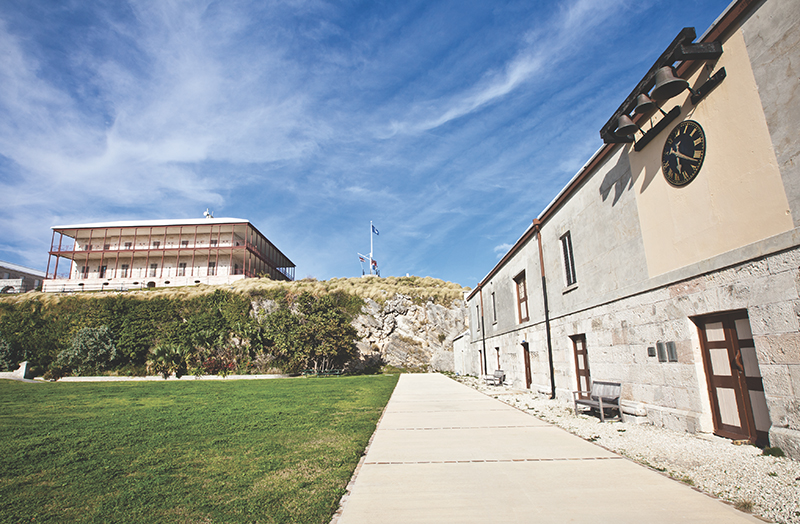 "However, thanks to the efforts of volunteer antiquarian horologist – master clockmaker and restoration expert – Dr. Edward Cloutman, BSc PhD Dip BADA, who first fixed the clock thirteen years ago, the clock is back up and running.
"Upon initial inspection Dr. Cloutman was pleased to find that "the clock was in excellent condition", mainly due to the regular attention of NMB Facilities Manager Andrew Harris, who followed a strict maintenance schedule, developed by Cloutman during his earlier visit.
"The schedule sets out a strict oiling, greasing and cleaning regime and regular checking of the clock lines [wires carrying the weights] and consequently "the clock has given very little trouble over the years and has kept good time".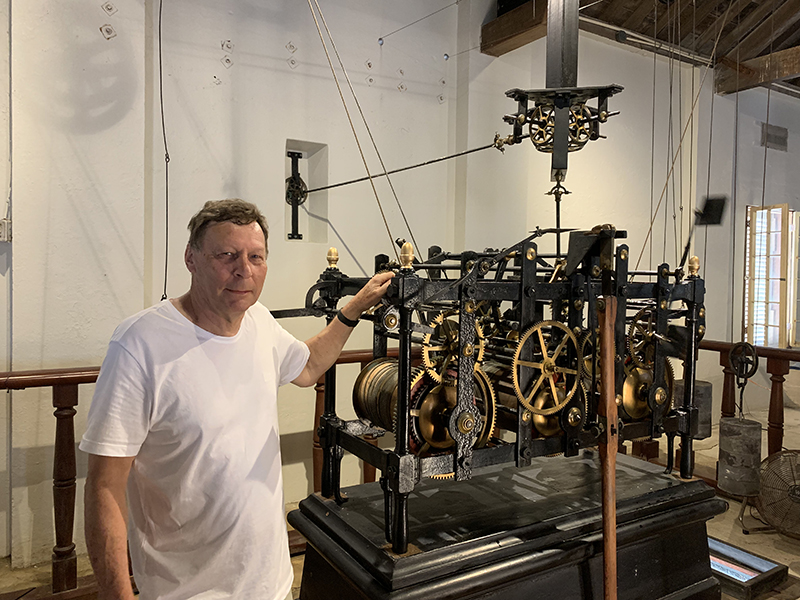 "Chris Roque of SparYard Marine Solutions and his welder Rolly Jino generously donated their time to assist Dr. Cloutman with restoration and preservation of the clock. Cloutman was a hit with visitors while he was working at NMB, fielding questions from groups of schoolchildren and many people who had never seen a clock so large.
"With the help of NMB staff, Dr. Cloutman was also able to recover a clock from the Whitney Institute where it was suffering from corrosion. The Whitney clock, made in the 18th century by well- known London clockmaker Edward Tutet, has a birdcage movement made of wrought iron. The Whitney clock was brought to NMB for conservation and preservation.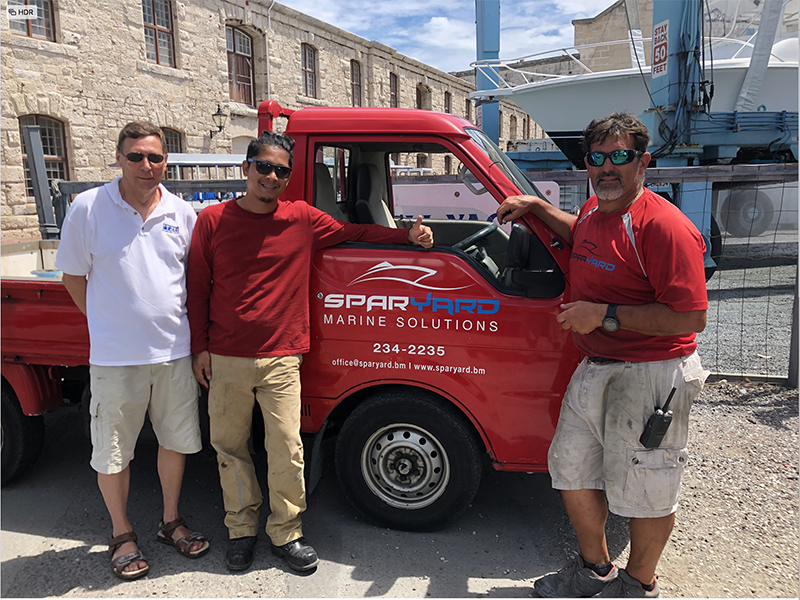 "NMB is thankful to Dr. Cloutman for the time he has devoted to keeping the Dockyard Clock running all of these years and to Chris Roque and Rolly Jino for their assistance. If you'd like to hear the Dockyard Clock for yourself, you can visit it in the National Museum of Bermuda's lower grounds, where it is on display in the Boat Loft building."

Read More About