Robin Horsfield has arrived in the Pyrenees Mountains to begin preparations for Sunday's World Cup Mountain Bike Event held in Vallnord, Andorra.
Horsfield, who is Bermuda's National Mountain Bike Champion, is currently adapting to the altitude of the event, which is held between 5000 and 6000 feet.
Horsfield [left] is pictured with coach Mark Brown on Tuesday during initial course inspection in Vallnord, Andorra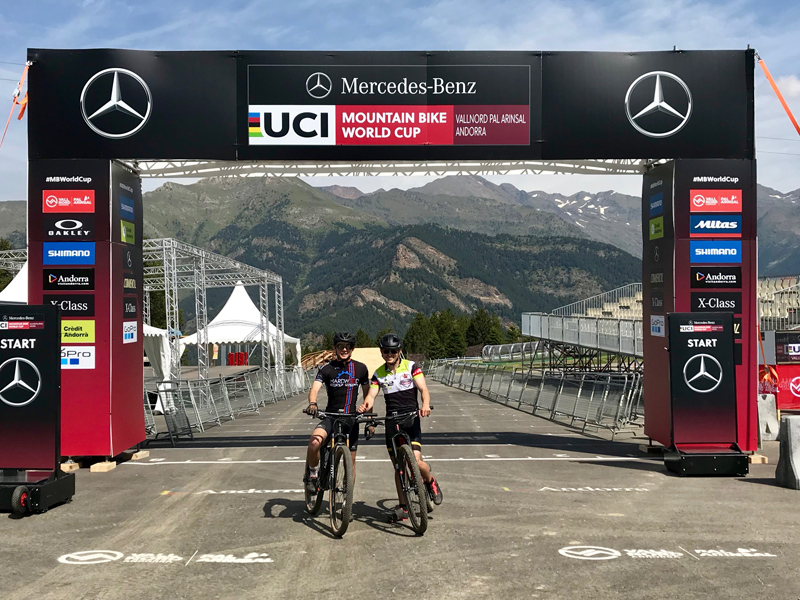 "It was a long trip here and I have taken it somewhat easy to get adapted to the altitude," said Horsfield. "Mark and I inspected the course today and dialed in the technical lines while the course was somewhat empty. I will start significant preparation tomorrow when the official training period begins. The build up to the event is always exciting as the world's best arrive along with the crowds."
Horsfield has had a breakthrough season in Ontario and Quebec, with three top 10 finishes in the Ontario Cup series among elite men. The 19 year old set Bermuda history last year as the first Bermudian mountain biker to line up on a World Cup start line when he competed in Mont Saint Anne, Quebec.
The full Mountain Bike World Cup Entry Lists follow below [PDF here]

Read More About