Lavarr Raynor, Gregory Dean and Marvin Burchall have all become part owners of Harbourside Holdings, as the company operates an employee-owned structure where dedicated employees are given the opportunity for ownership stake.
The company noted that overall it has been a successful year for Harbourside Holdings, which is the holding company of Flanagan's Irish Pub, Outback Sports Bar, The Snug Café, The Loft & Divots.
The company won The Bermudian's Best of Bermuda 2019 Award of Excellence, along with 'Favourite Pub,' 'Friendliest Wait Staff,' and 'Place to Watch Sports' as well as the award for Best Overall in the Food, Drink and Entertainment Division.
Chris Garland, Director of Harbourside Holdings, said, "Receiving the Award of Excellence meant a huge amount to the team, it's all down to their efforts and we hope to build on this success with our expanding ownership team."
A spokesperson said, "The company, under the directorship of Chris Garland, Deon Mills, Al McIntosh and Barry DeCouto, is always on the lookout for hard working and talented Bermudians.
"Divots recently hired a kitchen porter who was part of Minister Wayne Caines '100 jobs' challenge that sought to connect 100 unemployed or underemployed Bermudians with 100 employers.
New owners: Lavarr Raynor, Marvin Burchall and Gregory Dean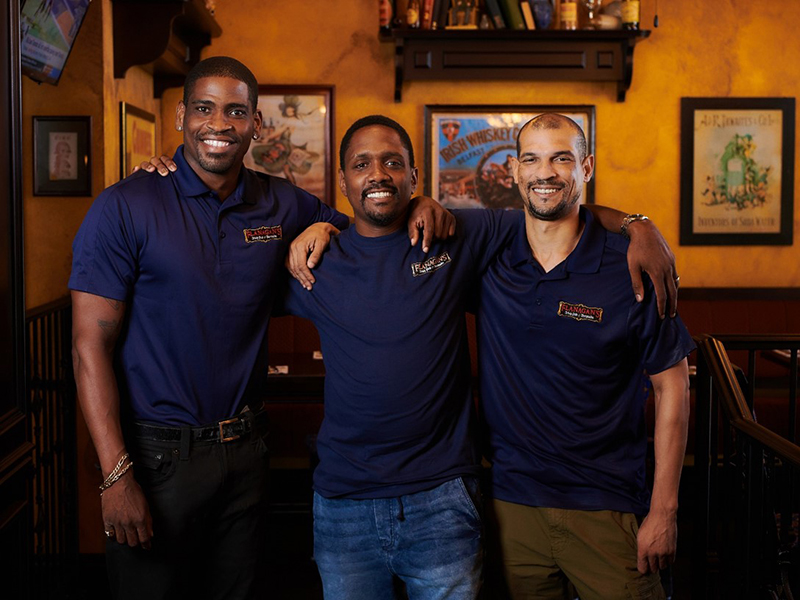 "The four directors took over Harbourside Holdings in 2007 with the aim of creating a sustainable brand."
Mr. Garland added "We're in it for the long run and to sustain the slower months we worked hard to build a great team and in turn a great brand and future for that brand. Our staff are our greatest asset and we will continue to invest in them. We have been allowed to expand because of the great people that we've brought on along the way."
The spokesperson said, "The company operates a unique employee-owned structure where dedicated employees are given the opportunity for ownership stake. The owners are all qualified to take on roles as needed from Manager to Bartender to waiting tables, giving the business a great deal of flexibility.
"Lavarr Raynor, Gregory Dean and Marvin Burchall all became owners earlier this year, taking the number of working owners up to 10.
Ownership team: Lavarr Raynor, Al McIntosh, Anthony Daniels, Marvin Burchall, Barry Decouto, Robert Bell, Deon Mills, Gregory Dean and Chris Garland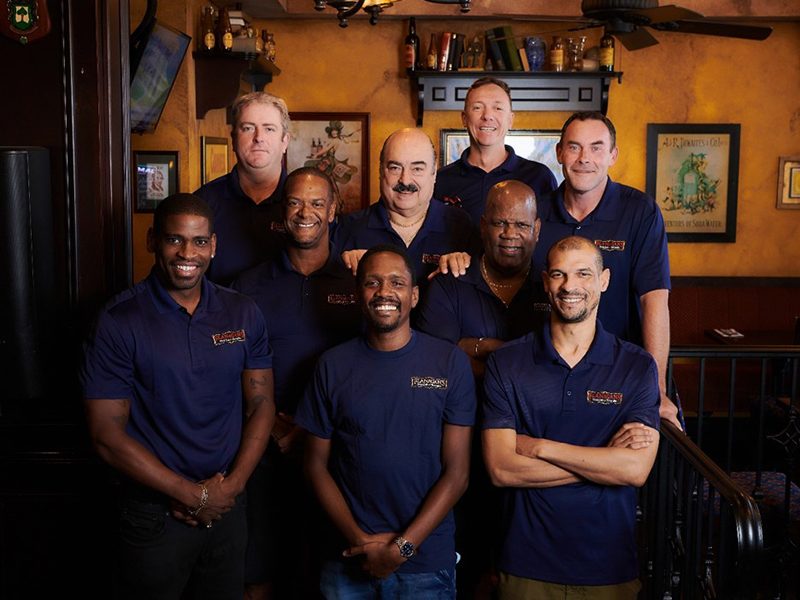 "Lavarr Raynor started his career in the hospitality industry at the age of 19 as a pot washer and has spent the last 20 years working his way up the ranks to his current position of Bartender/ Restaurant Manager – Mr. Raynor also assists with functions at the company's event space, The Loft."
Mr. Raynor said, "Working in hospitality runs in my family, I started at Flanagan's in 2009 and haven't looked back – the owners don't treat you as just an employee, when you work here you're family. As new owners we're looking to bring fresh ideas to the table to drive the business forward."
The spokesperson said, "Gregory Dean refers to himself as a food and beverage lifer, he got his start in the industry at the age of 10 at his grandma's restaurant and is now the Bar Manager at Outback Sports Bar having started with Flanagan's in 2007 as a Junior Bartender. His family owned the popular Checkerboard diner, Checkmate restaurant and Dean's Bakery in Somerset."
Mr. Dean said, "The more skills you have the more valuable you are to your employer, and that dedication is what has gotten me to where I am today at Flanagan's. It's an exciting time for the company. A huge part of our success is down to our team's relationships with our customers."
Bartenders: Anthony Daniels, Robert Bell, Marvin Burchall, Lavarr Raynor and Gregory Dean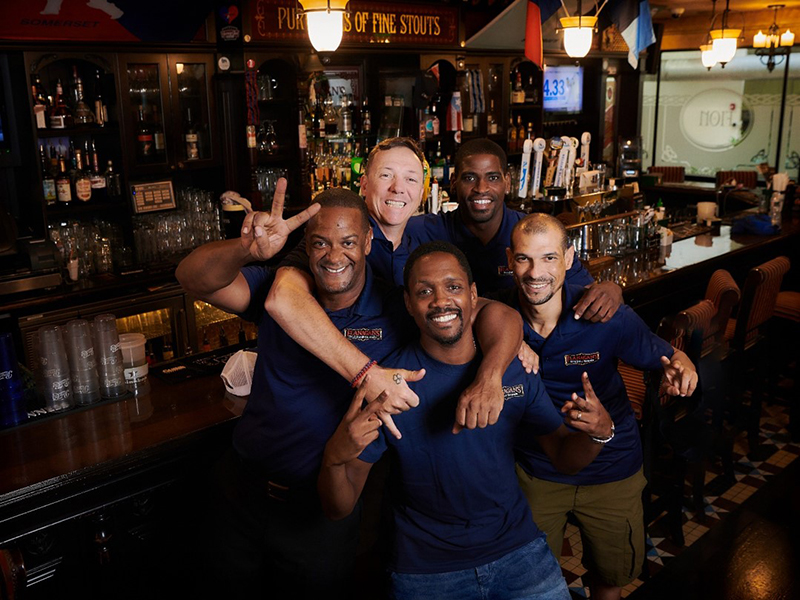 The spokesperson said, "The final addition to the ownership team is Marvin Burchall. Mr. Burchall grew up in the industry and is a familiar face to many as the head bartender at Divots."
"What is different about Flanagan's is that the owners are all hands-on. They will get stuck wherever is needed and that inspires the whole team to work harder", Mr. Burchall said.
"I have a positive feeling, there's so much more variety now and different parts of the island are coming alive. We've seen that with Divots in Warwick. I would say to anyone looking to make it in this industry, take the opportunities that are given to you and be prepared to make sacrifices as well."
The spokesperson said, "Harbourside Holdings is also a major proponent of the National Tourism Plan and the BTA's efforts to enhance the experience for visitors on the island.
"The company's front line staff have all undergone training to become Certified Tourism Ambassadors and Flanagan's has a National Service Standard Certification following completion of the BTA's Programme."
Deon Mills, Director of Harbourside Holdings said, "The growth that we have experienced over the last few years, with opening up Divots and The Loft, is not only attributable to our commitment to the island but also down to the growth and creativity we've seen in the tourism industry. Visitor levels have a direct impact on our business and we hope to see them continue to rise in the coming years."

Read More About