[Updated] A 68-year-old woman and a 55-year-old man have been treated and discharged from the hospital following a crash involving two buses in Southampton yesterday [July 9].
A police spokesperson said, "Around 1:20pm Tuesday, July 9th two Department of Public Transportation buses collided at the junction of Middle Road and South Road in Southampton, in the vicinity of Barnes Corner. Police, Bermuda Fire & Rescue Service and ambulance personnel attended the scene.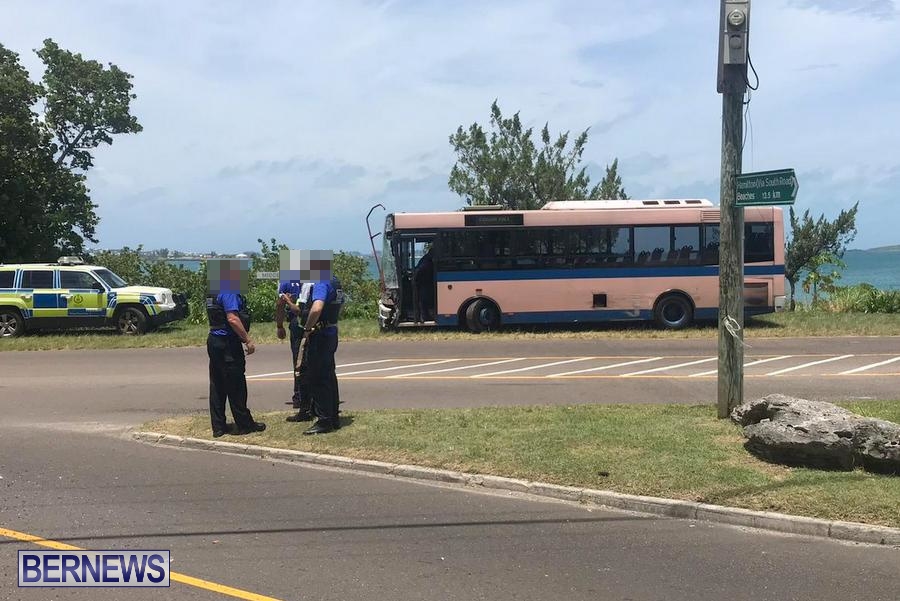 "It now appears that the two buses were being driven in opposite directions along Middle Road when the collision occurred, as the eastbound bus attempted to turn on to South Road.
"Two passengers, one from each bus – said to be a 68-year-old Sandys parish woman and a 55-year-old Sandys parish man – were hurt and transported to King Edward VII Memorial Hospital via ambulance for medical assessment. Both were treated and later discharged.
"It is understood other passengers reported being hurt but did not require immediate medical assessment at the hospital. There were traffic delays in the area for approximately one hour following the collision.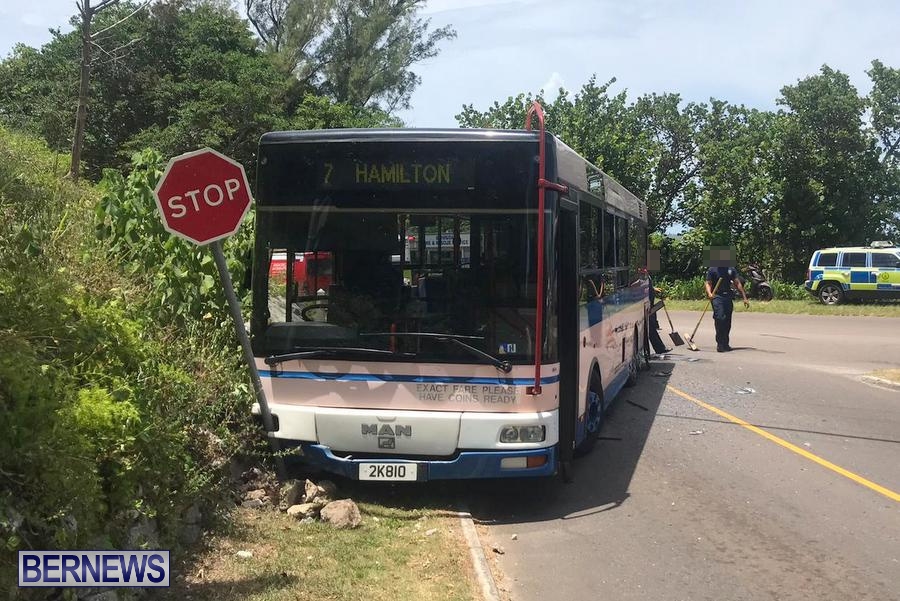 "The scene was examined and the two damaged buses were later towed away. The Bermuda Police Service would like to thank the bus drivers, passengers and other witnesses that have already provided their accounts of what occurred. Inquiries continue."
Update July 11, 8.43am: A Government spokesperson said, "The Department of Public Transportation confirms that two buses were involved in a collision at approximately 1:15pm on 9 July at the junction of Middle Road and South Road, in Southampton.
"The buses, traveling in opposite directions, collided as the eastbound bus was attempting to navigate the turn onto South Road. DPT Management and the Bermuda Police service attended the scene and an investigation into the cause of the crash is underway.
"The Bus Operators were shaken, but not injured. Five passengers attended the King Edward Memorial Hospital for treatment of what is understood to be non-life-threatening injuries. Both buses were extensively damaged.
"DPT regrets that the accident occurred and that passengers were injured. Safety is paramount for DPT and an investigation is being carried out in accordance with Occupational Safety and Health regulations."
Read More About
Category: Accidents and fires, All, News