Mirror, mirror on the wall, who are the fairest actors/singers of them all?
The Bermuda Musical & Dramatic Society hopes to find out the answer to this question when it holds auditions next month for its 2019 Christmas pantomime, Snow White and the Seven Dwarfs.
Auditions are being held at the BMDS' Daylesford Theatre at the corner of Dundonald and Washington Streets in Hamilton on the following dates:
Adults – September 5 and 6 – 6:00pm to 8:00pm
Children – September 7 – Registration 10:00am – pick up at 12 noon
Callbacks September 8 if necessary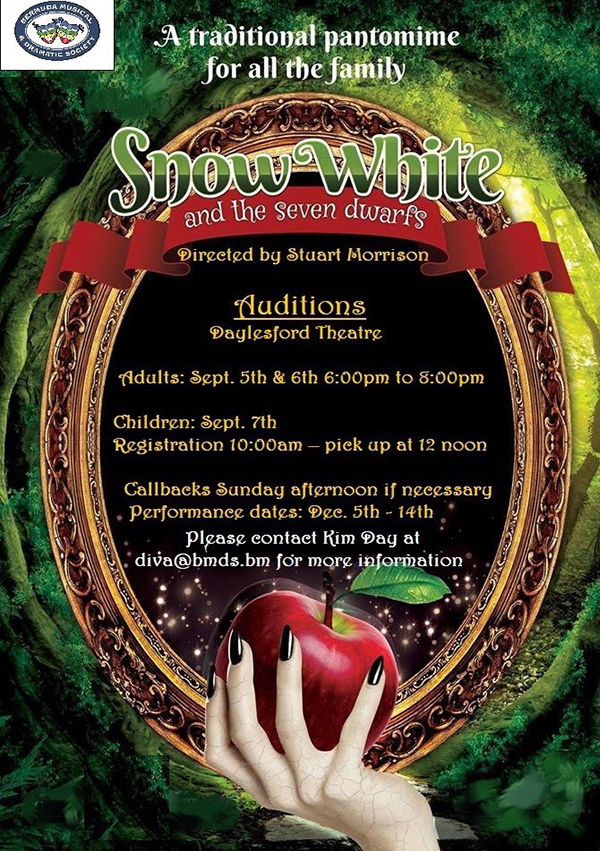 For principal roles and chorus, please bring sheet music and wear comfortable clothes that you can move in easily.
Children are being asked not to wear flip flops or to show up to auditions in bare feet.
The relevant script pages, or audition "sides", will be available at Daylesford and on the BMDS website starting on Friday, August 23.
The show's lead characters are:
Dame Bonbon: Lovely, warm Pantomime Dame with some swank and a love of men
Pages 5/6
Songs Big, Blonde and Beautiful
Prince – Good height with Snow White .. great singer and actor
Pages 7/8
Songs Unpredictable and These Days
Ivan – A baddy we love to hate who manages to get the audience to love him. Plays second fiddle to the Queen but sees himself as above everyone else
Queen – Big, bold and sassy … she has it all …good looks and sexy …can be any age …think Killer Queen from we will rock you very big singing voice and great actress
Page 1
Songs Killer Queen and Black Magic
Snow White – Typical Disney-style, but with a strong tomboy side to her character
Great actress and singer
Pages 2/3
Songs Downtown and Call Me Maybe
Muddles – A lovable children's friend and comic
Snow White and the Seven Dwarfs will be staged from December 5 through 14. Contact Kim Day at diva@bmds.bm for additional information.
Read More About
Category: All, Entertainment