Members of Bermuda's video gaming community have come together to organize two e-sports tournaments this month, with both events to be held at Connectech using high-speed internet donated by One Communications.
A spokesperson said, "The newly formed Bermuda E-Sports League, in partnership with grassroots team BDA Smash, will be hosting a Super Smash Bros. tournament on Friday, August 23 from 7.00pm to 10.00pm. This will be for players aged 17+ due to mature content in the other games being played during downtime at the event.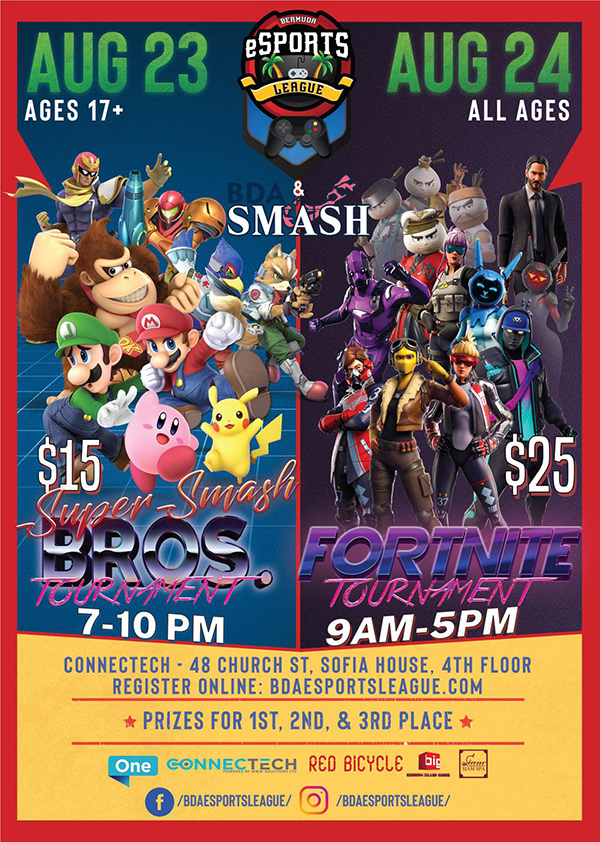 "On Saturday, August 24, there will be an all day Fortnite tournament starting at 9.00am. This will run in different heats throughout the day, with other games available as well. This will be open to players of all ages who wish to compete.
"To register, you can go to the website. For each event, players are encouraged to bring their own headsets and controllers. Players should arrive to the events on time for sign-ups.
"We are looking to provide a safe space for both competitive players and video game enthusiasts to come together and be a part of the community. We had chosen these two games as the main titles but are open to doing any video game tournament in the future that the players want to participate in.
"There will be other games available for people to play in between sessions, fun giveaways for each of the participants, and prizes available to the tournament winners.
"The event is sponsored by One Communications, Connectech, Red Bicycle, Bermuda Island Games, and Siam Spa. For tournament details or any questions about either event, you can find more information on their website."

Read More About
Category: All, Entertainment, News, technology