Dr. Althea Winifred – Dean of Substance International Institute Faith School – will be hosting a workshop dubbed 'Mental Health in the Church' on Thursday, October 10 from 6.00pm to 9.00pm at the Heritage Worship Center in Hamilton.
Dr. Winifred said, "In Bermuda, there is a Mental Health Awareness Week from October 6 to October 12, 2019. I will be hosting a Mental Health in the Church Workshop and training called 'Me' [Minds Emotions] on Thursday, October 10, 2019, from 6.00pm to 9.00pm.
"This will be a lecture event about 'Mental Health in the Church.' The objective is to help church leaders and members to better comprehend mental illness, its stigma, and that some people are sick and have been diagnosed with mental illness and are not demonically possessed."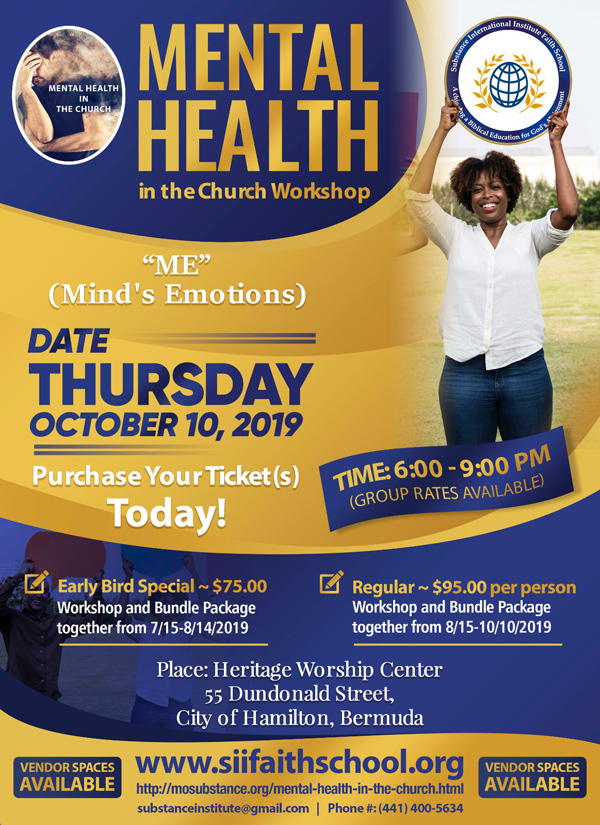 "The aim is to provide church goers, laypersons, members, and partners within the local churches to understand and stop the stigma within the church concerning mental illness.
"The goal is to impart knowledge about mental health and illness as a topic that is not taught, spoken or preached about because it is not understood. Mental health in the church has become a widespread epidemic which is increasing daily.
"As the Dean of SII Faith School, I am a Bermudian. I firmly believe in our students becoming educated on their journey to being empowered, equipped and edified to achieve a Biblical education for God's assignment. Our aim is to work with you as our student to reach your personal and spiritual study goals through a variety of programs.
"Mental health in the church is a topic that is not taught, spoken or preached about because it is not understood. Mental health in the church has become a widespread epidemic which is increasing daily."

Read More About
Category: All