Saphire Faith International Ministries will be hosting a conference entitled 'Call For The Wailing Women' on Saturday [Jan 30] via Zoom.
Marlene Flynn said, "Calling all Christians denominations – Bishops, Pastors, leaders of every auxiliary of the church, prayer generals, prayer mothers, youth leaders, Intercessors – anyone [including, for the avoidance of doubt, men] who is willing to set some time aside to hear what the spirit of the Lord is saying to the Church concerning prayer in this season.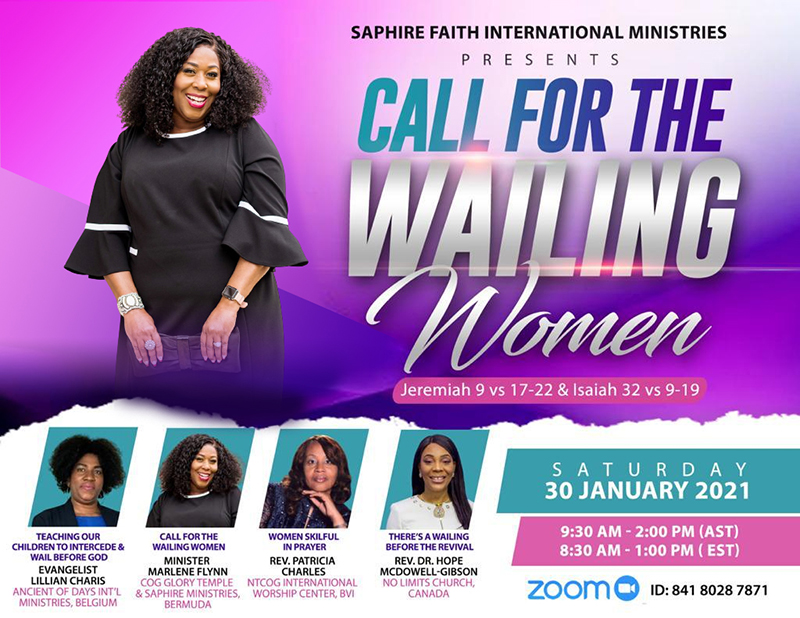 "Saphire Faith International Ministries invites you to the 'Call For The Wailing Women Conference' to be held on Saturday, January 30 from 9:30am to 2:00pm [Atlantic Standard Time]/8:30 am to 1:00 pm [Eastern Standard Time] via Zoom [ID 8418028787, no password is required].
"This conference is birthed out of an open vision that I, Marlene Flynn, received while in intercession [on a prayer line] in October 2020 concerning the USA. By way of the Holy Spirit, I saw riots, killings, shootings, and bloodshed taking place as a response to President Donald Trump losing the election [3 November 2020].
"In the open vision, these things were taking place in various locations in the United States. I immediately shared the open vision on the prayer line and the host instructed us to begin to pray for a revival to take place instead of riots.
"The Holy Spirit, a few days later, showed me other jurisdictions suffering great hardships, protests, failing economies, worry and depression overtaking the people, freak accidents, increased gang warfare etc.
"After a while, since I could not shake what I saw, I asked the Lord what He wanted me to do about that which He had showed me; I was immediately instructed to 'send for the wailing women.' I did not know what this meant so I began to research and found the story in Jeremiah chapter nine.
"On Tuesday, 5 January 2021, while repenting for not acting on God's instructions, He showed me glimpses of the open vision that I had three months earlier concerning the USA. It was then that an uncontrollable, audible wailing began to pour from me – I continued in wailing and prayer for four hours.
"During this time, the Holy Spirit downloaded the names of the speakers for the conference. He was designing with the aim of raising up an army of women, nationally and internationally, to pray for nations and in particular, Bermuda.
"24 hours later on January 6, 2021, laying in the same spot I was the previous day, I received a call from my mother to turn the TV to CNN and I knew immediately that there was a disturbance. I sat in front of the TV in awe.
"Understanding the urgency to act upon God's instructions to convene this conference, my ministry partners and I have put together a conference designed to teach, motivate and encourage all gathered to intercede, supplicate and wail before our God. In accordance with 2 Chronicles 7 verses 13 -16, let us humble ourselves, pray, seek God's face and turn from our wicked ways.
"The following persons will be ministering to us on Saturday, 30 January 2021, commencing 9:30 am [AST] and 8:30 am [EST] via Zoom on the following topics:
1. Teaching Our Children to Intercede & Wail Before God

Evangelist Lilian Charis, Ancient of Days Ministries, Belgium
2. Call for The Wailing Women

Min Marlene Flynn, COG Glory Temple & Saphire Faith International Ministries
3. Women Skillful in Prayer

Rev Patricia Charles, NTCOG International Worship Center, British Virgin Islands
4. There's A Wailing Before the Revival

Rev Dr Hope Gibson McDowell, Pastor, No Limits Church, Brampton, Canada
"We look forward to seeing you at this powerful, enriching and life changing conference. There is no cost to participants for attending the conference. We will enter into a season of prayer following the conference. Come believing God; much to gain, nothing to lose."

Read More About
Category: All