Saphire Faith International Ministries [SFIM] has teamed up with three churches to host a Zoom seminar entitled "Excellence In The Kingdom, 2020" on Saturday [Aug 22].
A spokesperson said, "Saphire Faith International Ministries [SFIM], has teamed up with three churches, namely; Glory Temple [Pastor Blanche Burchall], Miracle Temple [Pastor Clark Minors] and Community Contact Ministries [Pastor Gladstone Thompson] to host "Excellence in the Kingdom, 2020". The three churches form District One of the Church of God family and are under the leadership of Bishop Clark Minors [District Overseer].
"This Zoom Seminar, aimed at reaching leaders and influencers at all levels and will be held on Saturday, 22nd August from 10:00 am to 4:00 pm [Atlantic time] and 9:00 am to 3:00 pm [Eastern time].
"The main objective of the Seminar is to empower and equip the attendees with revelation knowledge. This will provide a direction/path to transforming our communities and by extension, nations, for the Kingdom. We have to 'know' before we 'go'. Knowledge is power and power gives access.
"Being of an excellent spirit will give us the access we need to influence and transform lives. Also, we have to remember that when the Great Commission speaks of transforming nations for the kingdom, it included persons in higher positions of authority. We are more comfortable witnessing to friends and families however, we are called to witness to all people.
"The Bible is filled with stories of people, such as, Joseph, Moses, Esther, Nehemiah and Daniel [to name a few] who gained access to their kings based upon their work-excellence. We never know when we will have an opportunity to influence a king for the gospel's sake.
"Even though COVID-19 has restricted our movement, people are travelling to other nations less impacted by the virus to work and play. Are you equipped to minister to the Prime Minister or the King or the Prince/Princess that you may meet in Bermuda or on your travels? Once you learn how to and begin to live/walk in the spirit of excellence, it will not be long before you have the ear of leaders.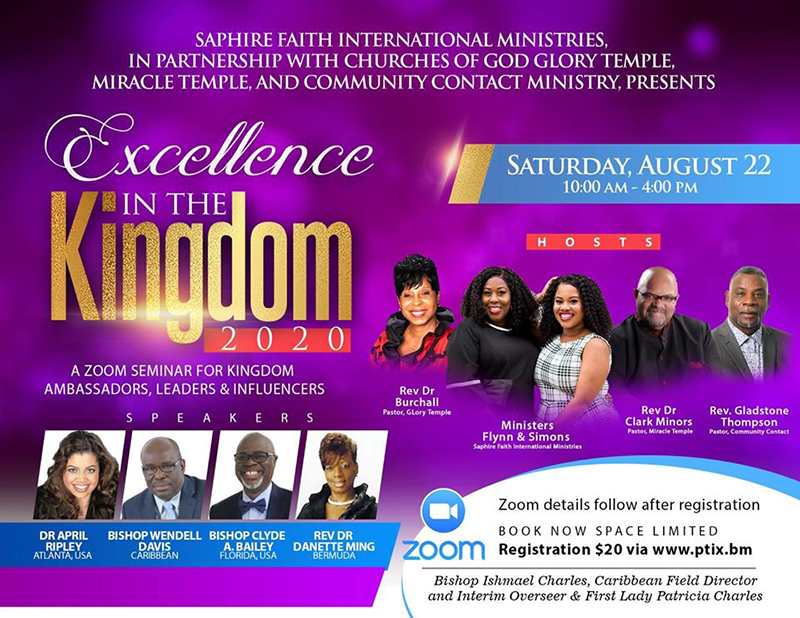 "Living a life with an excellent spirit is do-able and these topics, to be presented by the following Kingdom Ambassadors, will help you to discover how.
1. Dr April Ripley [Premier Image, Atlanta] Representing the Kingdom of God As Heaven's Ambassadors – Identity, Awareness and Image;
2. Bishop B. Wendell Davis [Administrative Bishop of NTCOG St Vincent, Grenadines and St Lucia] – "Think Like Jesus, Act Like Jesus. A Call To Ministry, Bearing the Marks of Jesus Christ – Not My Will, Thy Will Be Done";
3. Bishop Clyde A Bailey [Executive Pastor of Cooper City Church of God and Marriage Counsellor] – "Equipping The Membership- Developing Highly Effective Change Agents Within The Five Fold Ministry"; and
4. Dr Danette Ming [Bermuda] – "Planning And Mastering Change In The Kingdom – The Succession Plan".
"You cannot afford to miss this transformative ministry event. Parents, kindly encourage your teenagers to make this a ZOOM date with you so that you can learn together.
"Come, let us continue [to sharpen each other] until we all come to such unity in our faith and knowledge of God's Son that we will be mature in the Lord, measuring up to the full and complete standard of Christ – Ephesians 4 vs 13 [paraphrased].
"Zion is calling us, heaven is depending on us and creation is waiting eagerly for the revelation that is within us. We encourage you to register today.
"Interested persons may register here or contact Marlene at 1 441 704 1045. Upon registration you will receive Zoom details. Registration is only $20.
"If you are interested in a Church group rate, kindly contact us."

Read More About
Category: All