With more than 100 custom and classic motorbikes and cars already registered for the Scooter Mart Bermuda Charge Charity Ride-Out this Sunday [Sept 1], organisers have issued an advisory notice reminding participants to arrange their One Day Casual permit for any vehicle that is not normally authorised for the road.
A spokesperson said, "Participants with unauthorised vehicles must have proof of vehicle insurance in order to receive their permit. Permits are valid for 24 hours. Any unauthorised vehicles who do not have a permit will have to transport the vehicle to and from the show by truck."
Video on Causeway from last year's Bermuda Charge Ride:
"To receive a permit, participants should follow the steps below:
1] Visit TCD to request a One Day Casual Permit
2] Once called upon, display the insurance document for your vehicle
3] Pay the $22 fee for your permit
4] Visit the Traffic Desk to receive the permit
5] Have your permit handy on the day of the event
BMRA President Takara Dill, one of the Scooter Mart Bermuda Charge organisers, said, "With so much effort going in to this year's bikes and cars, it would be a shame to see anyone turned away because they don't have a permit. Please don't leave it until the last minute – we all want to see these special vehicles, it's such a nice spectacle to see Bermuda's motoring community come together.
"This is a friendly reminder to have your paperwork organised in advance."
A spokesperson said, "Ride-Out tickets are selling faster than last year, and organisers have limited participation to 200 vehicles in order to keep the ride well-managed. A Police escort has been arranged ahead of time.
"Spectators who want to see the eye-catching motorcade can attend the event free of charge by the Start/Finish line at Clearwater Beach, or watch along the route. Drink stops for riders will be every half hour – the first at Number 1 Car Park, Hamilton, and the second on Ordnance Island, St George."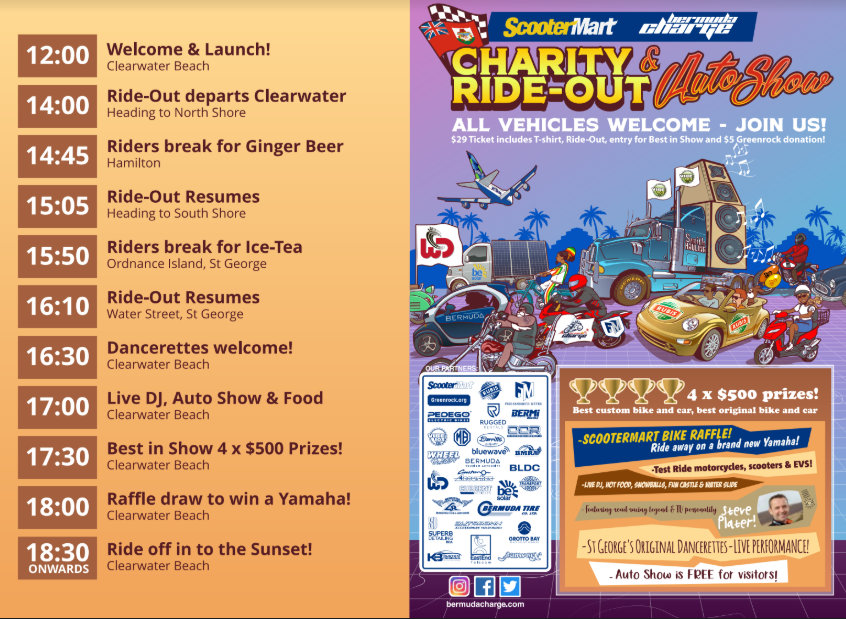 "Route information and more details for the Scooter Mart Bermuda Charge Charity Ride-Out and Auto Show are available at bermudacharge.com, and for information on vehicle permits and fees visit here.

Read More About