A joint services marine team rescued six US tourists yesterday after their rental boat capsized in the west end.
The Royal Bermuda Regiment and police team on police boat Rescue 2, deployed as part of the marine security element for the traditional Non-Mariners raft up at Mangrove Bay, swung into action after the Boston Whaler, about 13ft long, overturned in Cavello Bay in Sandys.
RBR Private Keeshun Best, a member of Boat Troop and part of the Rescue 2 crew, said: "There were a few people holding on to a capsized boat which was sinking.
Reserve Police Section Officer Jeffrey Benevides, Lance Corporal Donavin Trott-Burchall and Pte JD Symons on an RBR semi-rigid inflatable at the annual raft up at Mangrove Bay.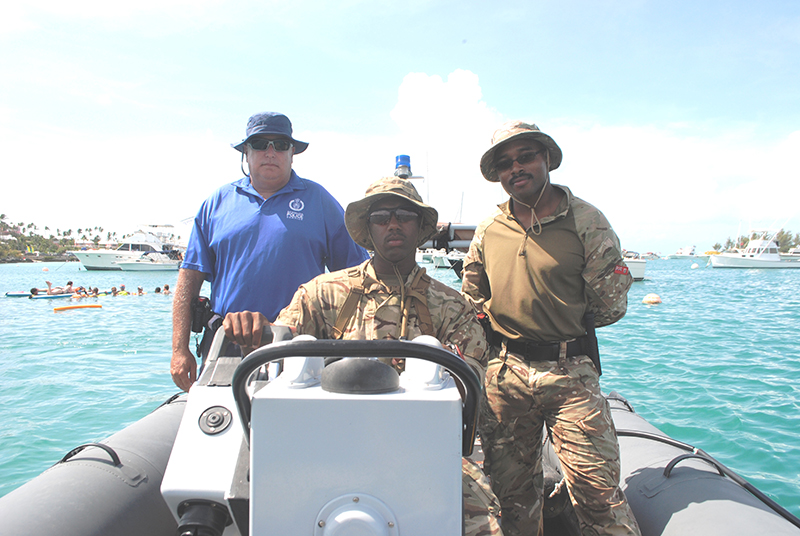 "We got them out of the water and took them to Somerset Bridge – they were very grateful we turned up."
The 26-year-old from Smith's added: "I've done training for this kind of thing, but never had to do it before. But I knew exactly what to do and kept calm."
Lance Corporal Donavin Trott-Burchall, who piloted an RBR rigid-inflatable boat on patrol in Mangrove Bay and also answered the distress call, said: "The water was a bit rough for such a small boat and it tipped over. We were going to tow the boat back but a jet ski that was with them did that, so we resumed our patrol."
The 26-year-old from Devonshire, also a Special Constable, added he had enjoyed his stint on the water over the holidays.
Soldier and sailor too: Private Keeshun Best, part of a joint services crew on police Boat Rescue 2 that plucked six US tourists from the water after their rented Boston Whaler capsized.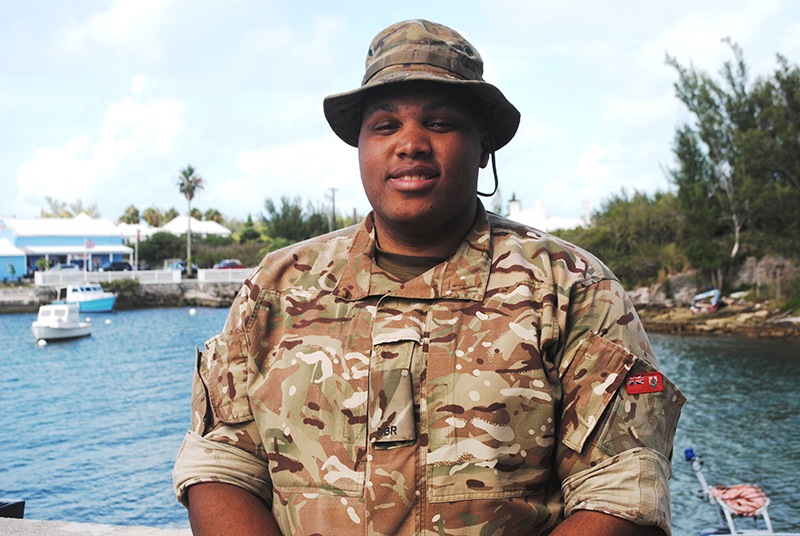 He said: "It's just making sure everyone is safe and keeping a presence out there. People are less likely to act up if they see us and we're here to assist people if something goes wrong – I'm okay with that."
Pte JD Symons, who crewed the RIB with L/Cpl Trott and Bermuda Reserve Police Section Officer Jeffrey Benevides, added: "This is the reason I got into the Regiment."
The 22-year-old from Devonshire, a diving instructor with Fantasea in Sandys, added: "Just getting out on the water and policing it – it's great.
"We are extra hands to help out in rescues and things like that. It's definitely worthwhile.
Patrol debut: 41 Juliet, the newest addition to the RBR Boat Troop fleet, patrols the traditional raft up at Mangrove Bay with soldiers and police on board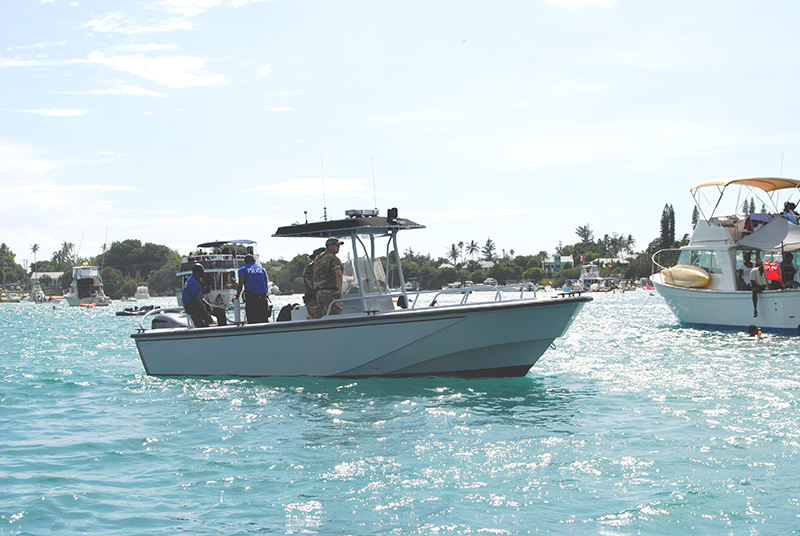 "A lot of what we do is training to look out for people and this is exactly what we're doing – keeping an active watch."
Section Officer Benevides, a 21-year veteran of the BRP and a Government animal control officer when out of uniform, said: "We wouldn't have been able to have such a high-profile presence this year without the RBR. I enjoy working with them.
"I've cross-trained with them and done some weekend camps with them."
He added: "The Reserve Police works really well with the Regiment – I guess because we're all volunteers. We're all here for the same reason. We want to give something back to the community."
 L/Cpl Donavin Trott-Burchall and Pte JD Symons keep a close eye on boat movements in Mangrove Bay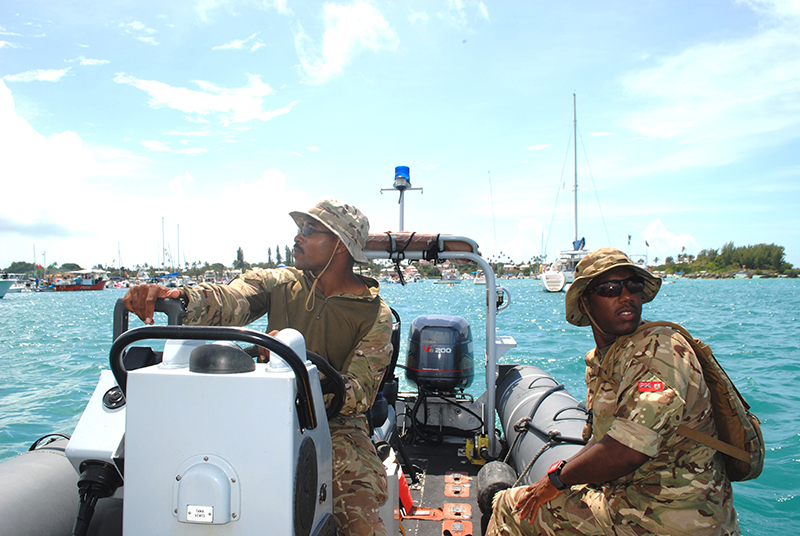 Pte Best and L/Cpl Trott-Burchall were two of nine RBR soldiers deployed on a five-strong fleet of Boat Troop and police boats for the raft up, including 41 Juliet, a derelict boat brought back to life by RBR marine specialists and only commissioned last Wednesday.
Sergeant Major Jeffrey Patterson, the officer-in-charge of Boat Troop, said: "It's been a very positive experience. There were fewer boats and it has been quieter than last year."
He added that the joint patrols had assisted other boats that got into trouble amid high winds and strong waves.
Sgt Maj. Patterson said: "We have worked very well with the police and we look forward to continuing to work with them in the future."

Read More About
Category: Accidents and fires, All, News