Bermudian Alex [Scrimmy] Scrymgeour and his production team recently took top honours at the Long Island International Film Expo with their TV comedy pilot Eddie's, a stand-alone episode for a proposed series which features a number of nods to the producer's island home.
Eddie's has previously been runner-up in its category at a number of recent TV marketing conferences which assess and award US pilot season's most outstanding efforts as they seek to get picked up by traditional or digital outlets.
Set in the fictional Eddie's Bar & Grille in Venice Beach, California, Eddie's stars Mr. Scrymgeour's friend actor Eddie McGee as the barkeep title character. Mr.McGee was of the earliest winners of the CBS reality TV show Big Brother.
In the half-hour pilot a Bermuda flag decorates one wall of the show's beachfront cocktail lounge, and one of the bar's regulars is a Dark 'n' Stormy drinker.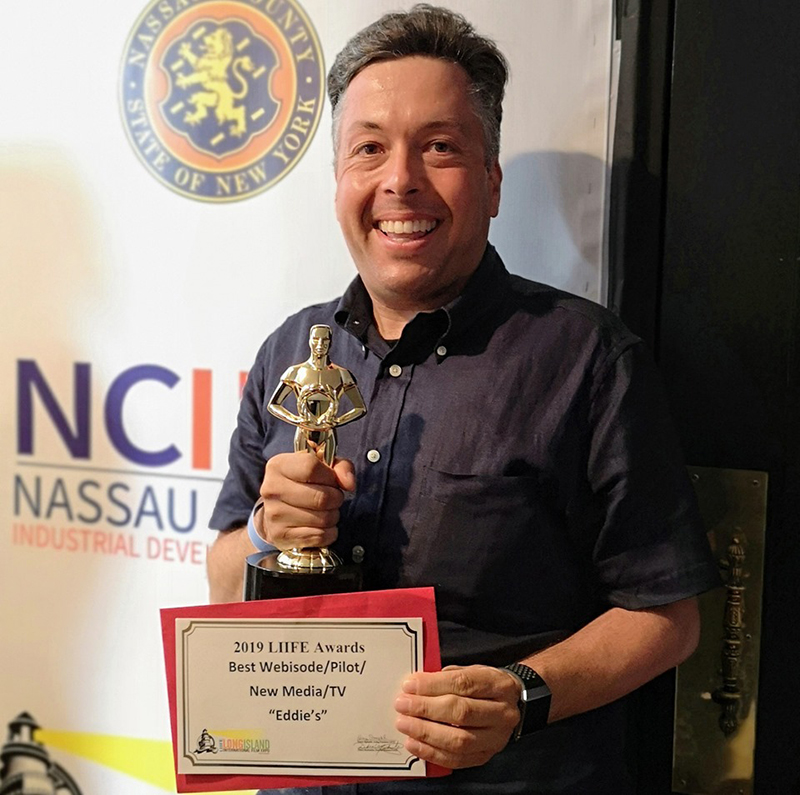 "I'm a proud Bermudian and I literally wanted to fly the flag for the island in the pilot," said Mr. Scrymgeour. "And there was no way I wasn't going to include Dark 'n' Stormies in a show set in a bar."
He said if the show becomes an ongoing series, he hopes to include more references to Bermuda in future episodes.
The show also pays homage to Cheers, the classic 1980s/'90s TV sitcom set in a Boston bar. it was Mr. Scrymgeour's favourite TV show when he was growing up. And although Eddie's owes nothing to that landmark comedy except a similar setting, the Bermudian executive producer was determined to acknowledge his sentimental debt to the show.
"We were incredibly lucky to get George Wendt to agree to play The Captain, an old sea-dog who is as much of a fixture at Eddie's Bar & Grille as the furniture and the crates of beer,," said Mr. Scrymgeour.
"George won six consecutive Emmy nominations for Outstanding Supporting Actor in a Comedy for his work on Cheers. In fact he appeared in all 275 episodes as Norm Peterson, the most regular of that TV bar's regular patrons. He's the consummate professional and it was both a privilege and a pleasure to work with him."
Former Saltus Grammar School student Mr. Scrymgeour has been involved in TV production, both in front of and behind the cameras, since he started as an intern at Bermuda's Fresh Creations in 1995.
Now based in Santa Monica, California he is hoping that Eddie's streak of good showings at TV expos will lead to a distribution deal and a full series going before the cameras.
"The show's tag line is: 'Every hour is happy hour and everyone is welcome'," he said. ""The humour is family-oriented, not mean-spirited or dark. And if you're looking for foul language, look elsewhere. I wanted to create a show that I'd actually enjoy watching with my own three kids. And I think that's what we've done."
"I'm sick of seeing shows on TV featuring obnoxious people doing obnoxious things for cheap laughs and I know there are a lot of other people out there like me; here's hoping the distributors recognise there's a big untapped audience for a show like Eddie's which harken back to the classic sitcom format while being written with contemporary viewers in mind."
Eddie's was shot in Hollywood by veteran director Michael Lange, who has worked on TV shows ranging from Buffy The Vampire Slayer to Dawson's Creek to Bones. Mr. Scrymgeour says he and Mr. Lange are now working "24/7, 365 days a year" to find Eddie's a home on a broadcaster's schedule.
"If Eddie's is picked up, I want to start a programme for aspiring Bermudian filmmakers in university to intern on the show and gain experience on a scripted TV series," he said. "as Bermudians it's up to us to help one another realise our dreams. Or to paraphrase Dennis Brown: Treat every man's dream as your own."

Read More About
Category: All, Entertainment, Films/Movies, News