A rare example of Bermuda "Hogge Money" — a coin which was produced in the early 1600s — sold for $96,000 when it was auctioned last night, with the coin one of only eight examples known to exist.
"The Sommer Islands coinage was produced in England circa 1616 for use in the British colony now known as Bermuda," the auction house noted, with the "Hogge Money" coins issued in four denominations: shilling, sixpence, threepence, and twopence.
The scarce Bermuda "Hogge Money" threepenny piece, image courtesy of Heritage Auctions,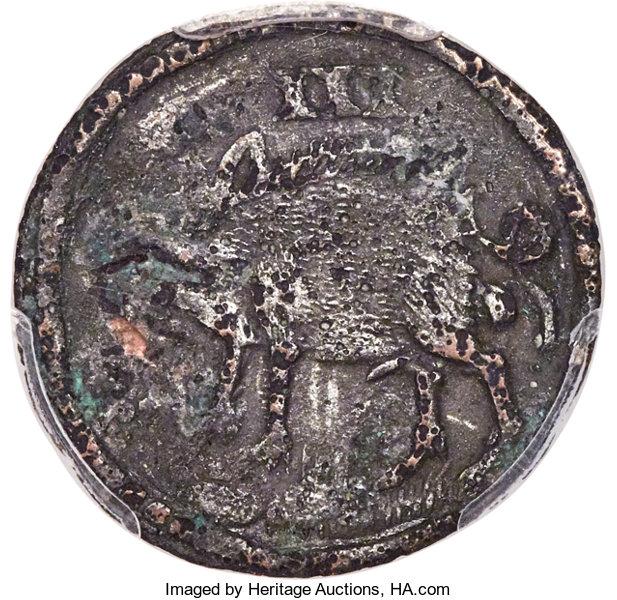 "Hogge Money" featured a hog on the obverse and a sailing ship under full sail on the reverse, with the pigs commemorating the wild hogs discovered here by early English settlers.
Struck in brass with a thin coating of silver, "Hogge Money" was the earliest currency in the English-speaking New World colonies. The coins, bearing Bermuda's alternate name "Sommers Islands", were only issued until 1624.
Screenshot we took from the website showing the price after the auction closed:

In a statement Heritage Auctions, which specialises in numismatics and collectibles, said the "Hogge Money" piece it was selling had "recently surfaced in Bermuda."
The auction house continued: "The threepence is the rarest of the denominations, with only eight examples known, including the recently discovered coin offered here. Only four of the eight known examples are in private hands, with the other four in institutional collections."
Another Bermuda "Hogge Money" coin from the 1600s, a sixpence, sold during the same auction for "only" $13,200, with the auction house stating that "thanks to modern metal detector finds and excavations" there are approximately 40 sixpence known to collectors today, while another 300 year old Bermuda coin, a shilling, fetched $11,400.
The auction house noted that while only four denominations are known to exist — the twopence, threepence, sixpence, and shillings — "there are rumors of a fourpence groat and a one penny denomination, but no examples of those denominations have ever been confirmed."
Read More About