Polaris Holding Company Chairman Cheryl Hayward-Chew recently presented $10,000 in education awards to four students headed to university this month.
A spokesperson said, "The annual $10,000 Polaris Holding Company Education Award [PHCEA] was set up to assist student-dependents of Stevedoring Services employees with funds for their tertiary level education.
"However in March 2019, Polaris acquired East End Asphalt Company Limited and the children of employees from the paving company also became eligible for the education award. This year the fund was shared equally between Tahj Cox, Zed Scott, Etteleon Burchall and Donnalyn Smith."
"Chairman Hayward-Chew met with the 2019 PHCEA Awardees and their parents for the award presentation and shared the board's pleasure at being able to support the student's in their academic pursuits. The awardees shared their college experiences and aspirations alongside their parents."
Ms. Hayward-Chew said, "With East End Asphalt joining Stevedoring Services Limited and the Polaris family, we are delighted to be able to include them in the pool of education awards for the first time this year."
A spokesperson said, "She explained to the recipients that the PHCEA Award programme represents the company's commitment to support the team of staff and their families across the group of companies."
2019 PHCEA Awardee Profiles
"Donnalyn Smith is the daughter of Lyndon Smith, a twenty-five year employee of Polaris subsidiary, East End Asphalt. She received $2,500 from Polaris towards her studies. Donnalyn is a first-year student in the nursing programme at the University of the West of England – Bristol.
"When asked what led her to pursue studies in the field of healthcare, she explained that a stint as a volunteer at the King Edward Hospital at age fourteen stoked her passion for nursing."
Ms. Smith said, "I loved it and I can't see myself doing anything else." Her father, Lyndon shared his appreciation for the cash infusion, "The Polaris Education Award really helps us out. The funds will get us through some sticky wickets."
A spokesperson said, "Zed Scott, who is a multi-year recipient of the annual PHCEA, is the son of Stevedore, Otis Minors. Zed enters his final year studying kinesiology at the University if Texas at Arlington."
Mr. Scott said, "It's been very helpful for me. It is a healthy amount that won't need to come out of our pockets. I learned the importance of time management, and how you can be rewarded for being in control of your time. Also, I learned the power of perseverance, pushing on and not giving up – those have been important lessons to me."
Mr. Scott's father, Otis Minors, said, "It's a wonderful. This really helps out a lot."
A spokesperson said, "Etelleon Burchall, daughter of Stevedoring Services Limited employee, Noelette Burchall was awarded $2,500 in education funds for her final year of biology studies at Spelman College."
Ms. Burchall said, "Every little bit helps because as I work to achieve my personal education goals, I don't want to burden my family financially. My mom's boss, Mr. Jones, would check in on me to make sure I was doing well in school. Being a Spelman student comes with a lot of pressure – high standards are always expected, so I try to carry myself accordingly.
"The highlight of my educational career hasn't happened yet, I look forward to the moment I officially become a Spelman grad, when I will be the first person to graduate from college in my family."
Ms. Burchall's mother, Noelette, said, "The investment that the company makes in their staff goes beyond the employee, but to our families as well. I appreciate that."
A spokesperson said, "Tahj Cox, a three-time recipient of the PHCEA, is the son of stevedore, Roderick Cox. Tahj is entering his fourth year at Dalhousie University and is pursuing a double major in Neuroscience and Biology."
Roderick Cox, accepts the Polaris Education Award on behalf of his son Tahj Cox from Polaris Chairman of the Board, Cheryl Hayward-Chew.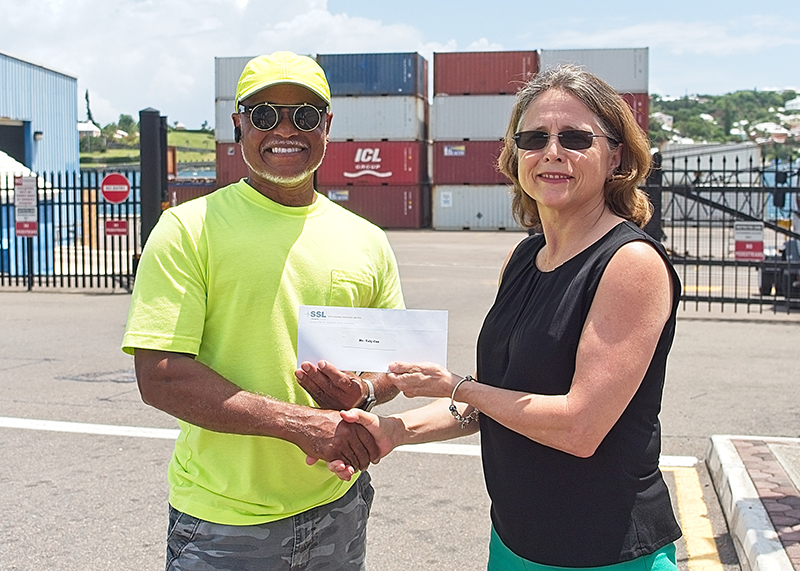 Polaris Chairman, Cheryl Hayward-Chew presents Donnalyn Smith with a cheque for $2,500 to go toward her first year of University expenses.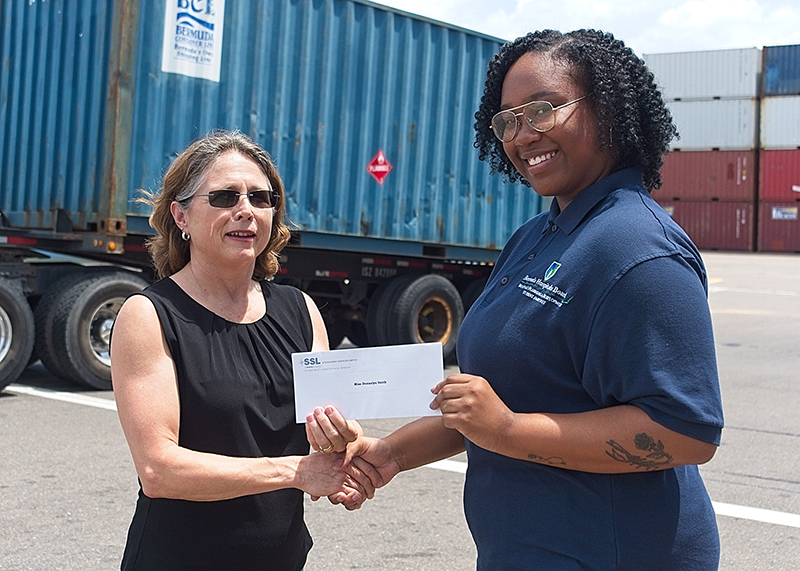 Chairman of the Polaris Holding Company Ltd., Cheryl Hayward-Chew [left] offers her well wishes for the upcoming school year to the 2019 Polaris Education Award recipients Zed Scott, Etteleon Burchall and Donnalyn Smith [far right]. [Tahj Cox  - not pictured].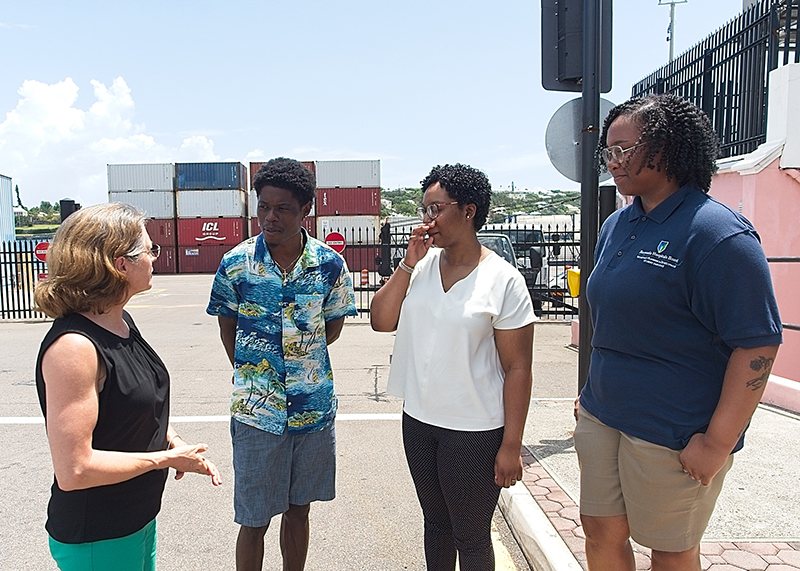 East End Asphalt employee, Lyndon Smith beams as his daughter Donnalyn accepts her 2019 Polaris Education Award.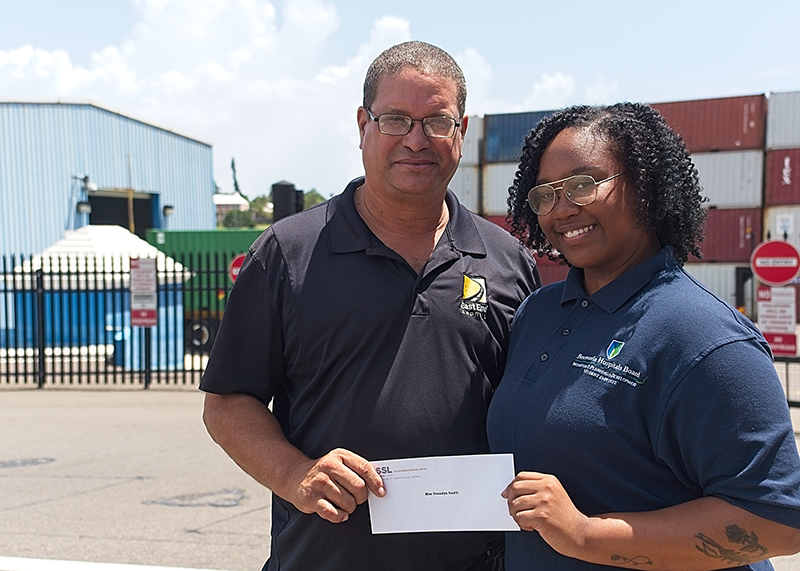 Noelette Burchall of Stevedore Services Limited proudly supports her daughter, Etteleon Burchall who receives an education award valued at $2,500 toward her final year of studies at Spelman College.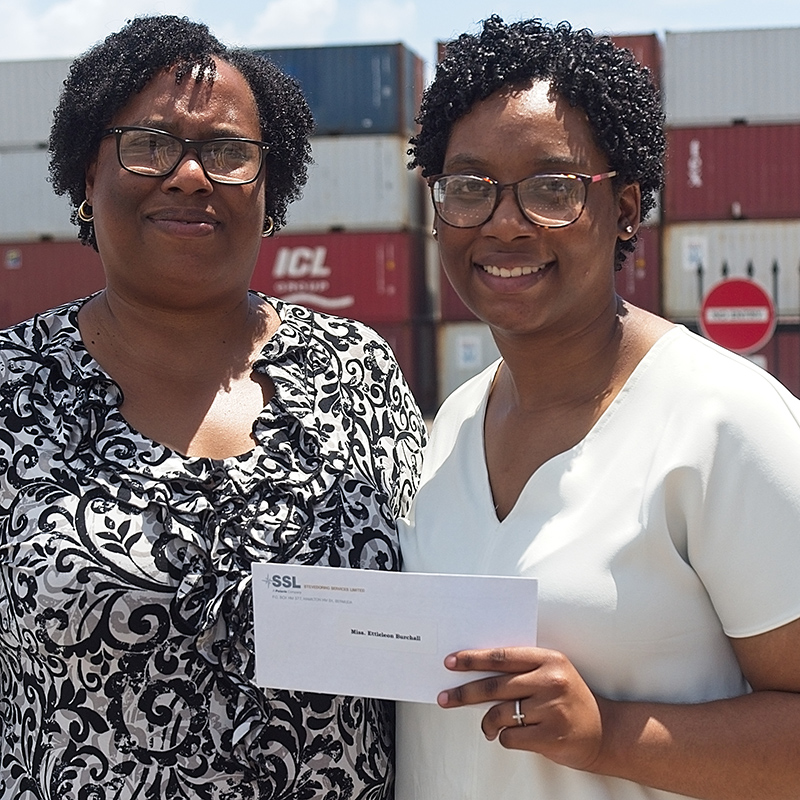 Final Year University of Texas student and Polaris Education Award recipient, Zed Scott joins his father, Otis Minors on the city docks.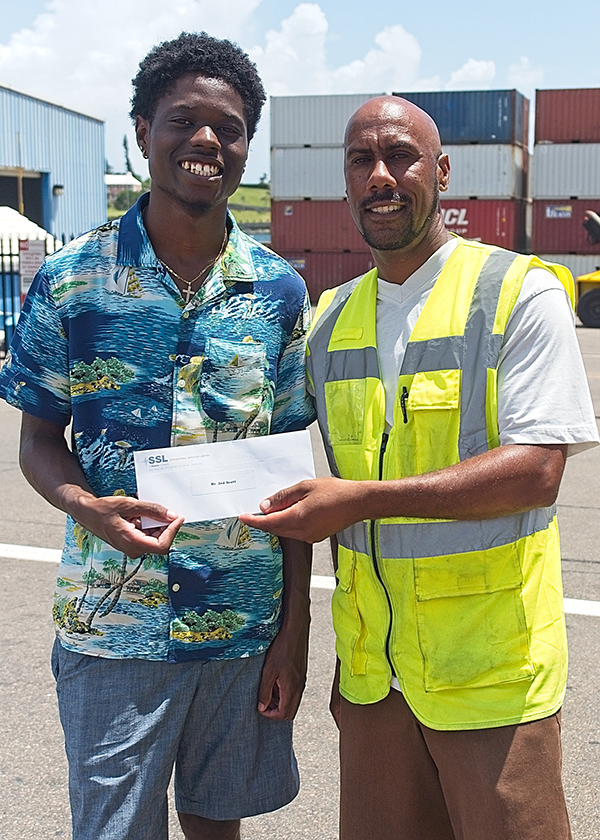 Read More About