Antique Bermuda cedar carvings made by prisoners of war interned on the island during the Anglo-Boer War [1899–1902] are going under the hammer next month.
The cedar souvenirs, including a jewelry box, chess pieces and a case for eyeglasses, are among the Bermuda lots included for September 7-8 online auctions of Boer War memorabilia being held by South Africa's Old Johannesburg Warehouse Auctioneers.
Boer prisoner cedar jewelry box, dovetailed with heart inlay [photo courtesy of of Old Johannesburg Warehouse Auctioneers]: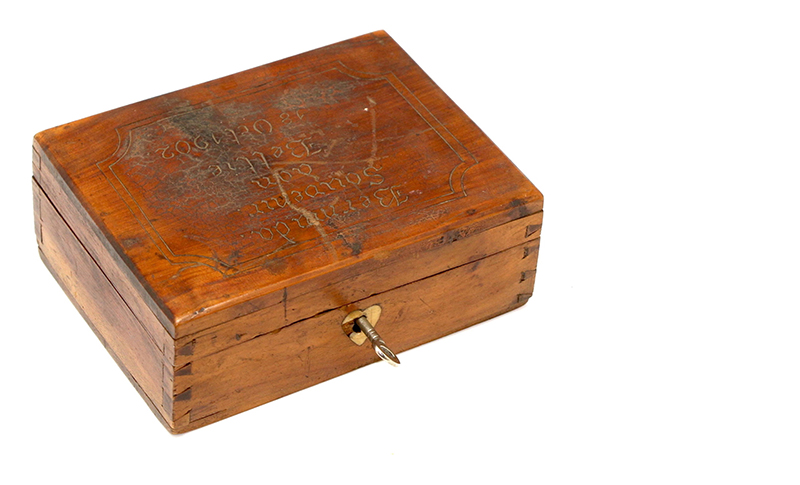 Almost 5,000 men were transported to Bermuda during the war between descendants of 17th century Dutch settlers, the Boers, and the British Empire.
A total of 26,000 Boer fighters were transported to such remote British territories as Bermuda, Ceylon and St. Helena during the war.
Six groups of prisoners of war were landed in Bermuda between June, 1901 and January, 1902.
The majority of them were held in camps in the Great Sound on Darrell's Island, Morgan's Island, Tucker's Island, Burt's Island and Port's Island
1902 hand-drawn map of Bermuda by Boer prisoner of war C. Wulff [photo courtesy of Old Johannesburg Warehouse Auctioneers]: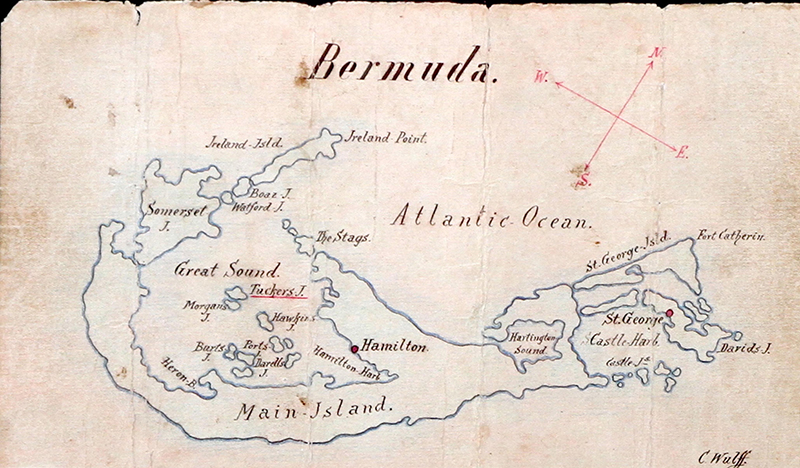 Each camp boasted an "industrial association" which assigned maintenance duties but also encouraged the prisoners to participate in cedar crafts.
This activity kept the men busy and because the cedar items they made were sold to visitors at Hamilton stores, it also allowed the Boers to earn some money during their internment.
"Their greatest legacy [to Bermuda] was the souvenirs they made, the bulk of which had been carved out of Bermuda cedar wood," the Bermuda Historical Society's Andrew Bermingham has said of the Boer prisoners.
"They were industrious and inventive. Their articles represented life in South Africa. They made, among other things, wagons, tiny ploughs, goblets and a small boot with a snake popping up, symbolising their guerrilla warfare."
Boer prisoners at their internment camp on Darrell's Island, Bermuda [photo courtesy of The South African National War Museum]: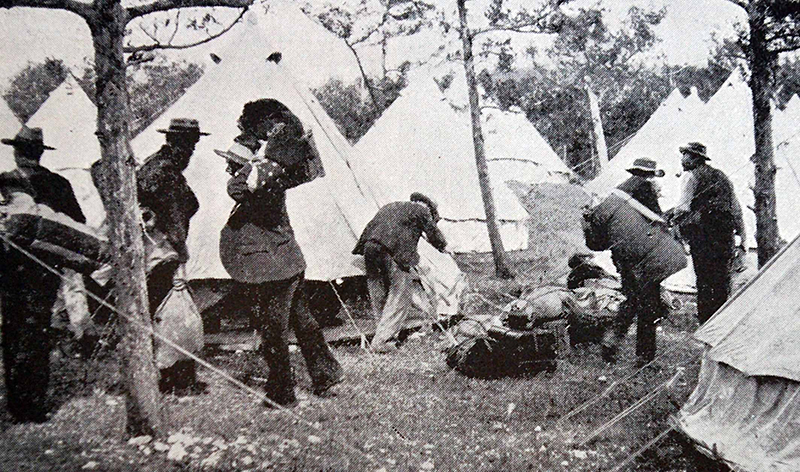 When the Boer War ended in May, 1902 most of the prisoners held in overseas camps were repatriated to South Africa.
But a number of "bittereinders" [bitter enders] refused to take an oath of loyalty to the British monarch. The last "bittereinder" in Bermuda died in 1927.
Among the other Bermuda items being sold at the upcoming Old Johannesburg Warehouse auctions are a hand-drawn map of the island, with all of the Great Sound locations of Boer camps marked, and a cedar walking stick.
You can view all of the Bermuda auction lots here and here.
Read More About
Category: All