The new cruise ship terminal building at Kings Wharf in Dockyard formally opened today [Sept 9] with the Minister commending the "incredible joint effort by majority Bermudian craftsmen and women who have delivered this project – on time and on budget."
Minister of Public Works Lt/Col David Burch said, "Good afternoon and welcome to King's Wharf at the Royal Naval Dockyard and the opening of the new cruise ship terminal building.
"I am pleased to be joined by my colleague the Minister of Tourism & Transport, the Hon. Zane DeSilva, the Collector of Customs, Mrs. Lucinda Pearman, General Manager of Wedco Mr. Andrew Dias, Mr. Sanz Pearman of Overnight Construction and various representatives of contractors involved in this project.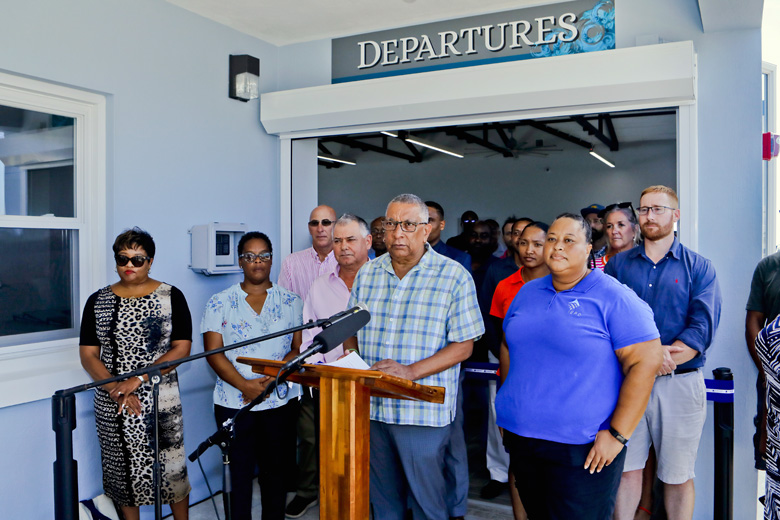 "This journey began some 5 years ago in 2014 – when problems were identified with King's Wharf and following a comprehensive inspection report it was estimated that the deck and terminal building could be replaced at a cost of $20M.
"Following considerable research to ascertain how we could demolish the original terminal building, the dock and rebuild them within a 5 month period – it was decided to try something that had never been done in Bermuda before – use a method of precast concrete slabs and beams.
"Using this method would also increase the lifespan of the dock to 75 years through the use of various modern techniques to strengthen the concrete and minimise corrosion of the reinforcing steel.
"The slabs were built in New Jersey, shipped to Bermuda and installed. This process allowed for the dock construction to begin before the demolition and various other concurrent activities to occur so that the tight timeline could be met.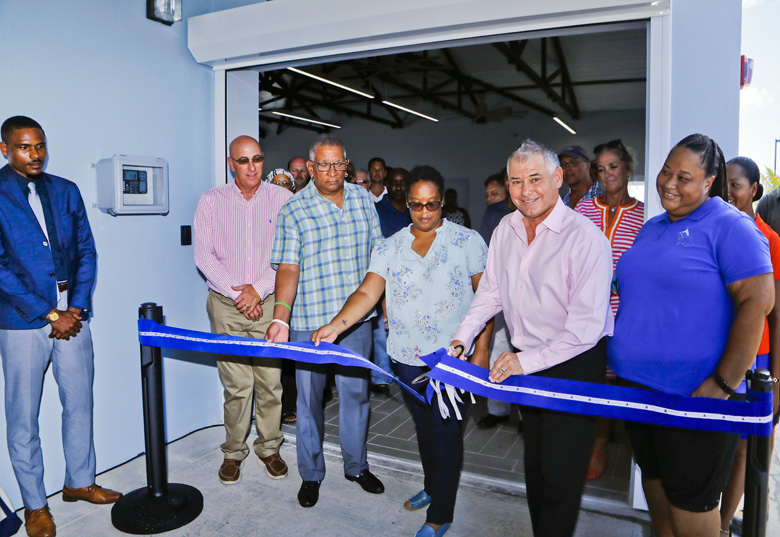 "We always knew the replacement terminal would not be completed by the start of the 2019 cruise ship season – as a contingency to accommodate this eventuality a temporary structure was used for the last 5 months while this terminal building was constructed.
"The original budget for these works as I stated earlier, was $20 million but by reusing the piles and using of Precast slabs, the cost is in the region of $15 million including contingencies for both the pier and building.
"This project really is the story of the two Carmen T's – Carmen Trott & Carmen Tucker.
"Bermudian Civil Engineer Carmen Trott led the team to rebuild the dock and Port Facilities Manager Carmen Tucker led the team to construct the terminal building. Of course they were assisted by a team of men and women from both the Ministry of Public Works and Wedco – but it is important to highlight their outstanding leadership of this project.
"I also wish to take this opportunity to record our thanks to the number of Bermudian companies who have contributed to this exercise:
"On the pier side:
Crisson Construction Co. as General Contractor
Island Construction Services Ltd. For trucking
Onsite engineering – concrete testing
Bermuda International Shippers Ltd. – shippers
ABC Consulting – quantity surveying
SAL – concrete supply
MPW – highways and heavy equipment section
MPW – Tynes Bay concrete truck drivers
Stevedoring Services – numerous deliveries, especially the precast transfer from ship to barge
BEST – shippers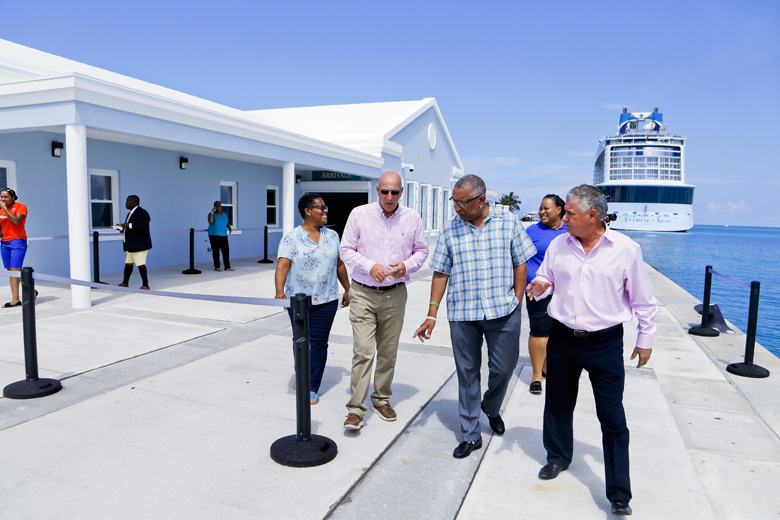 "And on the terminal side:
Overnight Construction [General Contractor]
ACS Ltd. [Electrical]
Brunel Ltd. [Civil & Structural]
Telford Electric [Electrical Engineer]
BAC Ltd. [Plumbing & Mech. Engineer]
H&H [Plumbing & Mechanical]
Efficiency [Air Conditioning]
Gray Co. [Roofing]
Keen [Duct Works]
Mobile Tech [CCTV/Cabling]
A1 Fencing
W&E Highways [Asphalting]
Big Top Tents [Temporary tent building.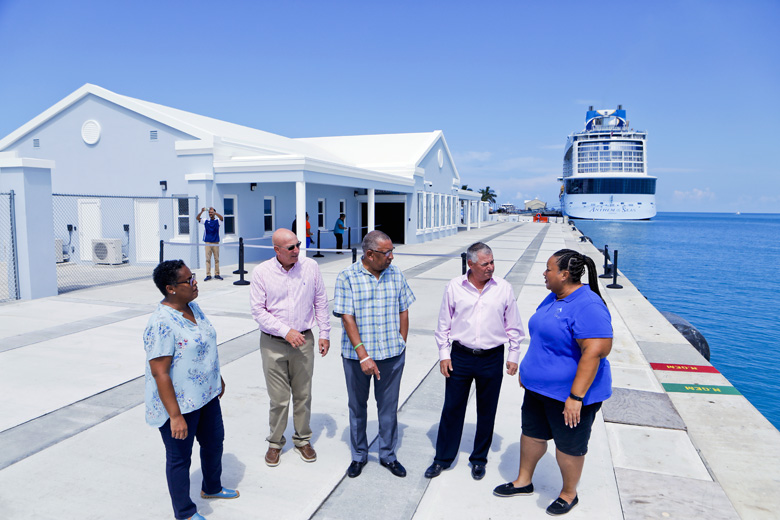 "May I also thank the operational staff who worked in and around the temporary structure since the dock was finished in April – the Seaport Security team, GET Security, H. M. Customs, Department of Immigration, WEDCO transport Coordinators and all the Tour operators, taxi and minibus operators.
"This has been an incredible joint effort by majority Bermudian craftsmen and women who have delivered this project – on time and on budget. Thank you to them all."

Read More About