[Updated - ship is full, no more in person donations sought]
Locals have answered the call for donations to help the Bahamas, with a steady flow of items being dropped off at the Seventh Day Adventist Church on King Street all day, as people step up to assist our fellow islanders.
The Bahamas was slammed by a Category 5 hurricane, causing catastrophic damage and a situation which is now being described as a "humanitarian crisis."
"The death toll, now at 43, is expected to rise drastically, officials said, as hundreds remain missing, buried under rubble on Grand Bahama and the Abaco Islands by the strongest hurricane ever to hit the archipelago nation," CNN reported today.
"Volunteers with search dogs continue to scour neighborhoods flattened by Hurricane Dorian, while global relief agencies are rushing to get food and shelter Saturday to some 70,000 people in the Bahamas left homeless on two northern islands."
The HMS Protector ship is in Bermuda now and will be heading to the Bahamas, and people are being asked to donate items to be transported to assist everyone in the Bahamas, with the ship set to leave on Monday.
We asked the Bermuda Government for the list of specific items needed, and they referred us to the Bahamas relief website, and the screenshot of the needed items is below, and our local officials noted they are seeking new items and cannot accept perishable goods.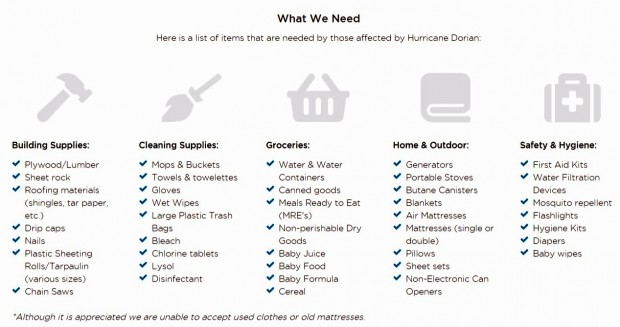 "The boat can take up to 200 tons. We are looking to get 200 tons from our country," said Minister Wayne Caines, with the Minister urging every person in Bermuda to donate, and to urge your own friends, family and neighbours to come out and donate.
Donations can be dropped off at the Seventh Day Adventist Church on King Street today [Sept 7] until 8.00pm, and Sunday [Sept 8] between 8.00am and 4.00pm, and volunteers are also needed to help pack the items.
Video showing the hall today courtesy of Minister Caines, who said Bermudians from all walks of life have been showing up all day.
If you wish to make monetary donations, they can be made to the following organizations:
1. We Care Project by direct deposit. The banking details are:
BNTB Bank Account No. 060 1640520 014
2. Bermuda Red Cross Hurricane Dorian Relief Fund by:
Direct Deposit to the Hurricane Dorian Relief Fund. The Banking details are-
BNTB Bank Account No. 20 006 060 365472 200
Clarien Bank Account No: 4010035760.
Calling the Bermuda Red Cross at 236-8253 and providing debit or credit card details and donation amount.
Update:  Minister Caines said, "We reached our goal the hall is full. (2000 Tons). The ship will soon be at capacity. We will not be accepting goods on Sunday.
"Today was simply amazing. Today we saw the best of Bermuda! Tonight we 8:00 we will finish boxing and putting the items on pellets.
"We need boxes and volunteers. We will have to send a good portion of the items to the Bahamas later via container ship. (TBC/TBA) Thank- you to everyone who donated. We love and appreciate each of you."
Read More About