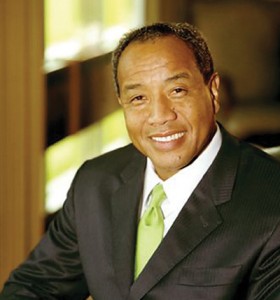 Local graduates of Canada's McMaster University are being invited to welcome a famous fellow alumnus to the island in September when billionaire investor Michael Lee-Chin visits Bermuda.
The Jamaican-Canadian business magnate and philanthropist will be speaking at an upcoming Bermuda Underwater Institute [BUEI] event being hosted by the Hamilton, Ontario university's alumni association.
Mr. Lee-Chin is no stranger to the island: companies controlled by his Ontario-based Portland Holding Group have owned part of Bermuda's Clarien Bank since 2017.
In a statement announcing the September event, the alumni organisation said Mr. Lee-Chin "is widely regarded as a visionary entrepreneur, whose philosophy of 'doing well and doing good" has resulted in extraordinary business success and inspiring philanthropic initiatives"
Born in Port Antonio, Jamaica, Mr. Lee-Chin came to Canada on a scholarship in the 1970s to study civil engineering at McMaster.
"After commencing post-graduate studies, his trajectory changes and he becomes a financial advisor quickly progressing to branch manager," said the alumni association.
"At age 32, he borrowed money to buy stock in an investment firm and, after the stock appreciates sevenfold, he uses the profits to buy AIC Limited.
"Today, Michael's business accomplishments span various countries and numerous sectors. He is committed to building strong indigenous businesses that improve the social well-being of the communities in which they operate, as evidenced by the Portland mantra – 'prosperitas cum caritate' – which in Latin speaks to his goal that businesses must 'not only do well, but also do good' – that is the true measure of success."
Registration for the free September 11 event is at 5:45 pm, with Mr. Lee-Chin's talk beginning at 6 pm in the BUEI's Tradewinds Auditorium.
A reception with hors d'oeuvres and drinks will follow in the Main Lobby area at 7 pm.
For more information visit here.
Read More About