One Communications staff continue to work hard on restoration and in bringing all customers back online.
One Communications CEO Frank Amaral said, "We would first like to thank all of customers for their patience during this post-storm recovery period. We fully understand that everyone is accustomed to being connected around the clock both at home and while on the move.
"Our teams began preparations before the storm arrived, in order that we could keep and get customers back online as quickly as possible. Hurricane Humberto wreaked havoc across Bermuda, causing extensive power outages, downed poles and lines in several areas, especially in the west end.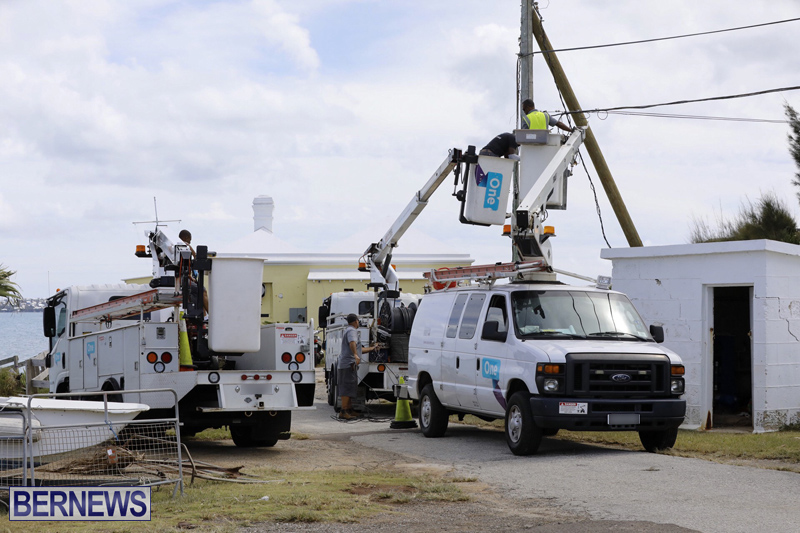 "With over 800 miles of outside network cabling infrastructure to manage, the job of getting our services back online is not an insignificant one".
"The latest status of our networks and services are as follows:
"Mobile phone service: 4% of cell sites impacted. Services for the areas listed immediately below will experience degraded service which includes no or reduced signal coverage especially indoors, slower data speeds, a higher number of dropped calls and/ or poor voice quality when making calls.
Impacted areas:
Eastern Region
"South Rd. Smith's, Knapton Hill, Harrington Hundreds, Spittal Pond, St. Mark's Rd. McGall's Hill, Idle Acres, Spanish Heights
Western Region
"Somerset Road Southampton, Port Royal, Pompano Beach, White Hill, Spring Benny Road, Southampton Industrial Park, Whale Bay Road, Luke's Pond Road
"Internet/WIFI, TV and Home Phone services: 13% of customers are offline. Approximately 1/3 of these customers are offline due to either lack of BELCO power to One Communications equipment in the field or identified damage to the outside network infrastructure. Remaining customers are offline because they are either without power to their homes or possibly unconfirmed damage to One's network, including aerial cabling to the customers' home. Note that almost 3,200 BELCO customers as of this morning are still without power which will be without services. Known impacted areas being addressed by our field technicians.
Impacted areas:
Western Region
"Fort Scaur to Watford Bridge with a concentration in the area of Bob's Valley and Soundview Road. Pockets within this area will be serviced once BELCO completes their work.
Central Region
"Happy Valley to Cavendish Road, including First, Second, Third, Fourth Avenues, and Cavendish Close. Rosemont Avenue and immediate area.
"Today marks Day 4 of the post-storm recovery process. As a point of clarification, the following sets out our response approach and timing:
"Once is it safe for our employees to go outside, we survey all core network facilities for damage and test/verify services for any impairments
"Field technicians move out across the island to visually assess damage to main trunk fibre circuits, line feeds into neighborhoods and equipment. This could take 1-3 days depending on the severity of storm impact.
"The team prioritizes and completes repairs in damaged areas based on the number of impacted customers. In certain cases this requires BELCO to first repair/erect poles and/or deenergize a section of their power lines so our crews can operate safely on an issue.
"One of the most common questions we're being asked is about why Internet and TV services are not working if BELCO power is on at their home", continued Mr. Amaral.
"The explanation is either our outside network infrastructure feeding a neighborhood or home has been damaged, or we are waiting on BELCO to repair their power grid in that neighborhood and in turn supply electricity to our equipment in the field."
"Further updates will be provided as new information becomes available which can be found on our website www.onecomm.bm. If you are still without home services please call our Customer Care team on 700-7100 or send an email to info@onecomm.bm."
You can view our live updates on Hurricane Humberto here, and all our coverage of Hurricane Humberto here.

Read More About
Category: All, News, technology